By Tom Doherty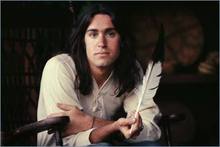 Spokane, Washington, 1972.
At the ticket turnstile, right behind the guy who tears the tickets, is a guy selling LSD, like it's part of the official service.
"LSD?" he asks me.
A little taken aback, I say, "No," and he looks at me dumbfounded, like I am the only guy in the whole line who has not said yes.
"What's a Jethro Tull concert without acid?" he asks.
Anyway, the show is 40 minutes late and everyone has timed their drugs for Tull -- and finally, out walks Dan Fogelberg, with nothing but his acoustic guitar and soft-rock sensitivity. I have never seen a concert crowd be so brutal to a performer. They shout vicious catcalls, they boo, they throw stuff -- they basically force the guy offstage before he can complete two songs.
Next up are the Eagles, who are just moving up the charts with "Take It Easy" -- I think this was their first tour. They do "Take It Easy" and another electric-guitar rocker, and the crowd is mollified. Then they take up their acoustic guitars, and the crowd turns real ugly immediately. Unperturbed, they do "Peaceful Easy Feeling" -- the first time any of us have heard the tune -- and even the Tull crowd is soothed, pacified, mellowed. The girl next to me, also straight -- not my date unfortunately but the guy she came with is utterly stoned -- says to me, "These guys are going to be BIG."
That's my Dan Fogelberg memory.