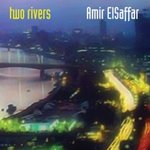 Amir ElSaffar, "Two Rivers" (Pi). Damn, what an exciting fusion of Arabic music and avant jazz. Appropriate that trumpeter, santoor player and singer ElSaffar has an Iraqi father and an American mother, and hails from Chicago. I ain't no expert, but on blind listening to the opening muezzin-like vocal melismas of ElSaffar, and the fiddles, lutes and hand drums of Zafer Tawil and Tareq Abboushi, I thought this was a pure roots record from Iraq's Maqam tradition. But when Nasheet Waits' pot-stirring, subliminally rhythmic trap drums came in (reminiscent of Albert Ayler skinsman Sunny Murray, who's had such an influence), along with the loosely exploring bass of Carlo DeRosa, the dimensions started to unfold -- unforced, totally natural. What really puts it over the top is ElSaffar's teamwork with the ever-evolving alto saxist Rudresh Mahanthappa; they either blow in unison, like gusts of dry wind, or cut loose on solos spiked with the quarter-tones of Middle Eastern scales, which requires special valve positionings on trumpet, but must be a real challenge on sax, where you gotta bend. The compositions, flowing one into the next like the Mesopotamian rivers of the title, tell specific stories of devotion, flood and war; you hear the stealthy trot of the assassin, the moan of frustrated anger, the building chaos of battle. The record ends with Ornette-like cooperation and optimism, foretelling a time when we might not wince on discovering that Bagdad was once called "the abode of peace."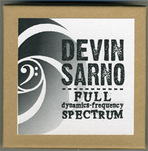 Devin Sarno, "Full Dynamics-Frequency Spectrum" (Banned Production 3-inch CD). For a very human piece of drone music, this is saddled with a quite mechanistic title. Technically accurate, though -- in 15 minutes, you receive intense, distinct infusions from several different streams of sound. Play it loud enough to experience the physical effects, beginning with the introductory mid-low electronic hum, which seeps directly into your cranium and sets up residence. A delicate flutter creeps into the left channel as the drone begins a slight tonal variation and a noise like a car idling balances the field on the right. Suddenly the noises drop out, and you're left in an empty cathedral with only high and low spirit-organ sustains for company. Guitars pluck and scrape in the wide spaces. Vibrations move slowly all over your body. A synthetic coyote howls for realness, and its prayer is answered. I hear this as L.A. bassist-electronicist Devin Sarno's funeral mass for Rod Poole, but regardless of intent, it is a deep Gethsemane meditation, sweating quiet blood, its beauty the beauty of inevitable pain. Wonderfully restrained contributions from Bobb Bruno (keyboards), Nels Cline (acoustic guitar), Vincent Gallo (electric guitar) and Joseph Hammer (loops) center a focused recording by Mark Wheaton. The disc comes in a little cardboard box with an artistically designed booklet. The booklet is a little hard to remove. As it maybe should be. Patience. Available at www.devinsarno.com.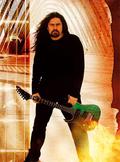 Theodore Ziras, "Hyperpyrexia" (Sleazy Rider). Here you get almost everything you want in a metal fusion record: monster chops from Greek guitar god Ziras, high energy, soaring compositions. The only missing element is mania nearly toppling over the precipice, which keyboard collaborator Derek Sherinian captures on his own records but which is mostly absent despite his efforts on this one. Maybe the slight lag comes from the recording being done half in Athens and half in L.A. -- though many collabs (such as the new Blotted Science) don't suffer from the long-distance love. Maybe it's a lack of bottom in the way Brian Tichy's in-the-pocket drums are mixed. But anyone who thirsts to flash on Zakk, Yngwie, Boston, "Jumpin' Jack Flash," "Kashmir" and a Greek wedding all on one album probably won't want his money back. Available at www.cdbaby.com.