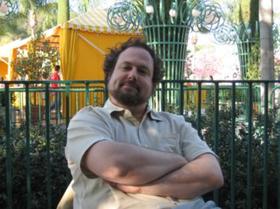 One of our best local musicians, drummer Dan Morris, died December 21 after being in a coma for five days. He would have been 38 on March 27. I met him only a few times, but was always struck by the originality of his art as he played traps with his hands or drew strange sounds from found objects with James Carney, Obliteration Quartet, Quarteto Stig, Noe Venable and many others.
This space is available to anyone who wants to say a few words about Dan or offer links to other web pages. You can either use the Comments or e-mail info@metaljazz.com.
The exact cause of Dan's death is uncertain. Here's what his wife, Marie Morris, says:
"Dan's breathing slowed and his blood pressure and heart rate dropped early in the morning on December 16. At some point his body reached a point where he had a mild heart attack. When I woke up at 6 a.m., Dan was not breathing.
"It was not a heart attack that killed Dan. In fact, once he got to the hospital, his heart was one of his only properly functioning body parts. The belief is that he was brain dead before I even woke up and found him. His kidneys had been damaged by a lack of oxygen/blood flow during the time he was not breathing. By the second morning, his kidneys had started to shut down. After they did, his liver began to shut down. A few days into his hospital stay, we knew there was no chance for a recovery.
"Several theories have been put forward about WHY his respiration and blood pressure might have fallen, but none of them can be proven. It was some combination of events, a few of which we can never understand, that led to this problem. Dan had had the flu for several days and had just developed another kidney stone. The doctors think it's possible that he had sepsis from the kidney stone, and his body was fighting it so hard that, in combination with his breathing problems from the flu and the respiratory depressant effect of a low dose of pain medication, his body just shut down. The doctors think it's also possible that Dan's sleep apnea played a part in his death.
"Basically, he fell into a really deep sleep. And, even though they got his heart beating AND they got him breathing again, he never really woke up."
FROM MARIE MORRIS' EULOGY FOR DAN
One night in the hospital, the patient sharing Dan's room woke up from a coma or something like it. I could hear the nurse telling her where she was, that her daughter was on her way and that she would be okay. It made me feel so happy for that person who woke up, and so sad for Dan. I quietly said to myself, "I guess not everybody gets a miracle."
And I immediately realized how ridiculous it was to think that way. Because Dan was the miracle -- his life was the miracle, the man that he was. If you were hurting, he would soothe you, even if it took 70 phone calls staying up all night to do it. If you were down, he would encourage you. If you felt adrift, he would help anchor you. Of course, if you were happy, he would celebrate with you. And no matter how you felt, he was gonna make you laugh. Whether he was sharing a story, inventing alternate song lyrics, speaking in one of his accents, making a stuffed animal come to life or even doing his infamous chicken impersonation, he would make you laugh.
Dan gave us all a lot of gifts. He didn't have to try. He did it just by being who he was. He left each one of us with something unique, but I think that there was one thing he shared with us all. And that was the feeling that we were utterly worthy. Worthy of being loved, worthy of not suffering unnecessarily, worthy of standing up for ourselves and most of all worthy of receiving good.
ALEX CLINE
I first met Dan Morris at a concert by my brother Nels Cline and the late Eric von Essen at the old Comeback Inn in Venice, where Dan recognized me (being a fan of the Quartet Music recordings) and approached me about giving him drum lessons. He was 19 years old at the time, although he seemed unusually mature. I told him that I wasn't interested in being a drum teacher for a number of reasons, but that I would welcome his coming over and talking about music -- where he had come from, what he was interested in -- and listening to music if he would like. This was my standard response to such a request at the time. Dan was the only person who ever called me back and followed through by coming over to do this, even though he later admitted he thought it a bit odd. Who knew that this would lead to a close friendship of 18 years?
While Dan never became my student, he came to countless of my performances, insisting on helping me schlep my gear, bringing much of said gear out of its vintage obsolescence and into the present in the process, and began pursuing a new musical direction for himself. This eventually led to his decision to study music at CalArts, where, among other things, he became the only student of Karnatic music of India (focusing on the mridangam and leading eventually to a summer studying with his teacher there), and where he encountered considerable stimulus as well as a host of other young, talented individuals, so beginning a career in multifaceted, creative music performance.
Being essentially a jazz guy, I was happy to be able to at times assist in Dan's musical development, exposing him, for example, to some of the drummers whom he added to his list of favorites (alongside such long-term exemplars as Bill Bruford and Steve Jansen), such as Paul Motian, Jack De Johnette, Shelley Manne, Tony Williams, Pete La Roca Sims, Fredy Studer, Han Bennink, and, pivotally, Peter Erskine, to whom I ultimately introduced him and who became his most influential drum-set teacher.
I recommended Dan for gigs whenever I could. He was supremely gifted, able to absorb, assimilate, and employ a variety of diverse and sophisticated musical elements in a distinctly personal way, far more so than I ever could when I was his age. His musical abilities transcended those of drum-set playing, as he also became an adept player of a myriad of hand drums (some of which often found their way onto his ever-shifting setup of drums) as well as a distinctive composer along the way.
I didn't really think of Dan as a young, developing artist but more as a peer, as someone with a lot of talent and ability as well as deep personal integrity and heart. He was a true friend, unfailingly loyal, uncommonly generous and unconditionally supportive. Many people loved him. He was also funny (if often darkly so), engaging, smart and insightful. He loved animals (especially birds) and nature, and was perpetually fascinated by the world and its creatures and conditions.
Sadly, Dan suffered a lot in his all-too-brief life, some due to physical difficulties and some the result of his own sensitivity and integrity. His most visible gig, for example, that of touring the world as a percussionist with the Smashing Pumpkins, also caused him the most stress and anguish. This sort of disharmony caused him to eventually withdraw from actively pursuing his career in music in favor of working in the area of sound and music production for computer games in a corporate context, something which he clearly found challenging but which he stuck with because of his love for the medium. This reflects his childlike nature, the same nature which was demonstrated by his love of animation, toys, models, Disneyland, and all things silly. I, of course, lamented the withdrawing of so much quality from the world of music performance but celebrated a move toward the enhancement of what appeared to be his own happiness and well being.
I was in touch with Dan just over a week before his tragic, ultimately fatal episode (via cyberspace, we were exchanging some audio-visual materials by one of our mutually beloved musical figures, David Sylvian), and learning of his fate was deeply shocking to me. Who knew that this long-lived, close friendship would end so tragically, so soon? It's hard to fully comprehend his departure from us in this historical dimension. I miss him a lot and will continue to do so. However, I will endeavor to be his continuation as much as I can, so that his spirit, his unique manifestation, may in some way live on through my own life and work. Dan made a major imprint on my life. For that I am blessed and deeply, eternally grateful.
BRAD DUTZ
Our great musicial friend Dan Morris will be tremendously missed . . . I had the 11-year pleasure of calling him my right-hand man in the always challenging musical pursuit of the silly group OBLITERATION PERCUSSION QUARTET . . . This band will have a very difficult time in finding a replacement . . . He would always show up early and help me unload the van full of bundt pans, fire bells, pots, pans, artillery shells, dog toys, talking presidents, bird whistles, music boxes, and yes even once at the old Rocco club on Santa Monica Boulevard he brought a BIRDCAGE for another piece he wrote featuring his bird's toys [[I hope I can find that on video]] . . . Dan was the only member of the quartet to bring composition to the group other than myself . . . Two of the silliest and most creative works were penned by the Morris man . . . Luckily they were recorded and now must get off the shelf . . . "If I Were a Raptor " was written for toy DINOSAURS that make little sounds; they were JURASSIC PARK movie toys . . . and one entitled "Hanna and the Lost Biscuit" [he named it after my dog, who is now 12] features the quartet playing on dog toys and dog bowls . . . .We are also very fortunate to have Dan soloing on a squeezy duck toy on a digital video of this piece where he actually dipped the duck in water that he had put into one of the dog bowls . . . you can imagine the goofy effect . . . There is a third piece that I must find that was written for his birdcage and the toys his birds used . . . We will hopefully re-create these pieces soon in a concert tribute for the DAN MAN . . .
I had this fantastic friendship with Dan . . . He taught me how to use the notation program SIBELIUS, he taught me how to play KANJIRA, the Indian drum . . . He was such a kid at heart, we spent a great day playing Monopoly with my son Jasper about five years ago, we went to see A MIGHTY WIND together, we went to see MATRIX Revolutions together [Dan insisted we go the the IMAX version], he turned me on to all of the CHRISTOPHER GUEST movies [that's worth its weight in gold alone] . . . he turned me on to the CD "Shelly Manne" the three and the two, that ALEX turned him on to . . . and last month I recorded a trio based on this cd . . .
The more I write, the more I realize how large an effect Dan has had on me . . .
JAMES CARNEY
The last four weeks have been just absolutely terrible. When I found out that Dan was in a coma, all I could think of was "No! Wake up!"
But he didn't wake up, and now here we are, wondering how somebody this gifted and this young could just be taken away from us so quickly, without warning. My thoughts about Dan have been running non-stop, and up until this point I've tried several times to write about how I feel, but I've come to the conclusion that Dan's passing is going to take a long time for me to deal with.
Dan had an incomparable musical aesthetic that I got to know well over our ten years of gigs and recordings. His drum and percussion orchestrations are easily identifiable - he was all about tone and colors and no one else could do what he could with his extended drum set techniques. He coaxed gorgeous, huge sounds out of doumbeks and mridangams, and he would play second-line grooves on the drum kit that made you feel like you were hearing a live parade band with a separate snare and bass drummer. He once told me he just sat down and instinctively knew how to play New Orleans-style drums without ever practicing the techniques, and I believe it; I also know that his work impressed great musicians who had been born and raised down there. He could play lots of complex patterns and parts with quick velocity and modulating timbres, and yet he loved air and space and ambience.
Sound was everything to Dan and he was never content to keep playing or recording with the same gear; he was always switching cymbals, drum kits, setups, etc. and trying out new gadgets on every gig. I loved that about him, as well as the fact that he took the same approach with his playing. We could play the same compositions two hundred times and he never repeated himself. He internalized the forms and knew the music cold, but you could count on him to always try new ideas while reorchestrating his parts every single time. It was research on the job, and that was a gift to other musicians, because it pushed them to break out of their shells and to continue to work towards being in the moment, something he often spoke about as a kind of Holy Grail.
His own compositions represented a wide world of sound - he was equally passionate about Carnatic music, Tony Williams, Stravinsky and XTC, just to name a few of his favorite musical pleasures. He was fascinated by the art of developing what he might call "honest assimilation" and you could always hear that in his writing and playing. He thought it was too easy to criticize and dismiss others' music, and he once told me that when he heard a piece of music he didn't like, he would keep listening to it to figure out exactly why that was, while hoping, in the process, to begin to somehow appreciate that music in some way. I only wish that he had devoted longer periods of time to documenting more of his own music for the rest of us.
I was around 27 when I started playing with Dan, meaning he must have been only 20, and, as Alex Cline mentioned in his post, he was quite beyond his years. Man, I learned a lot from him, and my music grew tremendously because of his dedication to my work. He challenged me, and probably many others, to evolve, and as a musician he knew he always had my respect, because his contributions certainly shaped the course of my music. We basically learned how to play our individual instruments while working as a team, and his influence as a collaborator stays with me even now.
I had been exchanging e-mails with Dan in early December, and we had a long phone conversation around the end of October. We reminisced about old times and he was excited to tell me about an upcoming gaming project that he was going to score, and we were also talking about doing a future project together.
I've realized since Dan's passing that no matter where I go or what I'm doing, he'll always be with me musically, maybe even giving me that inimitable grin of approval, and I take comfort in knowing that.
STEUART LIEBIG
What does one say about someone who passes at such a young age?
It's troubling and shows just how fragile life really is . . . and it weighs on our souls . . .
But to Dan.
Dan played in my band. Quartetto Stig, for about four years and two albums. He was recommended to me by Alex Cline as the replacement for Jeff McCutchen, who also died at the age of 37. (I'm trying to not read too much into this.)
Dan always brought a lot energy to the music! And he was crazy enough -- and had the chops -- to do some of things that I wanted to do. After all, not just anybody would be able to do both ultra-fast jazz time on one tune and metalesque drumming à la Vinnie from Pantera on another!
Dan was willing to do NOTHING but side-stick quarter notes for almost a whole tune of 4-plus minutes, and he could bring an orchestral palette to a four-section piece that lasted 22 minutes.
Dan did crazy stuff like getting a big old custom-made marching-style bass drum for ONE TUNE.
Dan had a wide range of tastes as a musician and he was into lots of things beyond . . .
In short he was an artist . . .
Dan and I had sort of lost track of each other -- we'd run into each other once in a while at gigs, etc, but life seems to move along and we comply . . . and sometimes grow apart . . .
That being said, I know that there was so much more to get and give in Dan's case, so much more. And that is now gone.
DAN IS MISSED.
ALEX SHAPIRO
Some thoughts that I didn't mention in my earlier words on my [non-music-oriented] blog about Dan, but are worth saying here to this musical group of friends, echo the comments above about the extraordinary nature of Dan's musicianship.
After I had already finished a recording session of a duet with a violinist and [out-of-town] harpsichordist for a funny little piece titled "Slipping," I decided that a percussion part would really put the music over the top. I couldn't book another session with these players to bring everyone together as a live trio, and Dan was the only person I thought to call with the suggestion that he add his playing throughout the piece -- mostly hand drumming -- on a multitude of instruments from around the world. He didn't miss a beat with his enthusiastic response, and so I created the percussion part, some notated, some marked as idiomatic "time," and all written against the score so Dan could see what was going on.
He and I spent three afternoons in late 2006 laying down about 25 percussion tracks. The brilliance of his work was that he recorded against pre-recorded music, neither track of which had been recorded to a click, and neither of which particularly agreed where "1" was at any given moment :-) A very backward way of producing, but I had no choice. Dan only needed to hear the playback of each section once, and then we'd run it for him to record over.
Man, he just nailed it every time. On the first take of every segment, he was able to thread the needle of time and manage to create downbeats where there weren't clear ones, splitting the differences between the existing two tracks and melding everything into something rhythmically grooving and coherent. Add to that, playing traditional grooves like a Montuno that would normally be in 4, in 5 or 7. Or both, back and forth. Against already irregular playing. I was in awe. This was artistry and a level of intuitiveness that was beautiful to see. It's worth adding that throughout these sessions, Dan was suffering from two simultaneous kidney stones, yet more in what seemed like a never-ending barrage of them for so many years. He powered on, with little or no painkillers, just extravagant sushi dinners with me each evening when we were done.
Perhaps like some of you reading this, I can tell you that I've experienced a medium-size kidney stone. It is the most excruciating pain. The morning I was stricken, my husband and I didn't know what to do. I very nearly passed out from agony while Charles Googled my symptoms (the self-diagnostics of the new millennium). Arriving at a few irrelevant choices that ranged from near death to childbirth, Charles handed me the phone as I lay writhing on the bathroom floor.
I called Dan.
He knew what it was and wisely had Charles take me to the ER.
For the next number of weeks while we both suffered (business as usual for poor Dan), Charles and I researched every imaginable non-western remedy. Between teas, tinctures, and some scary unidentifiable powder in a yellow plastic jar direct from a friend in China, with nothing but Chinese on the label, I managed to dissolve my stone. Every item I came across, I gave to Dan, too, hoping that it would work for his body as well as it had for mine. No such luck. He continued to be cursed. But the stone was another bonding thing between us. I used to chide him that I caught my stone from him, from hanging out together so much.
I want to also set any rumors straight: Dan hated, absolutely hated, when he had to take drugs for the pain. It's only the very strong ones that will address that kind of agony. But after every one of the major episodes that led him to that necessary choice, he got off whatever he had been on. Ironically, just a couple of weeks before he passed away, he wrote this sentence in an email to me: "I am feeling much better after getting through yet another stone and getting off the meds, etc. So I'm feeling pretty good." He hated the drugs.
At least now, finally, Dan is no longer in constant physical pain.
I miss him as my friend, I miss his consummate musicianship, I miss his generous knowledge and advice on the phone about so many things, be it at noon or midnight. But his spirit stays with me, and I don't have to miss that at all. I can conjure it up at will. And I do, often.
Read further words from composer Alex Shapiro's site here.
Read words from trumpeter Kris Tiner here.
Marie Morris continues to approve postings to Dan's MySpace page. You can read others' and add your own here.
PHOTO COURTESY OF MARIE MORRIS.