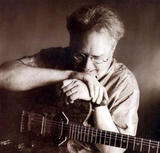 Fri. Jan. 11 -- Guitarist Bill Frisell, master of electrotexture, in duo with drummer Joey Baron. With John Zorn, Frisell practically created the New York wing of metaljazz, your honor. At Jazz Bakery; 8 & 9:30pm; $35.
Fri.-Sun. Jan. 11-13 -- A forefather of jazz guitar: Kenny Burrell, with Tom Rainier, Roberto Miranda, Clayton Cameron and Tivok Pennicott. At Catalina's; $18-$30.
Fri. Jan. 11 -- Because Chuck Manning pours such a steady stream of cream, you hardly notice the presence of all those tart currants among his strawberries. (That was trying to be a metaphor about saxophonic note choice.) At Café Metropol, 923 E. Third St., downtown 90013; 8pm; $5 cover, $10 minimum; (213) 613-1537.
Sat. Jan. 12 -- The big band of Poncho Sanchez plays gutsy Latin, and I don't mean Catullus. At Jazz Bakery; 8 & 9:30pm; $30.
Sat. Jan. 12 -- Dean Chamberlain's gig flier pictures the postfolk singer-songwriter BURNING IN HELL. That's what you get for letting your son design your PR, dude. "With some help from Lynda Kay Parker of the Lonesome Spurs rockin the Samsonite." A suitcase drummer? Rad. At Cinema Bar, 3967 Sepulveda Blvd., Culver City 90230, (310) 390-1328.
Sun. Jan. 13 -- Music, poetry or pugilism? Dottie Grossman flings words; Michael Vlatkovich's trombone retaliates. Plus the duo of trumpeter Kris Tiner and guitarist Chris Schlarb; opening is marimba player Nathaniel Bartlett. At Dangerous Curve Art Gallery, 1020 E. Fourth Pl., downtown 90013; 7pm; $10.
Thurs. Jan. 17 -- Waydown metal barf with Puerto Rican rhythms from the Puya spinoff Ankla, one of my very favorite gangs. At the Whisky.
Thurs. Jan. 17 -- Azar Lawrence. At Vibrato, 2930 Beverly Glen Circle, Bel Air 90077; (310) 474-9400. Read my New Angeles Monthly story on the spiritual saxist here.