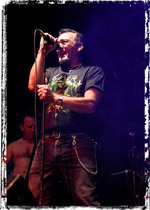 Fri. Jan. 4 -- Ever hear Judas Priest's early classic tune "Victim of Changes"? Got that real good blues-riffy heavy psychedelic epic thing that was going on during the cusp of the early-'70s metal dawn, and was co-written by Priest's original singer, Al Atkins, the bloke who preceded Rob Halford. Atkins is a stellar soul-rock voxman; his new band, Holy Rage, has an excellent slogging drummer -- check out its MySpace page with music samples here. Yeah, I would buy Holy Rage's new album, "Demon Deceiver." Big night for lungsters, with Graham Bonnet (Rainbow, Alcatrazz) fronting Taz Taylor Band, more of an '80s mainstream bonk with Boston overtones. At the Knitting Factory.
Fri. Jan. 4 -- Bassist Nick Rosen, whom you mighta seen with Arthur Blythe, Henry Grimes and a lot of others, leads . . . what, an octet? Gotta take out three tables. At Café Metropol, 923 E. Third St., downtown 90013; 8pm; $5; (213) 613-1537.
Sat. Jan. 5 -- The well-loved saxist Frank Morgan, who died December 14, gets a memorial bash, and I'm guessing the talent will run deep. You can read my obit here. At Jazz Bakery; 2-5:30pm; might be free; (310) 271-9039.
Sat. Jan. 5 -- The Nick Mancini Collective, featuring Mancini's intense vibraphone, wails for sure. At Café Metropol, 923 E. Third St., downtown 90013; 8pm; $10; (213) 613-1537.
Sun. Jan. 6 -- A duo of sax and drums can be an especially magical thing, and windman Vinny Golia and percman Alex Cline, inspired by their mutual respect for the recently departed percussionist Masahiko Togashi, are playing their first duo gig together in over 30 years -- chemistry guaranteed, as they've done about a thousand non-duos. Another pairing opens: guitarist Ian Hattwick and bassist John Graves, combining most anything you can think of. At Center for the Arts, 2225 Colorado Blvd., Eagle Rock; 7pm; $10; (626) 795-4989.
Thurs.-Fri. Jan. 10-11 -- Guitarist Bill Frisell, master of electrotexture, in duo with drummer Joey Baron. At Jazz Bakery; 8 & 9:30pm; $35.
Thurs.-Sun. Jan. 10-13 -- A forefather of jazz guitar: Kenny Burrell, with Tom Rainier, Roberto Miranda, Clayton Cameron and Tivok Pennicott. At Catalina's; $18-$30.
Thurs. Jan. 10 -- Saxist Azar Lawrence makes you hear other dimensions of air traffic. At the Crowne Plaza LAX, 5900 Century Blvd.