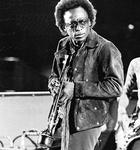 Miles Davis was a cranky bastard -- pissed off at exploitation, always in pain from sickle-cell anemia, from diabetes, from a messed-up hip. His musical children owe him big, but their art often resonates on frequencies very foreign to his, because they can't be Miles. They're probably glad.
Davis disliked religion, thought it was a crutch. Regardless, he was God, and he drew musicians who sought a Path -- to His Milesness and later to spiritual destinations via Hinduism, Buddhism, Scientology; you could name John Coltrane, John McLaughlin, Wayne Shorter, Herbie Hancock, Bennie Maupin, Chick Corea, plenty more. It was as if, having served in the realm of the Dark God, they needed to turn toward the light.
The darkness turned deepest in the fungal underworld of Davis' first electric period, from 1968 to 1975, when he made rhythm music that was sealed off and pressurized, reeking with evil: "Bitches Brew," "Jack Johnson," "Get Up With It," "Dark Magus." Coked up and rotten, sucking up Sly and Stockhausen, he composted sound from the digested essence of his painful life.
And it was true, true, true. Art that doesn't acknowledge darkness isn't worth shit, and Davis acknowledged the hell out of darkness. Wallowed in it, some would say, but few have the guts to engender a flaming fart like "Calypso Frelimo" or a paralyzed howl like "Great Expectations." Davis said he let Shorter, Hancock, Tony Williams and the gang run with their ideas. Yes, but he also ruled his players like a drug; they felt his presence even when he wasn't there. And they never got the same vibe after they left him.
Electric Miles was critically disparaged yet crucially influential. Hancock made millions by diluting it; McLaughlin made a cult by diverting it; many, skipping the niceties of talent and discipline, were content just to plug in and jerk off.
After what came to be known as "fusion" went bankrupt circa 1980, the artistic side of the music crawled underground and resurfaced in Europe. Part of the flotation was stimulated when the Danes awarded Davis the Sonning Music Prize in 1984, and Palle Mikkelborg commemorated the occasion by reintroducing Davis to Miles' 1974 self, writing the electric-Miles-influenced "Aura" suite and recording it with Davis on trumpet the same year.
"Aura" didn't come out on record till 1988, and then trumpeters began to dribble out records with electronic underpinnings: Canadian Michael White in Lonely Universe (recorded in Germany December 1988) set an obscure precedent, followed by Swiss Erik Truffaz, Norwegian Nils Petter Molvaer, and Americans Mark Isham and Tim Hagans. Chris Botti, now known primarily as a crossover cheesebox, has actually cut some respectable electro-Miles albums. Here in Los Angeles, the Israeli groove band Maetar carries the torch with joy and authority.
The reason I'm writing this is that a couple of electro-Miles-influenced albums have really slapped my face lately, and when I thought about reviewing them, it occurred to me that I'd failed to remark on a couple of others of the genre released last year. So I might as well package 'em up.
And then, halfway through, I heard that producer Teo Macero died February 19 at age 82. Now, Miles Davis and his players provided the raw material for "Bitches Brew," "Jack Johnson," "Live/Evil, "Get Up With It," "Big Fun." But Macero made the albums, literally taking a razor blade and cutting hundreds of hours' worth of tape into virtually new conceptions. He was a saxophonist who'd played with Mingus. He was a modern composer in his own right. And he had the talent, the balls and the budget to make really weird, unprecedented recordings that have stood up to history's judgment.
Many hated them. I love them, and I'm not alone. The Cline twins, guitarist Nels and drummer Alex, have told me that when they were kids they listened to "Live/Evil" so obsessively that they knew every note of it. Right now I'm going to drop a few words about some other artists who've obviously done much the same thing.
Thanks, by the way, to Jay Sedrish for first exposing me to the electric Miles records, to Dave Meyer for stoking my interest in them, and to Steve Rosenberg, 30-some years ago, for stealing them.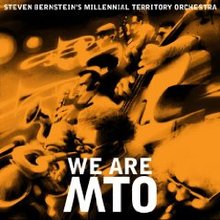 Steven Bernstein, "Diaspora Suite" (Tzadik)
Trumpeter Bernstein (Sex Mob, Lounge Lizards) is another Path guy, this being his fourth "Diaspora" album for John Zorn's label. He makes magic the same way Miles Davis did: by getting a bunch of amazing musicians in a room, giving them some sheet music and hitting Record. The players this time -- Bernstein, Nels Cline, Peter Apfelbaum, Ben Goldberg, Scott Amendola, John Scott, Devin Hoff, Jeff Gressman, Will Bernard and Josh Jones -- put down 15 songs in 6 hours, the composer claims. And they came up with something so cohesive, so natural, so inspired, that you will be sure he's lying.
For thematic matter and feel, instead of Miles' pain-drugs/funk-rock, you get a track devoted to each of Israel's 12 tribes and a minor-key mode that snakes from the Sinai desert west to Morocco and across the straits to Iberia -- territory well known to Mr. Davis, if one recalls "Sketches of Spain" among other works. There's gotta be a groove, which is never an issue when Amendola's slappin' skins. There's gotta be insanity, and Cline is right there with his raft of effects boxes. There's gotta be sadness, and between the Hebrew theme and Bernstein's moody horn, we're covered.
Mainly, there's an environment, which is thick, multicolored, full of unidentifiable sounds. Rhythms shift from big/slow to "Shaft"-like high hat to Miles live bass belly thump to an honestly frightening doom-metal conclusion. Every track, each averaging five minutes, takes a journey, and so does the album. Most remarkable is the way the musicians play off one another, as if they've been acquainted forever -- which, for the most part, they have.
A diaspora is a scattering. But when the faithful who were scattered come together, all they need is a common scripture to create something very, very powerful.


Cuong Vu, "Vu-Tet" (ArtistShare)
Play this sucker loud. You could say the same in the case of Steven Bernstein and all the electric-Miles genre, but it's especially good advice here, where the physicality of the sound is such a factor.
Stomu Takeishi's bass is all over you like a tight rubber wetsuit; stand in front of the subwoofer and it's fetish time. I've criticized the guy for hogging the midrange when he plays with cellist Erik Friedlander; here, though, he applies the same string-squeezing note control to the low register, and he just makes yer balls drop. Right in with the bass squats the walloping kick of drummer Ted Poor, whose tight grooves and Al Foster-style slosh beats, more than anything else, give this largely improvisational music shape and direction.
Trumpeter/electronicist Vu and windman Chris Speed have long partnered on each other's records, for obvious reasons: the two possess a way of mixing colors that's virtually unparalleled in jazz. The dusty polish of Speed's tenor sound makes for an especially easy blend with Vu's floating horn and echoing FX.
The method is cosmic: organization coalescing out of chaos. Most of the tracks start with an abstraction and find implications that lead to a joined rhythm or a simple melody; along the way you're likely to be discovering new definitions for beauty. A flute wafting through space gas finds its way to a beat like a broken fan. A gloomy ballad erupts into crosseyed fulminations and querulous meandering. Takeishi chases Vu as the trumpet plays itself into the corners of New Orleans snare alleys, then somehow squirms away.
Vu returns again and again to feelings of pastoral romance followed by conflict and mournful meditation, and when I looked at the titles -- "Just a Memory," "Now I Know," "I Promise" -- I understood why: It's a breakup album. Well, he must have cared a lot. You can never say the art was worth the hurt, but the art's worth the heart.


Alan Pasqua, "The Anti-Social Club" (Cryptogramophone)
Having squonked keyboards on a couple of raucous mid-'70s Tony Williams albums, Pasqua owns firsthand credentials from the electro-Miles generation. Here he enlists vet fusioneers Alex Acuña (percussionist for Weather Report) and Jimmy Haslip (bassist for Alan Holdsworth, Tommy Bolin, Yellowjackets). He's even got drummer Scott Amendola and guitarist Nels Cline from "Diaspora Suite."
The form conforms, but Pasqua's not quite antisocial enough to pull off the essence. Though he's banging on some kind of vintage Rhodes equivalent, his stalled-groove effect sounds more nettled than shocked; his atmospheric stasis is a daydream rather than a sick nightmare; his funk lacks stench.
It's likely that Pasqua, no longer a kid (he was 23 with Tony), doesn't meet the major requirements for magushood: obsession, malignancy and coca-cool (choose one or more). Instead he's an adult with a sensitive touch and a feel for natural beauty, characteristics more suitable to his longtime acoustic trio. As a matter of fact, that well-marinated ensemble, with drummer Peter Erskine and bassist Dave Carpenter, plays Jazz Bakery Wednesday, March 5.


The Mahavishnu Project, "Return to the Emerald Beyond" (Cuneiform)
Drummer Gregg Bendian acts as a grandchild of electric Miles via the Mahavishnu Project, which has been performing John McLaughlin records in their entirety for years. And "Visions of the Emerald Beyond" is the album the guitar blazer has named as his favorite.
Bendian says his two-disc "Return" is "rooted between jazz and classical interpretive performance"; the Project hits a good balance with a live take that sometimes echoes the template, sometimes amplifies the arrangements, usually takes off on its own solo paths to triple original song lengths. Speedy Glenn Alexander plays the McLaughlin role; Rob Thomas makes a creditable Jean Luc Ponty on violin.
Bendian himself, waxing big and heavy on the Mike Walden stool, gives the record its distinctively modern character -- he endows "Be Happy" with skin-busting momentum and "Lila's Dance" with an Indo-Zeppified feel. Fans of Echoplex excess will trip out on the flights of "Pegasus." "Opus I," a chamber piece expanded to an entire two minutes, contracts and relaxes its neoclassical harshness like a yoga exercise. There are three bonus tracks; I had to check on whether Mahavishnu or proto-metalers UFO (on "Rock Bottom") played the riff of Jan Hammer's "Sister Andrea" first. The winner by a year, in 1973 on M.O.'s live "Between Nothingness and Eternity," appears to be Hammer, who cut "Andrea" with Jeremy Steig and Tommy Bolin as early as 1971.
By the way: "Return" has just claimed the award for best progressive jazz album of 2007 at the Progressive Rock Hall of Fame Awards. Two great things: An excellent unit gets a slap on the back, and I now know there is a Progressive Rock Hall of Fame. Does the Hall use superfine sci-fi grafix? You bet your ass.