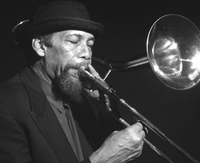 Fri. Feb 1 – Local (by way of Detroit) trombonist Phil Ranelin slipslides down the whole history of jazz, this time saluting the great L.A. saxist Dexter Gordon, with the capable Carl Randall taking the tenor role. At Hollywood Studio Bar & Grill, 6122 Sunset Blvd., Hollywood 90028; 8pm; $10; (323) 466-9917; reservations recommended.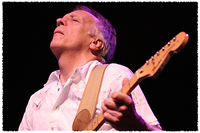 Sat. Feb. 2 – It's totally unfair that the rep of Robin Trower seems to have faded into sniggersville; the guy is an ax original. Hear, for instance, his 1967 solo on Procol Harum's "Repent Walpurgis," waxed when he was, like, 22 -- pure youthful anguish, wrung out with a tar-thick tone that influenced early Jimmy Page. So maybe he was insane to cop all Hendrix's mannerisms from the '70s on, but you can't deny the fluid lyricism of his solos, like the slow burn he mounts on "Daydream," or refute the ferocity of his rhythm playing on "Day of the Eagle." Reading Trower's Wikipedia entry, I see that he guested on Bryan Ferry albums in the '90s and last year – I gotta check those out. And it must've been I who told him to downtune to D. Or maybe it was Tony Iommi. Somebody old. At House of Blues.
Sat. Feb. 2 – Lesbian is a Seattle band with some of that slow Isis grandeur but more rocking. Good if you're on downers or drunk, but you better start pounding, cuz this is an early show with Ancestors and the versatile Grayceon, and I can't tell who plays last but I think Lesbian, probably after 7pm. At Relax Bar, 5511 Hollywood Blvd.; 5:30pm; $10.
Sat. Feb. 2 -- The always exciting Nick Mancini Collective, featuring the wild vibesman with pianist Otmaro Ruiz, bassist Dan Lutz and drummer Nate Wood. At Café Metropol, 923 E. Third St., downtown 90013; 8pm; $10 cover, $10 minimum; (213) 613-1537, reservations recommended.
Sun. Feb. 3 – Mixing it up in various configurations of line and tone: Philip Gelb (shakuhachi), Vinny Golia (winds), Alex Cline (hittin' shit) and special out-of-town guests Jane Rigler (NY, flute) and Jie Ma (China-SF, pipa). A nonviolent easedown for after the Super Bowl. At Center for the Arts, 2225 Colorado Blvd., Eagle Rock; 7pm; $10; (626) 795-4989.
Mon. Feb. 4 – Carla Bozulich and Nels Cline are Scarnella, making delightful waves of noise with FX and guitars and things. At Pehrspace, 325 Glendale Blvd. South of Temple, Echo Park, toward the end of a five-artist bill that starts at 9:30, so it'll be late.
Mon. Feb. 4 – The somewhat underwhelming response to Rickie Lee Jones' spare, gritty new album last year surprised me. Was the slack cuz it's about Jesus? Well, it's about J as man and metaphor, not a religious thing, dopes. And the record is great. At Echoplex, 1154 Glendale Blvd., Echo Park 90026; 8pm; www.attheecho.com.
Mon. Feb. 4 – Femme-fronted more-or-less modern metal from Echoes of Eternity. Trail of Tears headlines, and there's a mess more metal bands earlier. At the Whisky.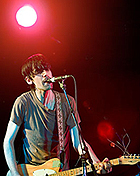 Tues. Feb. 5 – As much as I love zoning out to Dead Meadow, I never thought their slow stoner thing and Neil Youngish ballads would keep going so long – like ten years now. They've relocated from D.C. to L.A. now, apparently. Good. At Echoplex, 1154 Glendale Blvd., Echo Park 90026; www.attheecho.com..
Wed. Feb. 6 – A trio with group intuition and quite a few years practice exercising it: subliminal drummer Peter Erskine, beauty-besotted pianist Alan Pasqua and perfect bassist Dave Carpenter. Pasqua's got a nice fusion album out commemorating his Tony Williams days, but this ain't that; acoustic here all the way. At Cal State Northridge's Cypress Hall 18111 Nordhoff St., 7:30pm -- FREE.