Sorry I'm a bit soft on discrete content this week, but next week MetalJazz will feature "Children of Electric Miles," about a bunch of modernists who've sucked up that '70s energy. RIP Teo Macero.
In the wake of the lunar eclipse we get a slingshot barrage of metal, oh ye darkspawn.
Fri.-Sat. Feb. 22-23 -- I would love to know what's really going on with Marilyn Manson. Twiggy gets disgusted several years back and leaves to go proggy with A Perfect Circle and songwriterly with Chris Goss in Goon Moon. Manson partners up with Tim Skold and makes his most ordinary album ("The Golden Age of Grotesque") and then one of his best ("Eat Me Drink Me" last year). So just when the Skold alliance is peaking, Skold splits and Twiggy's back on bass for this tour along with longtime drummer Ginger Fish, keyboardist Chris Vrenna and guitarist Rob Holliday. I'm starting to think of Manson as the George Clinton of hard rock. Whatever, he's always good live. At the Wiltern.
Fri.-Sat. Feb. 22-23 -- Matt Otto, a tenor saxist with a lovely soft tone and a wide-ranging palette, plays in two bands this weekend. Friday it's Joe-Less Shoe with drummer Jason Harnell and guitarist Jamie Rosen; Saturday it's the quartet of trumpeter Josh Welchez with Jason Harnell and pianist Joe Bagg. At Café Metropol, 923 E. Third St., downtown 90013; 8pm; $5 cover, $10 minimum; (213) 613-1537.
Fri.-Sat. Feb. 22-23 -- Good trad/bop from New Orleans trumpeter Nicholas Payton and guitarist Russell Malone, with excellent local support from pianist Nate Morgan, drummer Roy McCurdy and bassist Tony Dumas.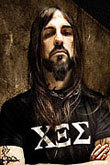 Sun. Feb. 24 -- With a somewhat melodic, distinctively Greek sound and a history that includes a "Fuck Christ" tour, Rotting Christ appear to be a classic pagan black-metal gang. So how come vocalist Sakis has those Greek letters on his shirt? Chi Theta Sigma could be a satanic fraternity, or it could be 60 percent of the mythic code for Jesus: the fish symbol, fish in Greek being ichthus, spelled iota chi theta upsilon sigma, an acronym for Iesus Christos, Theou Huios, Soter -- Jesus Christ, God's Son, Savior. Chi Theta Sigma would condense it to Christ God Savior. Closet Christians? God forbid. Immolation pack in so much death-metal density that you hardly know where you're at sometimes, and that's a good thing. Real musical, too -- grab last year's "Shadows in the Light"; you won't be sorry. Austria's Belphegor can rip like chaos incarnate but also exude a very serious slow side; it takes a lot of chops to be this bestial. At House of Blues.
Sun. Feb. 24 -- Give major points to A Life Once Lost for coming up with an original metal sound -- riffs that bounce off drums, riffs that bounce off riffs, beats that fight but keep up heavy forward momentum. (Drummer Justin Graves sometimes sounds like two guys.) And last year's "Iron Gag" was produced by Alan Douglas, who did Hendrix and Dolphy. Dude. Skeletonwitch ain't quite as original, but they spin out the thrash with some good rhythmic twists. With this and the Rotting Christ show on the same street on the same night, it's like a festival. At the Whisky.
Sun. Feb. 24 -- The king of L.A. avant, windman Vinny Golia, tops a bill featuring the trio of Antony DiGennaro, Dan Rosenbloom &Matt Mayhall, and the duo of DiGennaro & Ulrich Krieger. At Dangerous Curve Art Gallery, 1020 E. Fourth Pl., downtown 90013; 7pm; $10.
Sun. Feb. 24 -- This from Guy Pinhas: Amoeba Music and KXLU presents "Undergroundsound," a night of collective improvisational spontaneity featuring Green Jello vs. the Radioactive Chicken Heads, Foot Village, The Kids of Widney High, An Endless Contortionist (featuring Guy), Elif Savas, films, slides, clothing modification, vegan food, live painting and a record giveaway. At the downtown (not Valley) Charlie O's in the Alexandria Hotel, 501 S. Spring St. 90013; 10pm; g'damn FREE.


Mon.-Tues. Feb. 25-26 -- Nik Bärtsch's Ronin have found a new way to groove -- the five squeeze themselves into a narrow band of sound and turn up the pressure just a little. It's like the water coming out of your bathroom faucet, quick and steady; call it compressed relaxation. Drummer Kaspar Rast's foot is busy but light; bassist Björn Meyer plays an important driving role; percussionist Andi Pupato applies little pinpricks of instigation; reedman Sha floats around the periphery or quonks out percussive co-accents. On piano, Bärtsch seems to come up with a concept -- a spray, a tinkle, a comp rhythm -- and condense it to an essence, so even when there's a lot going on in the group, you can hear everybody's contribution. Their just-released album is "Holon," on (of course) ECM. Quietly revolutionary and very, very good. At Jazz Bakery; 8 & 9:30pm; $25.
Mon. Feb. 25 -- Emo metal from All That Remains and a somewhat less diapered version of same from Chimaira. Divine Heresy, the new band of guitarist Dino Cazares (Fear Factory, Brujeria), has got a touch of clean vox but doesn't really belong on this bill; if you want some blackish American fury (and more balls), come earlier to catch them. At House of Blues.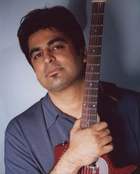 Thurs. Feb. 28 -- Rez Abbasi is a world guitarist and composer you should know; read my record review here. He brings Kiran Ahluwalia, Sam Barsch and Dan Weiss. At La Ve Lee, 12415 Ventura Blvd., Studio City; 8:30 & 10:30pm; (818) 980-8158; minimal cover plus two-drink minimum. Also tomorrow, Fri. Feb. 29, at Café Metropol.
Thurs. Feb. 28 -- Vet singers Sherwood Sledge and Barbara Morrison give a nice sendoff to the jazz bookings at the Vic in Santa Monica. Sold out.