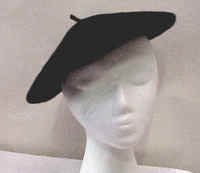 Please forgive me for writing this, because I don't know much about Rickie Lee Jones. A lot of real fans who sang along with every word were present at this show, which was supposed to be the grand finale of a month of Mondays at the Echo Park basement. I felt as if I were eavesdropping on a lovers' conversation.
Okay, I think I like her now. But I used to think I hated her. The time was 1979; I was a dumb punk. Jones had just scored a big hit with the cloying jazzbo ballad "Chuck E's in Love," and beatnikry was in the Los Angeles air. The New Street Poets were everywhere. You had yer eponymous Chuck E. Weiss, a derelict-looking R&B throwback. You had yer Tom Waits, an equally derelict-looking shuffler with a soul patch under his lip, a frog in his throat and a rack of stupid hats, who thought he was an old black guy. And then you had yer Rickie Lee Jones, a whining, slouching blonde with a perpetual catarrh who strained and failed to hit her high notes while pawing piano and tilting a dusky beret. God, that beret made me cringe. When Joni Mitchell had done the same pose on the cover of "Hejira" a few years earlier, it was almost funny, like Miami Steve. Jones was an accidental parody of an accidental parody of an accidental parody.
The Rickie Lee craze deflated in a few minutes, and I forgot about her for 28 years, never having heard any of her albums, of course. Then last year her publicist sent me "The Sermon on Exposition Boulevard." I thought what the hell and put it in my car changer.
Immediately I thought I might have been missing something for a few decades. The record had the gritty simplicity of a Waits thing, but without the arty snoot. Guitars scraped along as Jones mumbled about something; it was like being pulled along in a slow and steady current. Gradually it became apparent from the words of transcendent disappointment and abandonment and love that she was singing about many possible Christs. It wasn't a sermon at all, it was a bunch of testimonials, that is to say witnessings, that is to say martyrdoms. There was no glory, only humanity and a vague persistent hope. This was no New Street Poet, this was a real poet.
And that was who showed up Monday night, humble, nearly nervous, setting off little flashes of lyric illumination. Jones began her set with pianist Alfred Johnson, a songwriting partner from back in '77, and sang "Company," a ballad soaked with the L.A. spirit of that era, the kind of descending dignity we used to hear from Warren Zevon, maybe Jimmy Webb.
As she went on, Jones showed a touch of Laura Nyro here and there, some Joni obviously, but the voice, still straining yet strong, was hers, and so were the words. I liked "Sharpening your teeth on my low womb" ("Tigers") and "I lied to my angel so I could take you downtown ("Traces of the Western Slopes"); we got the message when Jones said something about "sparks of happiness in a dark, dark time" and how she used to sniff glue by the railroad tracks. And when she introduced "Scary Chinese Movie" ("You will always make me be faster than I am"; "Someone's reading the book over us") by talking about the last time she had sex -- that was frightening indeed, in such a childlike way. There was stuff about God manifesting, and a serpent in a net, and a bird flying through a terrible cloud of unknowing, and she smiled wide when she felt like it, and shook her big middle-aged tits under an unflattering horizontal-striped surfer shirt, and, y'know, I kept listening. Because she made me.
Rob Wasserman played upright bass; I didn't catch the names of the other band members, but they played with simple taste and quiet noise and were great. And now that I've been somewhat introduced to Rickie Lee Jones, I don't know what to do with her, except to realize that when a lot of people enjoy an artist, she does not necessarily suck. May she live and thrive.
As for the venue, a valuable space holding about 500 that has been open for a couple of years I think, it needs to do some deep thinking about how it treats its customers. Jones wrung her hands and apologized for the long lines outside; people were standing in the cold for 40 minutes well after the doors opened. There were 20-minute lines at the bar, where three bartenders worked a space designed for five. The table wait for a burger was an hour and a half. Congratulations on taking our money, ExPlex; now provide some service. We were too old for this shit in 1978, when similar club admissions ran about $5. Now, 30 years and $30 later, we won't fucking stand for it.