Fri. March 21 -- The all-star S.F. Jazz Collective plays the music of Wayne Shorter, which is a pretty hard concept to argue with given the talent: Joe Lovano, Dave Douglas, Stefon Harris, Miguel Zenón, Robin Eubanks, Renee Rosnes, Matt Penman, Eric Harland. Much in keeping with the theme, Douglas has a new album, "Moonshine," available through his web site, where you can also check out a couple of its full-length selections -- very grooving, organically electronicized stuff with Miles/Shorter roots, which he calls "Green Beat" -- and even mix a track yourself. At Royce Hall, UCLA; 8pm; $26-$48; www.uclalive.org.
Fri. March 21 -- Automatic, the duo of guitar extenders Jeremy Drake and G.E. Stinson, opens a five-band bill that also includes Carla Bozulich's spooky Evangelista. Looks like a real good one. At the Smell, through the alley behind 247 S. Main St., downtown 90012; 9pm.
Fri. March 21 -- He plays vibes and all kinds of percussion, and he never plays it straight: Brad Dutz brings a quartet. At Café Metropol, 923 E. Third St., downtown 90013; 8pm; $5 cover, $10 minimum; (213) 613-1537; reservations recommended.
Sat. March 22 -- Cosmically attuned piano and electronics from Motoko Honda (you gotta hear her) accompany the "Tantric poetry" of Nduku Makpaulu. At Café Metropol, 923 E. Third St., downtown 90013; 8pm; $5 cover, $10 minimum; (213) 613-1537; reservations recommended. You may have noticed that I think this place has the most consistently intriguing bookings in town thanks to Rocco Somazzi; most any show is worth checking out. To sign up for complete schedule updates, look at the bottom of the page here.
Sat. March 22 -- Gary Eaton and Kingsizemaybe, the funnest roots-rock outfit in town, lay down the drinkin' music to celebrate the release of their new album. In the bar of Taix Restaurant, 1911 Sunset Blvd., Silver Lake 90026, probably around 10 or 11pm.
Sun. March 23 -- Ain't no better way to celebrate the Resurrection than with the upward-rocketing improvisational voice of Dwight Trible; you also get to celebrate his birthday. With John Rangel (piano), Trevor Ware (bass) and Clayton Cameron (drums). At Jazz Bakery; 8 & 9:30pm; $25.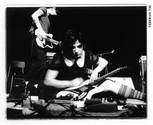 Tues. March 25 -- Carla Bozulich's Evangelista amid the record racks. At Amoeba Music, 6400 Sunset Blvd., Hollywood 90028; 7pm; (323) 245-640; FREE.
Tues. March 25 -- Composer Andrew Durkin's rather large Industrial Jazz Group has fun with music. Sometimes too much fun, I think, but I enjoy a high quotient of gloom and rage. The IJG's new "LEEF," for which tonight's show is a release party, is amazing in many ways. As usual, it combines a lotta styles, taking an old ragtime riff or "Volga Boatmen," say, and expanding the harmony, messing with the tempo, twisting it around. There's plenty of purely original stuff, too, changing all the time and keeping up a high level of energy, invention and smartly applied dissonance. With a greater emphasis on vocals this time, "LEEF" comes off as a kind of modern light opera, telling a slapstick story of artistic alienation and vehicular devastation. You will not be bored. At Temple Bar, 1026 Wilshire Blvd., Santa Monica; 11pm; $10.
Tues.-Sat. March 25-29 -- Bluesy, soulful alto saxist Kenny Garrett brings a quartet. At Catalina's.
Tues.-Sat. March 25-29 -- Bow to Osiris, man, it's Coltrane's dueling tenorist Pharoah Sanders, fronting a quartet with pianist William Henderson, bassist Nat Reeves and drummer Willie Jones III. At Jazz Bakery: 8 & 9:30pm; $30-$35.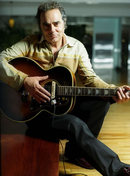 Thurs. March 27 -- Producer-musician Daniel Lanois knows how to scare up some swampgas atmosphere -- Bob Dylan's "Time out of Mind" for instance. And you gotta dig a guy who knows his slide guitar. He's premiering a documentary about his studio technique, then playing a set. At the Vista Theater, 4473 Sunset Dr. 90027; 6:30 & 9:30pm; $20; www.ticketweb.com.