Fri. March 28 -- Quiet, ever-shifting acoustic guitar of the deep mind from an L.A. treasure, Jim McAuley. Plus a trio of open-headed locals Kris Tiner (trumpet), Tatsuya Nakatani (percussion) and Jeremy Drake (quiet electric guitar). At Dangerous Curve Art Gallery, 1020 E. Fourth Pl., downtown 90013; 8pm; $10.
Fri. March 28 -- Just in: Terrific local trombonist Phil Ranelin heads an ensemble featuring tenorman Randall Fisher, pianist Gary Matsumoto, bassist Edwin Livingston and drummer Don Littleton. At Santa Monica College Concert Hall, 1900 Pico Blvd., Santa Monica 90405; $12; (310) 434-3000.
Fri. March 28 -- Metallic stones and drones: the post-psychedelic Ancestors and Portland's sludgier Middian. At Mountain Bar, 473 Gin Ling Way, Chinatown 90012; (213) 625-7500; www.themountainbar.com.
Fri.-Sat. March 28-29 -- Bluesy, soulful alto saxist Kenny Garrett brings a quartet. At Catalina's.
Fri.-Sat. March 28-29 -- Coltrane's dueling tenorist Pharoah Sanders fronts a quartet with pianist William Henderson, bassist Nat Reeves and drummer Willie Jones III. At Jazz Bakery: 8 & 9:30pm; $30-$35.
Sat. March 29 -- Michael McDaniel Joint wafts Afro-soul-Latin jazz via the leader's saxes and flute along with the best of the Tapscott generation, Nate Morgan and Fritz Wise, on piano and drums. You'll dig this. At Café Metropol, 923 E. Third St., downtown 90013; 8pm; $5 cover, $10 minimum; (213) 613-1537; reservations recommended.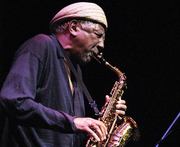 Sun. March 30 -- Charles Lloyd Quartet. Read my review of the great windman's new album here. At Catalina's, 8 & 9:30pm; (323) 466-2210; may be too late to get reservations, but try -- Lloyd's presence live is transcendent.
Sun. March 30 -- I'm a little claustrophobic, so I suffered when I saw songwriter Eleni Mandell in this stuffed back room one time, but for this very intimate artist, it was worth it. She's got Jeremy Drake on guitar, too. At Tangier, 2138 Hillhurst Ave., Los Feliz 90027; (323) 666-8666; 10pm; $10. Hope they've lost that bitch of a bartender.
Mon. March 31 -- Trippin' poets of modern California country I See Hawks in L.A. open for the Chapin Sisters. At the Echo, 1822 Sunset Blvd., Echo Park 90023; (213) 413-8200; cheap.
Tues. April 1 -- I See Hawks in L.A. play Ronnie Mack's Barn Dance. At El Cid, 4212 Sunset Blvd., Silver Lake 90029; (323) 668-0318; cheaper.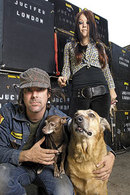 Wed. April 2 -- One chick with a guitar and a big amp. One dude behind the drums. Jucifer make a huge noise and also make you think about how tiny is human life. At the Knitting Factory.