Fri. March 7 -- Pianist Wayne Horvitz and Sweeter Than the Day turn out their inward-turning modern jazz/roots beautific vision. At Café Metropol, 923 E. Third St., downtown 90013; 8pm; $15 cover, $10 minimum; (213) 613-1537; reservations recommended.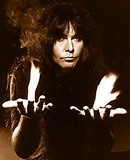 Sat. March 8 -- Some guy may say some WASP album ain't as good as some other WASP album, but you know what? Since its maculate conception in the early '80s, WASP has never made a bad record, not even a mediocre one -- through a dozen lineup changes, singer-guitarist-writer Blackie Lawless has basically competed against himself. Just dissect the current "Dominator," which seems to be still import-only for some reason. The songwriting's strong, the passion throbs, the production has depth and grain; it totally rocks. And tonight is a special occasion: WASP plays its 1992 epic "The Crimson Idol" in its entirety, replete with video footage shot the same year and intended to complement the presentation of the libretto (about a slaughtered rock star). And then Blackie & co. -- bassist/singer Mike Duda, guitarist Doug Blair and drummer Mike Dupke, the redoubtable lineup from "Dominator" -- do a set of hits like "Wild Child," "I Wanna Be Somebody" and "Sleeping in the Fire." I will be there, I will do very little thinking, and I will feel like shit Sunday morning. At the Key Club.
Sat. March 8 -- Guitarist's guitarist Michael Landau promises to rock out with his power trio (bassist Dustin Boyer, drummer Trevor Boyer), and you can take him at his word. At the Baked Potato; 9:30 & 11:30pm; $25.
Sun. March 9 -- Another night of duos by the BEST of the L.A. avant, starting with Joseph Berardi & Carey Fosse, then Rich West & Steuart Liebig, then Jeff Gauthier & Alex Cline. At Dangerous Curve Art Gallery, 1020 E. Fourth Pl., downtown 90013; 7pm; $10.
Tues. March 11 -- The great jazz orchestra leader Gerald Wilson is retiring from his teaching post at UCLA at age 89, and the university's three student bands (led by Charley Harrison, Bobby Rodriguez and Kenny Burrell/Roberto Miranda) are performing in tribute. At Schoenberg Hall, UCLA; 7pm; free.

Thurs. March 13 -- What's your favorite Black Sabbath album? Probably it varies, but Martin Popoff and I concur that 1975's "Sabotage" has got to be near the top: the sickly, doped-up feel; the weird mix of heavy rock and throwback psychedelia; the epic pretensions; the vast array of guitar sounds; killer songs like "Hole in the Sky" and "Megalomania." Never had I encountered anything that came close to the mood of "Sabotage" till I heard the new "Unonou" by Portland's Danava. Now, I really reveled in the prog-space-groove thing of their debut record, and interviewed singer-guitarist-keysman Dusty Sparkles for LA Weekly in 2006, as you can read here. But "Unonou" is ten times better, just magnificent crazed self-indulgent fun. The powerfully huge sound suggests that Sparkles, along with Dell Blackwood (bass), Buck Rothy (drums) and Rockwell (synth), had more studio time to mess with, and lawd did they go to town. You get Who-style sequencer riffs, riotous calliopes, thundering drums, a hundred riffs and a thousand guitars, all somehow failing to bury the very Ozzified phrasing of Sparkles' wraithy whine. The structures veer from Sabbath to Yes (I experienced both on the same bill in 1973!) to Hawkwind to Rush, usually with a speedball jam in there extending song lengths to 13 minutes in one case. The rockinest hookpiece is "The Emerald Snow of Sleep"; the nastiest noisefest is the concluding "One Mind Gone Separate Ways" (love those titles). And if you've got the patience for something truly bizarre, try the acid ragtime Kinks number "A High or a Low," with the wise repeated line "I keep goin' never knowin' where it's goin'." Break it down and the elements are pretty simple, but the layers make for a hell of a cake. I saw Danava in 2006, and though they were very good, I was not high enough; do not make that mistake. They will probably take off their shirts so they can sweat properly, and in the case of Sparkles, a skinny hunching gnome around 40, you may wish he had not. Yet you will forgive them. Opening for Acid Mothers Temple. At Echoplex, 1154 Glendale Blvd., Echo Park 90026; 10pm; $10; 18 and over.
Thurs. March 13 -- Sneaky opportunity to rub elbows in intimate environs with the fantastic alto saxist and composer Arthur Blythe, with Gust Tsilis on vibes, Greg Erba on guitar and Johson on organ. In the basement of the Ramada Hollywood, 1160 N. Vermont Ave.; 9:30 & 11:30pm; a lousy $5 cover and one-drink minimum.