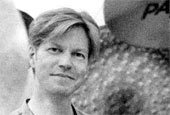 There's a reason tripods have three legs, and it's the same reason duos are a riskier improvisational format than trios: stability -- two humans must lean on each other at exactly the correct angle in order to avoid falling down. The surprising thing about this art-gallery avant evening was that the duos struck the right balance more often than not. But maybe it wasn't so surprising, given the level of experience on display.
As we walked up and executed the ceremonial stubbing of the toe on the metal gate frame, the industrial-zone loading docks outside reverberated with what sounded like the spacecraft landing sequence in a '50s sci-fi movie. This turned out to be mostly Joe Berardi, hunching over toy keyboards and a mini drum kit and provoking distress with effects devices and unorthodox applications of sticks. Eight feet away stood tall and bespectacled Carey Fosse, showing staunch Fender devotion with his choice of guitars and amp. The question arose as to why Fosse stood with his back toward us and his face toward the amp, and since he wasn't going for any big feedback thing, it remained unanswered. Berardi catered to short attention spans by switching briskly from Floydish atmospherics to inventive tinkering (e.g. with a metal mixing bowl) to whappity Lincoln Log grooves to an extended jazzy drum solo; he was damn entertaining. Fosse, bucking the trend toward heavy FX reliance in skewed stringery, showed proper respect for and distance from the traditions of jazz, spy/surf music and differently abled palm abuse. While each was listenable in his own right, there wasn't much merger or exchange.
Bassist-electroman Steuart Liebig and drummer Rich West, on the other claw, sounded as if they'd been jamming together for years after one rehearsal. Liebig acted as the pagan wizard -- stirring up a Delhi drone, looping a monster metal riff and soloing against it, infesting his strings with strange implements and conjuring a vapor of multicolored feedback. Portraying the serene medieval lector, West rolled easily around the kit and broke up the timbres with machine-shop electronic loops or spontaneous tootling on plastic Pan pipes. Though they hardly glanced at each other, they achieved a mixmaster blend; when one heated up, the other cooled down. They hit a center of gravity, a balance, and the audience loved it.
Violinist Jeff Gauthier needed his whole arsenal of bowing techniques and electro augmentations to avoid being overshadowed by the percussion monsoon of Alex Cline (pictured), but he succeeded. By way of introduction, Cline demonstrated that there's nobody else who can stroke gongs and cymbals with such sensitivity and acumen: The pairings of overtones and note decays were just exquisite. Before long he was boiling up subterranean energy on the toms before exploding into a full-on rock-star massacre, his hands rampaging around while he sat erect and slightly smiling in the middle like a brass Buddha. Gauthier, meanwhile, paced him with sustains, samples and echoes generated by his computer and effects, building to strains of Muscovite melancholy and grimly determined stabs. It was the evening's most emotional set.
The drummers staged a tacit competition as to who could bring the smallest kick. The winner yet loudest: Alex Cline's Yamaha, at 16 inches. Congratulations.