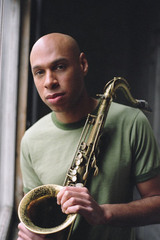 Kicking knees, flapping elbows, making faces while blowin' the tenor -- it's hard to interpret Joshua Redman's latter-day physical auxiliaries. Saw him a long time ago when he was just a kid, and he didn't do that stuff. Did he always want to but thought he needed to be cool? Or was he doing it now so he wouldn't seem so studious? Either way, he came off as kind of a sweet nerd in his vintage checked shirt, uncomfortable with his status as one of five people in America who can make a living as a jazz performer.
Redman has been thinking a lot about Sonny Rollins -- his current "Back East" album is a tribute to Rollins' 1957 "Way Out West." So it was natural that he'd start Saturday's trio set with "Surrey With the Fringe on Top," which Rollins waxed for Blue Note the same year and with which Redman begins "Back East." The differences hit harder than the similarities, largely out of attitude: When Rollins would strut into a skippity-doo show tune like "Surrey" or "I'm an Old Cowhand," he didn't exactly wag his dick, but you were always conscious that he was walking a black line, having sport with a white convention. With Redman, it was more like, "The dinner crowd will dig this." Rather than racialize or sexualize the situation, he intellectualized it, changing the chords, dragging the melody, throwing in some controlled overblowing.
So we were thinking, here's a guy who knows how to play sax. The scientific L.A. sax repairman, sound conceptualist and all-around character Oleg used to tell me that J.R. was his favorite younger player; Oleg, trained as an elite musician in Russia, was very big on logic and technique. Technique, though, needs to serve something, and Redman kept making us wonder if he has trouble expressing himself, or if he has anything to express. This was clearest when Redman got into some blues, a language to which his father, saxist Dewey Redman, was born but one that Joshua speaks stiffly.
Joshua introduced "Ghost" as a new composition -- about Dad, who died in 2006, maybe? On hard-toned soprano now, he edged into it with an elegiac Andalusian feel that was obviously intended to be sad, but he sounded more as if he were searching for notes that would emote, coloring the performance with an awkward and unintended poignancy: The ghosts that haunt strongest are the ones you couldn't touch in life. (Not to read too much into it, but Joshua was raised without his father.)
Bassist Reuben Rogers and drummer Greg Hutchinson expertly pulled off the hesitation beat of "So Sue Me," and supported Redman's long, fluid lines on Thelonious Monk's jumpy "Trinkle Tinkle" with contrasting surges and sags in the rhythm.
Redman's Johnny Hodges-style bends on the ballad "Angel Eyes" were silky; his El Cid marching skills, goaded by Hutchinson's caravan drums, were impressive; his octave leaps on the jittery Russian accelerandos of "Insomnomaniac" were staggering yet smooth -- you can call him a Vulcan, but not an underachiever. The jazz drug of the '50s was heroin; today it's caffeine.