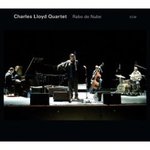 Charles Lloyd Quartet, "Rabo de Nube" (ECM)
Happy birthday to the great wind mystic Charles Lloyd, who turned 70 on March 15. Not everybody can make a fine transitional statement at that age, but he's turned a corner with "Rabo de Nube," recorded live in Basel last year.
Big-minded pianists (Keith Jarrett, Brad Mehldau, Geri Allen) have been drawn to Lloyd because of what they can learn from this master of subtlety. It's a special challenge, though, for a pianist to pull off a Lloyd partnership, which comes more naturally to the tactile flexibility of guitarists (Gabor Szabo, John Abercrombie): Anything but the perfect balance of sensitivity, melody and spare harmonic accent would wilt the flower.
So some anticipatory electricity surged when we heard that one of the past decade's most ingenious young 88ers, Jason Moran, had teamed up with Lloyd's well-established drums-bass bandmates Eric Harland and Reuben Rogers. Allen and Moran each made a career mark with an aggressively modern approch to harmony. During Allen's several years with Lloyd, it was instructive to watch how she adapted: Having already softened her attack in previous endeavors, she was ready to play mood setter and resilient cushion, rarely showing any ego. Yet fitting in took time.
Moran is more assertive, and not always in the right way. Since Lloyd usually gets lumped (without full justification) into the school of John Coltrane, you might question Moran's decision to emphasize the connection; he sprinkles intervals reminiscent of Trane mainstay McCoy Tyner into the windsprint opener, "Prometheus," on which Lloyd pulls off jagged lines with casual wit. Throughout the set, Moran tries this and that: melding Duke Ellington with Randy Weston behind Lloyd's wild and dense Arabic-scaled tarogato (wooden soprano-like horn) on "Ramanujan"; mixing Thelonious Monk with Bud Powell on Lloyd's scientifically constructed Andrew Hill tribute "La Colline du Monk." Anyway, even if he doesn't sound like himself, Moran always sounds good, and sometimes reinvents himself wonderfully, as in the light-limbed Spanish dance of "Migration of Spirit," where his wide-open chords manage to be really dissonant and really pretty at the same time. If he sticks around, he may end up the best keyboard foil Lloyd ever had. And the apprenticeship could take time developing, since the leader's peerless technique and humble dedication show no signs of diminishment.
Rogers and Harland fill the rhythmic space with practiced spontaneity, bumping a warm Afro-groove behind Lloyd's dark alto flute on "Booker's Garden," and each taking a solo between the tough post-bop riffs that frame "Sweet Georgia Bright" -- Rogers' bass changeable and acrobatic, Harland's drums brisk and handy.
Harland gets a gold star for his deft sequence of maracas, sleigh bells and rim ticks on the low-lilting bossa ballad "Rabo de Nube," accenting the brokenhearted dignity of Lloyd's tenor work, which can touch the heart like no one else's. When certain events enter your life, this will be a song to remember.
THE CHARLES LLOYD QUARTET PLAYS CATALINA'S THIS SUNDAY, MARCH 30.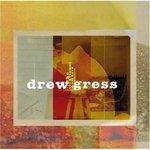 Drew Gress, "The Irrational Numbers" (Premonition)
If this record puffs less exhilaration than the same quintet's "7 Black Butterflies" from 2005, it's not because of the execution, it's because of what bassist Gress chose to execute. He was plainly more uneasy in his soul this time around -- ain't we all? -- and that's what you hear.
The mood suits the band, an intimately spontaneous ensemble of all-star edgemen seasoned under years of association: Gress, alto saxist Tim Berne, drummer Tom Rainey, trumpeter Ralph Alessi and pianist Craig Taborn. Gress claims the privilege of authorship/leadership with a big, detailed, percussive bass sound he co-produced with David Torn, who brings a modern hardness and some smoggy electronic sustains to the recording.
The ride starts in gorgeous fashion with Gress thrumming over the Gil Evans-inspired chords of "Bellwether," but after that two minutes the climate quickly grows stormy. Horn harmonies get harsher; a tense daytime urban jog is followed by chaotic nighttime Latin bustle; beauty fails and agitated millennial complexity sets in.
Halfway through, though -- call it Side 2 -- the listener gets some respite. The easy-bopping "Blackbird Backtalk" could almost be an outtake from John Coltrane's "Blue Train," and "By Far" fulfills its lovely awakening piano with an opiated languor engendered by long sustains of trumpet, sax and bowed bass. Yet soon, the off-round rhythms of "That Heavenly Hell" clue you that something's still broken . . . oh, it's the floodgate mechanism, and here comes the deluge gushing through all at once. The Acheron finally debouches with "True South," a schizophrenic slow-fast, start-stop, heavy-light decomposition that winds down into a sci-fi-cathedral electric keyboard solo -- a futuristic funeral?
Gress is a star bassist, doing everything a bass doesn't usually do yet never making you long for a baldly stated groove. He couldn't have gotten his feel without Rainey, whose passive resistance and scattered focus suggest subliminal beats that aren't there. Or rather the beats aren't in your ears, they're in your mind. Or in some dimension aside from this messed-up nexus we're stuck in.