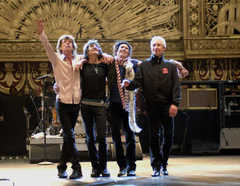 I'm not calling this a review; I didn't take notes, because I just wanted to sit in the Cinerama Dome and get bashed by the big sound and big screen. It worked. The only missing element (and it was a substantial omission) was a pitcher of tequila sunrises.
But what the hell, it was hardly past noon -- not that that woulda stopped me from imbibing, not when I was 21 and not now, when spewing in the lobby would be quite a bit more embarrassing. Save the barf bag for the DVD.
The Dome had about 20 patrons in it, no kidding. Mostly co-oldfucks. Sitting next to me was Bostonian visitor Tom Doherty, off whose shoulders I fell in 1972 while trying to change a light bulb in the process of sleepwalking after dozing off to the Stones product "Jamming With Edward," thereby necessitating a trip to the emergency room when it was discovered that I had temporarily lost every speck of my memory.
I got my history back within a few days, so I know that the Stones mean a lot less to Tom and me today than they did in '72, when they had just blown out "Exile on Main Street" and held a status approximately equal to God and Satan combined. This movie, by Scorsese or otherwise, was by no means a sure winner.
But here it came. The film's setup -- with Marty and Mick fussing over details like a pair of old queens, and beneficiaries Bill & Hil spread over the cinematic bleedcake like frosting -- was pretty amusing. But Scorsese coulda skipped it and gone straight into "Jumpin' Jack Flash."
I was not prepared to be so thoroughly rocked. I had experienced the Stones live in 1972 and 2002 (each good in totally different ways), and seen the 1974 concert film "Ladies and Gentlemen: The Rolling Stones" when it hit big screens and quickly disappeared forever. Here in the Dome, though -- this was a risky luxury. Knowing firsthand that the Stones' reputation as a peerless live band was partly mythical, I didn't expect it would stand up to widescreen, hi-fi scrutiny.
Well, a lot of the time the Stones were magic. "Jumpin' Jack Flash" went straight for the gut, the guitars of Keith Richards and Ronnie Wood bouncing off each other with a spontaneous bedroom ease bred of three decades' roadwork -- among ax duos, only Howlin' Wolf's Hubert Sumlin and Willie Johnson have ever compared. "All Down the Line" chugged with steam sweat. "Live With Me," with Christina Aguilera howling up a storm on six-inch stilettos under Mick's sweaty grope, was a real slap-banger. "Start Me Up" was ruff enuff. I can almost understand why Scorsese saved the gospely "Shine a Light" for the closing credits -- there's something sacred about it. But it was a wonderful, optimistic, soulful performance, and I woulda liked to see it.
Kick me if you want to, but the rendition of "As Tears Go By" just about had me blowin' my nose on my sleeve. Jagger, who must have been off tour for a while judging by the freshness and subtlety of his voice throughout, sang the antique ballad he wrote for Marianne Faithfull with a level of precision (yet emotion) I had never, ever heard from him before.
The guest spots by Jack White (slide & vox) on the thumpin' plaint "Loving Cup" and Buddy Guy on the stinging blues "Champagne and Reefer" rocked with a nice level of slop. The only number that plain failed was "Shattered," a one-chord vamp that had triumphed in its studio version only because of a brilliant application of studio voodoo; it's virtually impossible live, no matter how fardown Charlie Watts' drum groove manages to get. (And unlike in many concerts, the film gig found him fully committed on every song.)
Snappy editing from the team of cutmasters (including Albert Maysles from "Gimme Shelter"!). Unbustable bass by Darryl Jones. Wild & wooly background vocals. Even dumb ol' Bobby Keys saxin' up the horn section. Anyone who can't get off on this shit is too damn young.
My wife, who saw "Shine a Light" with HER girlhood pal a few nights before me and had read some lukewarm reviews, said there was only one proper criterion, entirely outside of history and cultural baggage: Did these songs make you happy?
Yes oh yes. Right again, babe.