Fri. April 11 -- Roarin' punkabilly from L.A. originals X. Read Burk's mini-interview with all four members in LA Times here. At Henry Fonda Theater, 6126 Hollywood Blvd., Hollywood.
Thurs.-Sun. April 9-12 -- At 82, Jimmy Scott is unique in the history of music, just bends time and space with his voice. Jazz in the deepest sense. At Jazz Bakery; 8 & 9:30pm; $30-$35.
Thurs.-Sat. April 10-12 -- Look back on Freddie Hubbard's '60s Blue Note stuff with Bu, Dex, Wayne and on his own, and then messing in the avant with Herbie and Jackie and Trane and Ornette, and listen to his variety of trumpet tones from piercingly intelligent to besottedly soulful. Regardless of his rep for unreliability, you gotta give a genius the benefit of the doubt sometimes. Also he's got some kinda band: James Spaulding, Slide Hampton, Craig Handy, David Weiss, George Cables, Dwayne Burno, Roy McCurdy. Living history. At Catalina's; $20-$35; reserve at (323) 466-2210.
Fri. April 11 -- You know World Stage Stories, where Chet Hanley and Jeffrey Winston interview folks who know their jazz? This week they've got Steven Isoardi, author of a Tapscott book and an editor of UCLA's great "Central Avenue Sounds" collection of musician testimonials. He's got the historic mojo, bro. At World Stage, 4344 Degnan Blvd., Leimert Park 90008; 8pm; $10; (323) 293-2451.
Fri. April 11 -- The versatile, grabby quintet of Elliott Caine rips post-bop/Latin originals and standards. At Pasadena Jazz Institute, 260 Colorado Blvd., Suite 206 (second level of Paseo Colorado), Pasadena 91101; 8:30pm; (626) 440-9002.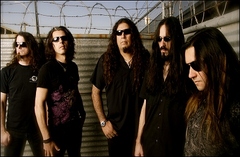 Sat.-Sun. April 12-13 -- Check Saturday's LA Times for Burk's review of Testament at the Coach House Thursday. The classic lineup of these egg-cracking '80s Bay Area thrashers come back heavy April 29 with "The Formation of Damnation," their first studio album in nine years -- stepped-up songwriting, ace production, intense performance. And they've just been announced as the opener for the summer tour of Heaven & Hell (Sabbath with Dio), Judas Priest and Motorhead. Holy damnation. At the Key Club.
Sat. April 12 -- Spare and sensitive West Coast cool with guitarist Todd Milstein's Chamber Jazz Trio, featuring the precisely feathered statements of saxist Damon Zick and trumpeter John Daversa. At Café Metropol, 923 E. Third St., downtown 90013; 8pm; $10 cover, $10 minimum; (213) 613-1537.
Sat. April 12 -- Dorothea Grossman calls; trombonist Michael Vlatkovich responds; guitarist Tom McNalley mediates. At That Yarn Store, 5028 Eagle Rock Blvd., Eagle Rock; 5pm; free.
Sat. April 12 -- The intriguing NYC sax-drums duo of Adam Diller & Matt Crane ($.99 Dreams) is still in town, this time abetted by the appropriately angled guitar of Tom McNalley (busy guy today). At the Bike Oven, 3706 N. Figueroa St., Highland Park; 9pm; free.
Sat. April 12 -- Happy birthday to former Dred Scott guitarist Jay Sedrish, not that he deserves it.
Sun. April 13 -- Saxist Adam Diller hits the Valley now, covering the Southland. At Freakbeat Records, 13616 Ventura Blvd., Sherman Oaks 91423; (818) 995-7603.
Sun. April 13 -- Now here's a trip: "Five," an opera by local flute mainstay Ellen Burr, based on the poems of Dorothea Grossman. Among the 10-player/singer ensemble, I recognize Jessica Catron on cello and Erin Barnes on marimba. A well-deserved tribute. At Electric Lodge, 1416 Electric Ave., Venice 90291; 7:30pm; $15; (310) 306-1854.
Mon. April 14 -- I don't list many gigs outside of L.A., but the bill of Norwegian black-metal monarchs Dimmu Borgir and Polish death-metal monsters Behemoth (each blessed with a classical touch of camellias and pig's blood) is too heavy to ignore. At the Grove of Anaheim.

Wed. Apri 16 -- Chad Smith's Bombastic Meatbats warm up for their Japan tour with an off-road gig. This is an absolutely slaughterous funkateering lineup, featuring the kickin' Chili Peppers drummer plus guitarist Jeff Kollman, keyboardist Ed Roth and bassist Kevin Chown. Glenn Hughes' band without Hughes, pretty much. At Life, 6311 Wilshire Blvd., L.A. 90048; 10pm; (323) 651-5433.
Thurs.-Sat. April 17-19 -- Bent Fest is a celebration of circuit bending and hacking -- messing with toys and tubes and stuff to get new sounds. Workshops and performances. Kinda grand that public money goes to support weird ideas like this. At Grand Performances, 350 S. Grand Ave., downtown 90011, and Zero Point, 1049 E. 32nd St., LA 90011; day and night; free unless you want to pay the $10/day $25/three-day suggested donation. For details hit here.