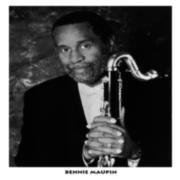 Fri. April 18 -- Former Miles sideman, Headhunter and Cryptogramophone artist Bennie Maupin celebrates the release of his new CD. The record features all Polish sidepeople, two of whom, pianist Michal Tokaj and singer Hania Rybka, augment the windman's working outfit: percussionist Munyungo Jackson, bassist Darek Oles and drummer Michael Stephans. Expect intelligent, beautiful, original music. Read an LA Times article on Crypto and Maupin to which I contributed here. Photo by Barbara DuMetz. At Catalina's, 8 & 10pm; $40 and $35, better buy tickets at www.catalinajazzclub.com and make reservations at (323) 466-2210.
Fri. April 18 -- Who's got the purple-orangiest electronic aura of them all? Halfmonk, a.k.a. guitar wandsman and loopmeister G.E. Stinson, accompanied by vocalist Jen Hung and live video improviser B.K. Bynum, who knows all Stinson's secrets. Offer condolences for the death a month ago of Stuart Nevitt, Stinson's drummer bandmate in the '80s earth-rock band Shadowfax. At Dangerous Curve Art Gallery, 1020 E. Fourth Pl., downtown 90013; 8pm; $10.
Fri.-Sun. April 18-20 -- Always a lotta good live metal at Murderfest, headlined Friday by influential density demons Converge and their ingeniously mathematical progeny The Red Chord; Saturday by Swedish death-&-rollers Entombed, somewhat reconstituted but still still lo-bashing with the same voxman and guitarist; and Sunday by grind originators Napalm Death, with San Diego's poetically radical Cattle Decapitation among others supporting. I like to come early and leave before it gets trash-compacted in there. At the Knitting Factory.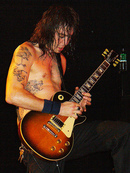 Fri. April 18 -- Great bill: circa 1990 noiseriffery from Helmet, good songs and crude rock attitude from former Stone Queen Nick Oliveri and Mondo Generator, plus (are these guys really OPENING?), stoner masculinity to the max from Matt Pike (pictured) and the sludge-driving High on Fire. At the Key Club.
Fri. April 18 -- "Murderfest pre-party" with explosive, noisy postmodern metal from Fetus Eaters. At Relax Bar, 5511 Hollywood Blvd., Hollywood 90028; 8pm; $10.
Fri. April 18 -- There are some worse Sabbath-influenced bands than The Sword, and some better (Kylesa, Danava). The Sword seem to be doing pretty well, but why? Synched-in groove? No. The riffs? Well, they hail almost exclusively from the folk-prance side of Black Sabbath, cf. Sab's "Supernaut." Solos? Below average. Drums? Bill Ward divided by four. Vox? I know it's OK if stoner singers are wimpy, but this guitar/vocal guy needs some armor. Looks? Hmm, the bassist might have some chick magnetism. Is that it? Pretty good rock band, anyway. At El Rey.
Fri. April 18 -- '80s glam rock that actually rocks? "Round and Round" by Ratt qualifies, and they're touring with three original memberss -- singer Stephen Pearcy, guitarist Warren DeMartini and drummer Bobby Blotzer -- plus Robbie Crane on bass and onetime Crueman John Corabi (!) on second guitar. At House of Blues.
Fri.-Sat. April 17-19 -- Bent Fest is a celebration of circuit bending and hacking -- messing with toys and tubes and stuff to get new sounds. Workshops and performances. Kinda grand that public money goes to support weird ideas like this. At Grand Performances, 350 S. Grand Ave., downtown 90011, and Zero Point, 1049 E. 32nd St., LA 90011; day and night; free unless you want to pay the $10 suggested donation. For details hit here.
Sat. April 19 -- JUST IN: Feral cat benefit (we love those feral benefits, whether for cats or otherwise) featuring Halfmonk, Leticia Castaneda and many more. At Dangerous Curve Art Gallery, 1020 E. Fourth Pl., downtown 90013; 7pm; give in proportion to your love of wildness.
Sat. April 19 -- When the trombone of Michael Vlatkovich and the tuba of William Roper hit each other in midair, glittering shrapnel results, not to mention left-field humor. At Café Metropol, 923 E. Third St., downtown 90013; 5pm; $5 cover, $10 minimum; (213) 613-1537.
Sat. April 19 -- Pianist Josh Nelson gives melodic mainstream jazz a good name, and he's got some band: Ben Wendel (sax), Anthony Wilson (guitar), Hamilton Price (bass) and Jeff Marrs (drums). At Café Metropol, 923 E. Third St., downtown 90013; 8pm; $10 cover, $10 minimum; (213) 613-1537; reservations recommended.
Sat. April 19 -- Geekiest metal show of the year, with olde-school heavy-prog a-stabbin' till every broadsword is broken. From least anal to most: I suspect that headliners Symphony X own some Bad Company deep, deep in their record collections, 'cause their Homeric tech actually has balls. Epica write damn good melodies, and switching off with the band's death vox, Simone sings yearningly from yond castle -- but she's been sick and had to be replaced by backup singer Amanda Somerville for this tour. Into Eternity are real twiddly on them axes, and the singing can get too Yessy between growls, but they keep you listening with a lotta interesting twists. At House of Blues.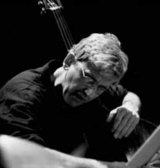 Sun. April 20 -- If you've never heard Mark Dresser play standup bass, do yourself a favor; the man's not just a world-class technician, he's a real composer. Here he collaborates with multi-instrumentalist, dancer and all-around Renaissance woman Jen Shyu in what Rocco's calling a special event, so believe him. Early show. At Café Metropol, 923 E. Third St., downtown 90013; 5pm; $15 cover, $10 minimum; (213) 613-1537; reservations recommended.
Wed.-Sat. April 23-26 -- I don't get into many jazz singers -- tend to stop not too far beyond Billie Holiday, Cassandra Wilson and Helen Merrill. Dunno if I should even call Rachelle Ferrell jazz, maybe just as much R&B, but the way her voice gooshes around a lyric and then leaps way up into the chandelier, hey, it's got the improvisational thing. Writes all her own words and some of her music, too; got a groove that reminds me of Sly. At Catalina's.