Fri. April 4 -- Really big flashbang guitaristics from Jeff Kollman's Cosmosquad, with bassist Christopher Maloney and drummer Glen Sobel, who's been sitting in for Shane Gaalaas long enough that the thunder quotient must be evening up pretty good. At Baked Potato; 9:30 & 11:30pm; $20.
Fri.-Sun. April 4-6 -- Al "Alien" Jourgensen stretches out his pre-retirement from Ministry with a new album called "Cover Up," which tech-hammers classics by the likes of T. Rex, Deep Purple, Mountain, Black Sabbath and Bob Dylan (!), with a perverse emphasis on "What a Wonderful World," which I believe we are supposed to interpret as not entirely ironic. He's got good taste, and the covers rock, but you gotta ask why; it wasn't such a great idea when Ozzy did it several years back, and right now it feels like refiring the ol' crack pipe. Anyway, you might not get to see Ministry again till after Al's next rehab. Also on the bill are Sweden's famous Meshuggah, who are supposed to attract metaljazz fanciers with their determinedly unnatural rhythms, but I just seem to stand around scratching my pubes when I play their music. Wazzamatta me? (Weeps openly.) At House of Blues; $45.
Sat. April 5 -- For those who think Greg Osby hasn't twisted funk-jazz cruelly enough, keyboardist Andy Milne is your guy. His Dapp Theory band includes "percussive poet" John Moon, saxist John Beaty, bassist Chris Tordini and drummer Kenny Grohowski. At REDCAT, 631 W. Second St., downtown 90012; 8:30pm; $20; www.redcat.org.
Sat. April 5 -- Look out, Godzilla, L.A. musicians are gangin' up against ya, and here's a great chance to check out the competition with the Los Angeles Jazz Collective's Launch Festival. It starts with Robby Marshall Electric Band and moves on to Option 3, Matt Otto Group (what a plush sound and an organic rhythm that saxist owns) and Gary Fukushima Trio. At Café Metropol, 923 E. Third St., downtown 90013; all evening 5-10pm; $10 cover, $10 minimum; (213) 613-1537.
Sun. April 6 -- Riverside bassist Bill Casale, a fave of the L.A. community, puts on his first performance as a bandleader with windman Matt Zebley and drummer Alan Cooke. Opening is an unmappable performance by multi-instrumentalist, singer and stage mutator Will Salmon's Open Gate Theater featuring percussionist Alex Cline and most likely others. Cline always books the smartest of the out at this monthly series. At Center for the Arts, 2225 Colorado Blvd., Eagle Rock; 7pm; $10; (626) 795-4989.
Tues. April 8 -- That little blond firecracker of a German metal singer, Doro Pesch, tore this place apart last year, mopping the floor with us sissypants Americans as she rocked hit after hit for 100 minutes -- a highlight of 2007. She seemed to be rather jealously eyeing the crowd reaction to madfiring Savatage guitarist Chris Caffery, though, and this time she's back with old associate Joe Taylor on lead. At the Whisky.
Wed.-Sun. April 9-12 -- You mean Jimmy Scott is back? At 82, this guy is unique in the history of music, just bends time and space with his voice. I don't care if he can even hit a note anymore; his phrasing alone is enough to make your heart crazy. At Jazz Bakery; 8 & 9:30pm; $30-$35.


Wed. April 9 -- The guys in Jacob Fred Jazz Odyssey seem to be up for any kinda weirdness. I like that. They can groove and you can dance to it, but their new "Li'l Tae Rides Again" obsesses with real exatmospheric shit, like they took too much acid and fell off the edge of the planet for a while. They're looking around in space and so are you, and the universe is even more beautiful from a perspective where there ain't so many humans to spoil it. Yet humans enjoy them. Pianist Brian Haas, bassist Reed Mathis and drummer Jason Smart have been at it 14 years, since they were kids; they don't gotta think much, they just take off. Go, dudes, go. At the Mint, 6010 W. Pico Blvd. 90035; 10:45pm; (323)954-9400; $15.
Wed. April 9 -- I checked out the MySpace page of NYC saxist Adam Diller when Brick told me he was playing in town, and damn if Diller doesn't rotate some unturned stones of the avant-garde, putting really twisted loops behind a bellering tenor that's got honest-t'-gawd gutbucket mud in it. I figure if Joe Baiza's trigging guitar with him, gotta be something there, also Matt Crane (Diller's partner in $.99 Dreams, who claims not to use loops, fooled me) and 64-year-old drummer Steve Reid (his bio says he's played with Miles Davis, Arthur Blythe and James Brown). Could be a most worthwhile event, certainly curious. At Mr. T's' Bowl, 5621 1/2 Figueroa St., Highland Park 90042; 10:30pm; (323) 256-7561.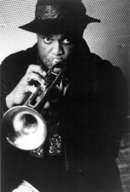 Thurs.-Sat. April 10-12 -- Guess who besides Charles Lloyd is celebrating a 70th birthday? You hear stories about Freddie Hubbard, like he doesn't always have it together. But look back on the guy's '60s Blue Note stuff with Bu, Dex, Wayne and on his own, and then messing in the avant with Herbie and Jackie and Trane and Ornette, and listen to his variety of trumpet tones from piercingly intelligent to besottedly soulful, and you gotta give a genius a break sometimes. Also he's got some kinda band: James Spaulding, Slide Hampton, Craig Handy, David Weiss, George Cables, Dwayne Burno, Roy McCurdy. Living history. At Catalina's; $20-$35; better reserve at (323) 466-2210.
Thurs. April 10 -- Banjos and mandolins and all that Deadly stuff -- plus some pretty destructive percussion breakdowns -- from Bay Area jamsters New Monsoon. Some of it's too hippielike for me; some of it kicks. At the Knitting Factory; $20.