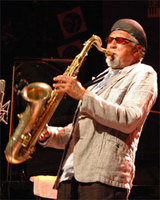 I wrote last week that Jason Moran could become wind master Charles Lloyd's all-time best piano foil if he stuck with the Lloyd Quartet. I was reviewing an album recorded only 11 months previous; Moran has stuck around that long, and already, lo, his bestness has come to pass.
Part of the reason is Moran's ear for every language of the jazz planet, and his ability to bring something fresh to each one. But hang on -- this is truly Lloyd's ensemble, Lloyd's expression. Seeing him live for, like, the eighth time or something, I was more impressed than ever with the atmosphere he creates. There he was, in black beret and round dark glasses, often doing no more than sitting while Moran, drummer Eric Harland and bassist Reuben Rogers spun out their skeins.
The thing was how he sat -- motionless, head lowered. More than anything, you knew he was listening, and the other performers inhaled from him a consciousness of the values he aspires to: attentiveness, respect, sublimation to the Spirit. And when he stepped up with his tenor (tarogato and alto flute remained untouched in the first set), he embodied the same values. Left shoulder high, eyes squeezed shut behind the shades, rocking the sax up and down between two microphones three feet apart (good miking plan for him), he breathed a stream of leaping inflections sustained by a low-humming source beyond himself. His occasional split-tone screams, though quiet, carried more impact than a wall of Marshalls. His melodies spoke in essences, and when he offered extrapolations between lines, they came quick and light, like the rustling of leaves. Not just an air fairy, he celebrated the throbbing physicality of failed love with flapping elbows and kicking legs along with the fluttering saxophonic emotions of the ballad "Rabo de Nube." Charles Lloyd's playing is beyond art.
Moran, long a leader on his own, has become Lloyd's mirror in this quartet. Here he kept mostly to a constant matching level of bubbling-under gentleness, coloring the waters with an amazing sequence of subtle green and orange harmonies that changed from second to second -- he has discovered how to realize his deepest self while surrendering completely to the flow of Lloyd's prayer. Their shared Thelonian affinity, expressed in the piquant, lightly puréed densities of the opening "La Colline de Monk," must have forged a special bond.
Harland showed the biggest ego, pulling out every trick in his percussive book and making us share his glee. On the jamming blowout "Sweet Georgia Bright," he simmered fast, pinged a space echo on his cymbal, executed a press roll on his kick drum (!), slugged a macho beat with a tambourine atop his high-hat, and even struck a wild blow in the air behind his back that we all thought we could actually hear.
Rogers managed to keep up with all that, bouncing up and down the neck with athletic spontaneity and offering up a bunch of intelligently scenic solos.
As exciting as every selection was, everybody (including LA Times reviewer Don Heckman and my wife) seemed to agree that the quartet's embrace of Duke Ellington's hopeful ballad "Come Sunday" topped the lot. As Lloyd laid out the melody like a precious gift, a woman behind us exhaled "Yesss." Harland eased back on brushes; Rogers slowly fed the bottom. Lloyd watched over the top of the piano while Moran offered commentary: one perfect note, then two perfect notes, waiting, waiting until he knew exactly which to allow through his fingertips. Lloyd sat down, and Moran allowed the energy to build, thrusting his hand into dissonant chords, letting the blues demon seize him, then getting saved by rocking waves of convulsive hallelujah gospel inspiration. Lloyd, now hunched with his back to the piano, smiled -- wider and wider and wider. Moran couldn't see that smile, but he felt it. Oh yeah, he felt it.
The audience knew this wasn't just some piece of entertainment. When the four linked hands, bowed together and walked off the stage, most of us stood up at our little tables and applauded for about five minutes. Steady.