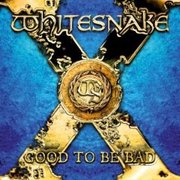 Whitesnake, "Good To Be Bad" (SPV)
There's good bloat and bad bloat, and this is good. Metalsoul groper David Coverdale tarried some 20 years in baking a full-on worldwide-issued studio soufflé rolled and poked with the Whitesnake brand, so you knew the result wasn't gonna be something you'd spit out. Is there a difference between catering and pandering? Who cares? Just knock back some cognac and suck up the Whitesnake goo.
The sound is luxurious, and stamped with an understanding of the current marketplace. Though I listened on CD, the audio crept across with that pillowy insubstantiality you associate with mp3 -- chalk it up to the predilections of guitarist Doug Aldrich, who co-produced (along with Coverdale and Michael McIntyre). Possibly the planet's premier hard-rock axman, Aldrich always walks the borderline between note and noise, beat and rhythm; he wants you to feel the vibrations before you process the mathematical structures.
To be as sexist as possible about it: Chicks dig this. As a soloist (mainly dude territory), Aldrich here sublimates his slick brilliance in favor of an overall environment redolent of well-used silk sheets; the result, impossible for a macho shred orgy, has been an instant U.K. chart-buster. One can only imagine what would have transpired if Tommy Aldridge, the sexiest metal-and-blues tub-slapper in the business, had been retained from the Whitesnake touring band rather than replaced by the more mechanical Chris Frazier on drums. (Aldridge had commitments with former Whitesnake guitarist John Sykes in Thin Lizzy.) Fine longtime guitarist Reb Beach, bassist Uriah Duffy and keyboardist Timothy Drury serve in the valuable but blanketed role of mattress components.
Averaging over five minutes, the 11 songs each could have been trimmed by a quarter without sacrificing anything -- except the languid suggestion that Coverdale is in no hurry to get out of bed, and you can't underestimate that. He's also in no hurry to try anything new; after such a long absence, reliability was the obvious choice.
Coverdale remains the most proficient Led Zeppelin imitator around: Consult his crossbreeding of Whitesnake's already Zeppified classic "In the Still of the Night" with Zep's "Black Dog" to spawn "Lay Down Your Love"; reflect on the biting Pagelike slide work on "Got What You Need"; and zoom in on the "Kashmir" rhythms tacked onto the end of the Bad Company-style thud-ballad "'Til the End of Time."
But the album kicks off with three straight rockers that condense the riff-heavy history of Whitesnake and classic rock: "Best Years," charging off the gangplank like a horny sailor; the alternately chest-beating and thigh-stroking "Can You Hear the Wind Blow"; and the wrangle-riffed soul-metal testifier "Call on Me." Of the less distinguished compositions, the cock-foremost strutter "Good To Be Bad" nevertheless boasts a rampaging coda and "All for You" a grabby Lizzy lurch.
Though I'm not quite enough of a girl to get fully behind the couple of slow romancers, I appreciate that Coverdale's voice moans and soars with undiminished potency on those numbers and throughout. And when he sings, "You're all I want, all I need" -- well, it's nice to know he still feels that way about me.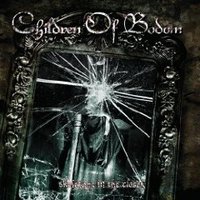 Children of Bodom, "Blooddrunk" (Spinefarm)
Here's the opposite metal approach: all shred, all protein, no waste, and (probably) no women. Nine tracks in 37 minutes.
And what a bullet-train ride it is. Children of Bodom have grown to be one of my favorite bands, because these Finns have got everything except a world-class vocalist: thrill-packed songwriting, ultratight performances, ceaseless rock energy.
And the production, good god: Mikko Karmila has twisted the Bodomites' knobs so long that he knows how to extract every erg of impact, with Alexi Laiho's guitars carving laserpoint volutes into your brain folds while Jaska Raatikainen's bang-triggered drums beat a judo-chop massage all over the rest of your helpless frame. This is rock.
"Blooddrunk" marks a full partnership (after 11 years of unequal balance) between guitarist-raspman Laiho and keyboardist Janne Warman, who alternates stabbing chords and pirouette leads on the opening post-thrash churner "Hellhounds on My Trail," and frequently trades crazy-ass solos with Laiho or essays dual countermelodies throughout. Indeed, if you slowed the tempos down by 30 percent, the album would sound like old-school pomp 'n' rage, quite danceable in its way, except the dance is the frantic Eurofolk variety rather than any variant of African buttsmanship.
Though every track is magnificent, the concluding trio -- the mini-epic "Done With Everything, Die for Nothing," the depressive ultramelodic face-puncher "Banned From Heaven" and the captive-slaughtering methedrine finale "Roadkill Morning" -- has to go down as a door-slam suite for the ages.
2005: "Are You Dead Yet?" 2007: the live DVD "Chaos Ridden Years." 2008: "Blooddrunk." It's a virtuoso span unsurpassed by any other metal band during the same period. And there's a lotta competition out there.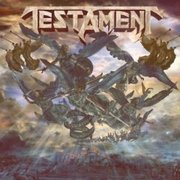 Testament, "The Formation of Damnation" (Nuclear Blast)
It's so great to see Testament putting together all the pieces after labels folded under 'em and singer Chuck Billy fought through cancer. Now they're gonna be on MTV, they've got a manager who believes in them (Maria Ferrero, who first signed them to MegaForce/Atlantic in 1985 when she was 19), they'll be opening dates on the Heaven & Hell/Judas Priest tour, they're rocking with a classic lineup, and their first album in nine years (arriving April 29) is a killer.
It sounds fantastically big, heavy and well-machined -- recorded with Andy Sneap but with Testament guitarist Eric Peterson on his ass like a bad smell.
"When [Sneap] mixed Megadeth or Machine Head or Arch Enemy," Peterson told me, "he says none of the bands are there when he's mixing. And I'm like, 'Well, how do you do that?' And he goes, 'I just MP 'em.' And I'm like, 'Hmm, well, maybe that's what makes ours a little bit more special,' because I'm driving him nuts."
Chuck Billy said Testament decided to focus on the drums this time: "Instead of doing them at our own place and using more samples, we wanted to get a live sound, and we went back to where we did 'Practice What You Preach' and 'Souls of Black.' It's a room that's built to sound good for drums, and it sounded great. It didn't hurt to have Paul [Bostaph] kickin' butt on it."
Bostaph, a 1993 member of Testament who later did three albums with Slayer, indeed sounds hellacious. You could just listen to him and find yourself permanently pinned to the floor, but having Alex Skolnick back from his jazz journeys adds considerable dimension. The unsettled time signatures and hovering guitar solo he brings to "Dangers of the Faithless" make for a welcome weirdness, and he's got a bunch of other nice spotlights: the snake-charmer album intro "For the Glory Of . . .," the downspirals and wreckage of "The Evil Has Landed," the ghostly smoke and textured fade of the concluding "Leave Me Forever." Dude's got some LSD in his DNA.
The songwriting is ace; each composition goes on a journey like a little symphony, the hookiest numbers being the sing-along "More Than Meets the Eye," the purposeful "Afterlife" and the bubbling/sludgy "F.E.A.R." Billy took a chance in opting to sing rather than deathbellow nearly the entire album, since his chestily melodic style and phrasing owe a large debt to his old Bay Area thrashmate James Hetfield of Metallica, whose influence he acknowledges. Fans of melodic metal will quickly get over the resemblance (if they haven't decades ago), and many will prefer "Formation" to anything Metallica has done since the late '80s.
You'll want to give this record a lot of spins. It's deep.
Read my LA Times Testament interview here and live review here.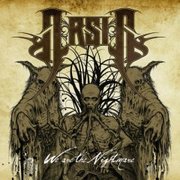 Arsis, "We Are the Nightmare" (Nuclear Blast)
This album made me think, which is not necessarily a bad thing.
Largely I was thinking that, though I dug the riffs and the general manic activity generated by one-man army James Malone, I didn't much care for drummer Darren Cesca, who seemed to have gotten addicted to nonstop million-beat kick triggers because they blurred the fact that he was out of sync a lot of the time. Then I thought, well, how the hell is any human being supposed to drum along to this hyperaccelerated, constantly changing mess of personal expression? What I really objected to was the fact that Cesca was trying to be a machine -- but I later realized that his lack of success therein should not be despised. In fact, whether intentional or not, doesn't the imperfection lend the music an appealing jazzlike variability?
And Malone is a valiant soldier to have on the battlefield of technical metal, so we should take him any way we can get him. Where else can we experience so much musical information crammed so densely: chopped and surging rhythms, nervous dual harmonies, battered Viking determination, mathy blasts, Yngwie-like classical overdrive, anal jigsaw-puzzle riffing -- even reimagined speed-freak condensations of boleros and Eagles and Elton John? He's not always brutal: Is that wrong?
The production is thin in the middle, but that's probably just the way Malone wants it; otherwise the highly trafficked terrain could grow muddy. Ultimately, I just had to turn off my primitive brain and settle back with some of the best technical metal around. In prog heaven.