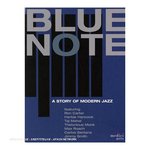 "Blue Note: A Story of Modern Jazz" (EuroArts)
A couple of Germans flee the Nazis to New York and establish the most influential label in the history of American jazz. This DVD by Julian Benedikt offers a nice little peek into the unlikely story of Alfred Lion and Francis Wolff.
Kareem Abdul Jabbar in a cowboy hat talks about "bordello music." The always reliable writer-producer Michael Cuscuna lays down the reality: "A lot of it sold nothing." We learn that Reid Miles, the genius behind the Blue Note album look, traded in his free copies for classical records.
The whole thing seems like a fantasy until you see the snips of an Afro-garbed Art Blakey tearing into a drum solo, or Sonny Rollins whipping his tenor in improvisational fervor, or Freddie Hubbard greasing up just two notes till they smear your pants. And then you wonder if this music could ever have gone undiscovered. Look around now: Maybe it could've.
Aside from the valuable history lesson, watching this thing sent me back to my Benny Golson and Art Farmer records. And that was reward enough.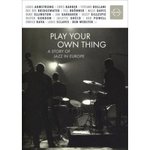 "Play Your Own Thing: A Story of Jazz in Europe" (EuroArts)
The above concerned Europeans' influence on jazz; "Play" examines jazz's influence on Europeans. Telling the tales of first encounters with the extraterrestrial music are trombonist Albert Mangelsdorff, bandleader Daniel Humair, Soft Machine drummer Robert Wyatt and a lot of others; the narratives are probably more interesting to Continentals than to Americans, who may hate being continually reminded that our top musicians had to flee to the welcoming arms of damn furriners because the good ol' USA couldn't feed its own. Singer Juliette Greco says the expatriates were surprised to discover lands with so little racism.
The footage of Dexter Gordon, Kenny Clarke, Miles Davis and the rest is pretty skimpy, not enough reason to buy "Play Your Own Thing." But once again it's likely to inspire binges, in my case through a large stack of Bud Powell discs. Ever hear the 1964 Roulette sessions recorded in New York with bassist John Ore and drummer J.C. Moses, two years before Powell died? Got a version of "Someone to Watch Over Me" that'll break your heart.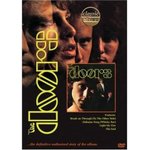 " 'The Doors': The Definitive Authorized Story of the Album" (Eagle Vision)
Since I regard the first Doors album as a virtually sacred object, I hoped that the Classic Albums series -- which has done solid work on the likes of Deep Purple's "Machine Head," the Who's "Who's Next?" and Cream's "Disraeli Gears" -- would hit a homer with this doc. But while it doesn't blow chunks as loudly as the one about Lou Reed's incredibly overrated "Transformer," it coulda been better.
The main problem is the interviewees. Ray Manzarek's cosmic-accountant demeanor only gets more annoying with the years. His co-Doors Robbie Krieger and John Densmore just seem frail (and justibiably wary). Michael McClure might've once been a good poet and playwright; too bad he turned into a clueless windbag. Do we really gotta put up with Henry Rollins and Perry Farrell AGAIN? Call me when those two "rock poets" volunteer to sniff Jim Morrison's mummified scrotum.
There's some useful stuff about the music, but the overall tone undercuts it; the magic convergence of time, place and talent is made to seem like a lucky accident backdropped by yet another rundown of Jimbo's crayzee antics. The extras omitted from the already-running VH1 Classic screenings are disposable and sometimes redundant.
But it's only 9 bucks on Amazon! Buy three and get free shipping.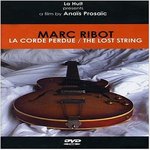 "Marc Ribot: The Lost String" (La Huit)
Anaïs Prosaïc should have changed her surname before making this documentary; whatever you want to say about the music of avant guitarist Marc Ribot, prosaic it ain't.
Though Ribot had already played with NYC extremists Arto Lindsay and John Zorn, not to mention the Lounge Lizards, I first noticed him when I was listening to a mid-'80s Tom Waits album and checked the credits to find out who was carving out those spare, gritty guitar lines. Well, he says here that he always wanted to play like Grant Green and couldn't.
Turns out that Ribot is one of the few who's turned technical limitations to his advantage: His meaty physical interface with the instrument defines the way he sounds. Look at the way the sweat flies off his forehead and his left hand mugs the frets of his electrified acoustic guitar in one segment. Observe how clumsily he boots his stomp boxes in another. Even when he's plucking a lovely Spanish ballad, he's far from delicate -- it's appropriate that when an audience member kicks over a beer bottle in the quietest moment, nobody seems to notice.
Ribot's body is connected to his subconscious. He says klezmer influences just "floated to the surface" from time to time, as with the strange Middle Eastern moan that evolves from "Bury Me Not on the Lone Prairie." According to Ribot, it's impossible to play, as he would prefer, without preconceptions, but "You can find your DEEP preconceptions, your deep history." Lindsay, Ned Rothenberg and various other musicians fill in the gaps.
Mostly documentary but including four full-length live selections, "The Lost String" is well balanced. You'll like this dark-eyed ghost, and you probably already know whether you like his music. I do, about half the time.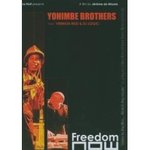 "Yohimbe Brothers" (Freedom Now)
Though I'm a fan of Vernon Reid's lava-spewing guitar and DJ Logic's psychedelic grooves, their sporadically active group Yohimbe Brothers has never much grabbed me. And Jérôme de Missotz's performance documentary didn't change my mind.
Abetted by a vocalist, a bassist, a drummer and a keyboardist, Reid and Logic rarely draw the funky/rocky/reggaefied music together satisfyingly -- not much band chemistry. Mathieu Foldès' colourful post-production image manipulations and superimpositions try to take you on a trip, but the limitations of the small stage and the flat camerawork prevent him from getting out of the garage.
The sound's okay. Nothing's seriously wrong (unless you count the fact that the disc wouldn't play on my computer). Maybe it's partly that I saw Reid's Masque trio in a club a couple years back, and they burned like a fireworks factory. Yohimbe comes off more like a clove cigarette.