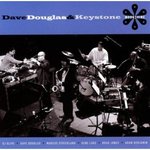 Dave Douglas & Keystone, "Moonshine" (Greenleaf)
This studio-processed live album shows trumpet front-runner Douglas having more fun than ever with his silent-movie soundtrack band, Keystone. It's getting groovier, noisier, and his parrying with the rambunctious saxist Marcus Strickland -- a combative pleasure, he calls it -- generates more sparks than he's struck since he slashed it out with John Zorn in Masada 15 years ago.
For sheer jollies, the MVP has to be keyboardist Adam Benjamin, always at the ready to inject his Rhodes with shimmering shudders on the "Silent Stars" or, my fave, a filthy mechanistic churn on the riotous jungle mash of "Kitten" -- hard to tell where he leaves off and loopsman DJ Olive sneaks in. While you're tripping, drummer Gene Lake makes sure you can dance if you feel like it, whether on "Dog Star," the iridescent electro chiller that begins the excursion, or on "Tough," the funky Miles shuffle that jams down the final 11 minutes.
Maybe taking a cue from the recently departed Teo Macero, Douglas and his engineers irreverently sliced, diced, echoed and plexed the music however it sounded good to them. So it'll sound good to you, too, and if you're inclined to do the mp3 download thing, you might instead consider the CD; the crafted detail will blow out the carbon on your best speakers/headphones, and the gear (and your ears) will be grateful for the exercise.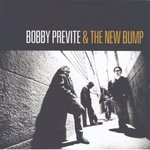 Bobby Previte & the New Bump, "Set the Alarm for Monday" (Palmetto)
"Monday" resonates as a companion piece to "Moonshine" in modern aesthetic, filmic awareness, NYC crew (same bassist, Brad Jones) and even lunar-oriented title. Both will infuse Mondays with an energy that'll outlast your Starbucks.
More subtly and less jammily than in his recent work with Charlie Hunter in Groundtruther, drummer Bobby Previte tunes in and zones out, third-millenium-style. What a front line: Ellery Eskelin back-burnering his more avantish history to blow sax with heft and soul, Steve Bernstein reprising his "Diaspora Hollywood" role as the Trumpeter in the Metaphorical Fedora. The shimmer guy is Bill Ware, whose echoing amphitheater vibraphone does most to set the album's somehow unacoustic tone. A really down Jones sounds as if he was instructed to snip all but the two lowest strings off his bass; Previte and percussionist Jim Pugliese ransacked their closets for claves and Louis Prima songbooks.
So off they cruise: to the bullfight, to the island dance party, to the funeral of some gangster, each track a tidy but relaxed composition with a melody, an agenda and most of all, a feel. On the cover, the guys slouch in an alley, casting dense noir shadows -- if Previte and Bernstein are agitating for more scoring work, Hollywood would be dumb to ignore the hint.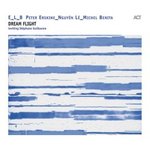 Peter Erskine_Nguyên Lê_Michel Benita, "Dream Flight" (ACT)
I can hear why Erskine's name is first -- the drums are so clean, they sound as if the sticks were individually contact-miked. Well, those Germans know their way around a studio, and obviously they wanted to do right by these international old mates.
It's pretty damn fusiony. Electric axman Nguyên Lê's got that ultrafine distortion and vintage flanging, and Erskine often digs back to his Weather Report roots for dirty black funk: Check out "Jive Five," which borders on polyester Rufus perspiration. Michel Benita makes no attempt to rival Stanley Clarke in the fusion hierarchy, though, plucking deep in the pocket and letting you know that this group is all about space.
Saxist Stéphane Guillaume's warm tenor and slippery soprano add dimension on several cuts without cluttering things at all; best is the way he and Lê chase each other's tails around the shifting and downsliding chordal patterns of Benita's "Montreal."
The proggy "Kokopanitsa" impresses as something Keith Emerson might have done if he were a guitarist. While musicians will appreciate every second of this record, softies might complain that a couple of ballads with the potential to convey non-technical emotion suffer from Lê's gloss -- like presenting flowers in a carved mahogany box. Fortunately, most of us are callous.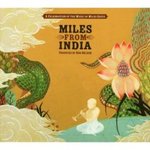 "Miles From India: A Celebration of the Music of Miles Davis" (Times Square)
Bob Belden, a trumpeter/producer with generally good instincts, smoked up the idea of getting a raft of Miles alums to collaborate with Indian musicians on Davis tunes. As with most high-concept projects, this struck me as an artificial idea. And in fact, for most of the two CDs, the combination doesn't click.
Things start out promisingly with 20 minutes of "Spanish Key," as Lenny White and Gino Banks groove irresistibly and Wallace Roney does his Miles impersonation; its gooshy tropic atmosphere comes together on the strength of skillful mixmastering. Then things go straight to hell with a jokey, awkward "All Blues" and rarely coalesce till a riff-heavy "Great Expectations" halfway through the second disc.
The most telling fact is that the music works least when the Indian musicians are most prominent -- a foreseeable result, given the far more intimate subject knowledge possessed by the likes of Dave Liebman, Mike Stern, Pete Cosey, Chick Corea, Ron Carter and Michael Henderson. Nothing against the Bombay gang, their rhythms just don't fit. The collection concludes with a new selection composed and played on by John McLaughlin; it's pleasant but empty.
One disc would've been plenty.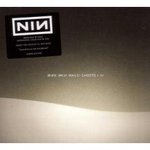 Nine Inch Nails, "Ghosts I-IV" (Halo Twenty Six)
Okay, here's a fusion for ya: industrial rock combined with, uh -- let's say classical. Yeah, sure, this is Trent Reznor doing Bach, Schoenberg and Xenakis; I can tell by the titles: "1," "23," "30" . . .
Classical it's really not, but it is two CDs devoid of Reznor's unrelentingly portentous voice, making it the Nine Inch Nails album I'm likely to play more than any other. A collaboration with Atticus Ross, Alexander Cortini, Adrian Belew and a few others, "Ghosts" collects tightly composed (if repetitive) instrumentals, often noisy but almost as often melodic. Since they're short, they kept my attention; in fact, I hesitated to stop listening, since I was curious what mood and texture the gang would come up with next. The sound field varies quite a bit, too, relying on the de rigueur synths, guitars and drum machines treated with effects, but also gifting the occasional acoustic piano or maybe dobro.
"Ghosts" has come out as a free download (9 of 36 tracks), a $5 complete download, a $10 double CD, a $75 deluxe package and a $300 ultra-deluxe limited-edition package (which is sold out). Guy's got ideas.