The Bennie Maupin Quartet, "Early Reflections" (Cryptogramophone)
Bennie Maupin, "The Jewel in the Lotus" (ECM reissue)
Who is this Bennie Maupin? You might be surprised. Since he hasn't recorded much as a leader, most listeners think of the woodwinder as sort of a circa-1970 color man, the ghost who wove the dark bass-clarinet threads through Miles Davis' "Bitches Brew," or who broadened the spectrum of Herbie Hancock projects -- the avantish "Mwandishi" and the funky hit "Head Hunters."
Maupin's personal palette had registered with the public mostly in shades of gray until the current decade, when he assembled a stellar ensemble featuring percussionist Munyungo Jackson, bassist Darek Oles and drummer Michael Stephans. They played around and released the unindebted yet attractive -- and appropriately titled -- "Penumbra" (meaning a partial shadow) in 2006 on Cryptogramophone.
Late last year, ECM reissued "The Jewel in the Lotus," Maupin's neglected 1974 debut as a leader. And Cryptogramophone has just brought out the masterful, emotional "Early Reflections," a lucky encounter with Polish musicians. Finally we're starting to fill the gaps in a portrait of an artist we should have known better all along.
"Early Reflections" continues to emphasize Maupin's strength as a thoughtful composer with a logic all his own. It's got a couple of fun genre pieces -- the sexy & soulful Brazilian number "Escondido" and the ditty-bop blues "Prophet's Motifs." But the mood is mostly one of searching, with the search becoming its own reward; Maupin looks around him on his path, aware of beauty and little concerned with a destination. His tenor, bass clarinet, soprano sax and flute have a centered, measured quality, with each note containing a spherical universe. You hear carefully constructed meditations on death ("ATMA"), love born out of grief ("Tears"), anxiety tempered with playfulness ("Not Later Than Now"), guarded optimism ("Early Reflections"), mourning and moving on ("Inner Sky"), and finally transcendent resignation ("Spirits of the Tatras," whose title refers to a Polish mountain range).
The recording and mixing, by Sebastian Witkowski, Nolan Shaheed and Rich Breen, resulted in a gorgeous sound field. Maupin was treated like royalty in Warsaw, where, he told me, he had the use of an excellent studio and what was described to him as the best piano in Poland, a Homburg Steinway shipped from halfway across the country.
His pianist, Michal Tokaj, must have loved that instrument. This incredibly sensitive young gent anticipates the motion of the music (much of it improvised) and devises chords that not only reflect an instant's context, but suggest new directions. He gently demolishes the notion that dissonance must be harsh, occasionally offering a snapshot of his harmonic methodology by allowing a complex chord to fade in space. (Long tones on flute, bass, piano and voice signal some of the album's most telling moments.)
Bassist Michal Baranski is a model of earsmanship and substance, especially when bowing. Drummer Lukasz Zita meets the challenge of quietness superbly. And on a couple of tracks singer Hania Chowaniec-Rybka, who's mainly known for inventive Polish folk interpretations, approaches abstraction with a distinctly appropriate timbre and obvious joy. The packaging is lovely, too. "Early Reflections" is a ruby in the Crypto crown.
And it's great that we can hear it alongside "The Jewel in the Lotus." In '74, Maupin is full of ideas, more of an experimentalist and less of a storyteller. He's got a hell of a band: Hancock and Headhunters drummer Bill Summers, along with the omnipresent '70s-'80s rhythm section of drummer Billy Hart and bassist Buster Williams, plus percussionist Frederick Waits (father of latter-day skinsman Nasheet Waits).
The era encouraged newness; you can feel the excitement of discovery as Maupin mixes steadily growing avant squeals with monkish chants, gongs and whistles on "Excursion"; flashes on Pink Floydian space adventure on "Mappo"; and monitors the relaxation of a tense heartbeat during a vacation in "Ensenada." This original version of the title composition is more static and less Coltrane-influenced than the new one on "Early Reflections" but equally coloristic; Hancock's freaky electronic piano treatments still sound fresh as the track ends with fast psychedelic pans between the speakers.
At 33, Maupin was creating atmospheres where he could breathe freely, and the listener could only feel grateful for the opening of new doors. Not many ran across him at the time, though; Maupin wasn't a Name, and he wasn't interested in remaining a fusion guy or joining any other popular club. It's high time we joined his.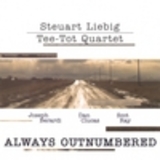 Steuart Liebig Tee-Tot Quartet, "Always Outnumbered" (pfMentum)
L.A. bassist Liebig knows that many listeners think his compositions sound weird (he was the one who came up with the label name Cryptogramophone, after all), but the impression arises just because he's a real observer; he takes the weirdness of the world as he finds it, and his music is the natural consequence. Often, though, as in his group the Mentones, he has found ways to make the strangeness slide down pretty easy, and his Tee-Tot Quartet (named after an early mentor of Hank Williams) is another example.
Historically, Liebig will funk ya, he will blues ya, he will even metal ya occasionally just to get his greater point across. "Always Outnumbered" is his way of modernizing the blues, keeping some rhythmic flavor and some traditional structure but appropriately distancing the form somewhat from the soil while substituting a sense of unease and disconnect we can all understand. In this he made a canny choice by teaming up with Scot Ray, whose electrified dobro is capable of both the downest of Delta slidations and the noisiest of apocalyptic disruptions. Drummer Joseph Berardi always keeps substantial trashcan beats under his freeform fingernails, and cornetist Dan Clucas, though a wool-dyed avanteer, consistently allows the clear enunciations of the human voice to pour through. Liebig's muscular six-string electric bass weaves up, down and around with such fluidity -- sometimes driving, sometimes commenting or arguing -- that it seems almost subconscious. Well, it is his music.
The blues include a limping shuffle, a slow yawner, a start-stop urban strut, a poky prodder, a straight boogie and a Beefheartian boozer, all rendered ungeneric by off-center harmonies, lopsided beats and even some Arabic guitar melisma. Liebig always dishes up some of that Beefheart stew, the difference in the blues-battering being that where the Captain was at root an instinctive hippie in overalls, Liebig is more of a suburban crank schooled in Schoenberg.
Can you dance to it? Yeah. You probably won't, though.
ANOTHER OF STEUART LIEBIG'S MANY PROJECTS, THE POSTMODERN JAZZ GROUP SECONDA PRATTICA, PLAYS CAFÉ METROPOL SATURDAY.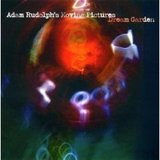 Adam Rudolph's Moving Pictures, "Dream Garden" (Justin Time)
I've been waiting months to review this, thinking that SURELY Mr. Rudolph would temporarily abandon the New York playground to which he moved last year and revisit us in Los Angeles, which the Chicago-born hand drummer, bandleader and composer called home for nearly three decades. And then I'd synchronize my words with his arrival. Nope. I scan his calendar, and it looks as if Rudolph has pulled a "California Dreamin'" in reverse, stopping in to a NYC church, getting on his knees to play, and the preacher knows he's gonna stay. I don't even know if his new Go: Organic Orchestra disc, "Thought Forms" (due June 17), features a group from the SoCal avant community he has done so much to unite.
L.A. musicians have long looked eastward to dodge homelessness and starvation -- from Dex and Mingus and Dolphy to Ralph Alessi and James Carney. (Well, Carney was from New York before hitting CalArts.) Somehow, though, I thought it might be different with Rudolph, who had established himself as some sort of Venice high priest of neolithic religion and rarely performed to less than full houses. We miss him.
But on to "Dream Garden," the fifth Moving Pictures release, which of course is excellent. The name of the ensemble is no accident; the first thing you're likely to think about the selections, several of which are only a minute or two long, is that they'd make perfect movie soundtrack music. It's surprising that Rudolph hasn't worked more in that field.
Typically, the eight-man ensemble sets an Afro-Arabic mood -- with the flute, lute and chimes of "The Violet Hour"; the semi-saudade guitar, ticking percussion, cymbal washes and cool trumpet of "A Vision of Pure Delight"; or the Jajouka-like pipes, heavy hand drums and Ra horns of the title cut. It doesn't stay in one oasis, though, as when the desertlike flutes of "Cousin of the Moon" build into a rumbly groove with cinematic stings, or the Brazilian sway of "Helix" accumulates a darker sustained energy.
There are real tunes, too. The opening "Oshogbo" boasts a couple of appealing melodies, as Graham Haynes' trumpet edges close to bebop and Ned Rothenberg's sax vibrates multiphonic heights. "Happiness Road" gets its bounce from Haynes' slide whistle and somebody's quirky marimba lilt -- hard to say whose, as everybody plays a bunch of instruments, most of all the African-trained Rudolph, who leads the pack with eight.
It's quite a substantial everybody, with oud and percussion player Brahim Fribgane, guitarist Kenny Wessel, bassist Shanir Blumenkrantz and multiblower Steve Gorn adding to a most sympathetic group feel. You can add yourself to the drum circle, as well; you may quickly begin to feel that Moving Pictures are the soundtrack of your life.