Sat. May 17 -- Pianist Larry Karush has an amazing way of combining musical knowledge from all over the world into a personal vision. At Pierre's Fine Pianos, 11039 Pico Blvd., West L.A. 90064; 8pm; $15; (310) 474-3681; limited seating, call for reservations.
Sun. May 18 -- Johanna Went shows support for the always worthwhile Sound series by hosting a fund-raiser at a private garden in Pacific Palisades. You get Ariel Pink, Dick Slessig, New Energy Encounter Group, DJs and food/drink included in the price; some composers are being auctioned off as indentured slaves. Check in here. 4pm; $75, $50 SASSAS members.
Sun. May 18 -- Filmmaker Tim Perkis has made a doc called "Noisy People," about outside musicians such as Anthony Braxton, Fred Frith and Jack Wright; here's a screening, plus a live performance featuring some of the subjects: saxist Phillip Greenlief, percussionist/electroman Gino Robair and trumpeter Tom Dill. At Silent Movie Theater, 611 N. Fairfax Ave., L.A. 90036; 7pm; $15; free parking at Fairfax High across the street.
Sun. May 18 -- Martin Espino and Christopher Garcia are Mexica, who make resonant Mesoamerican folk music with ancestral instruments -- clay whistles, gourd water drums and like that. At LATC, 514 Spring St., downtown 90013; $12; (213) 489-0994.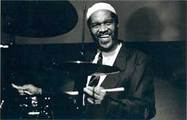 Sun. May 18 -- You seen Jeannette Lindsay's documentary "Leimert Park"? A decade in the making, it compiles footage of the late Horace Tapscott, Billy Higgins (above), Fifth Street Dick and many others to tell the story of this unusual South L.A. arts hub -- a most valuable piece of history, tell ya a lot you didn't know. Today's the release party for the DVD, on sale for $25 in the relaxed environs of Leimert Village itself at Eso Won Books, 4331 Degnan Blvd.; 2pm; (323) 290-1048.
Wed. May 21 -- Quite an event: The highly regarded '90s fusion guitarist Wayne Krantz (Steely Dan et al.) returns with a trio, plus some ax hack named Nels Cline, and the nu-generational heavy funk-hop post-jazz of Kneebody. At Temple Bar 1026 Wilshire Blvd., Santa Monica; $10; (310) 393-6611; www.templebarlive.com; all ages; advance purchase recommended. Krantz is also at the Baked Potato Fri.-Sat. May 23-24.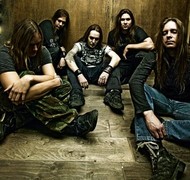 Wed. May 21 -- It's Gigantour time with Megadeth, In Flames, Children of Bodom, Job for a Cowboy, High on Fire. A very heavy lineup this year: 'Deth's most recent lineup has more old-skool rumble than any previous one; Bodom (above) are on a sustained rampage (read my review of their new album here); and High on Fire is one of the baddest, downest trios in the history of metal, so come early. For a taste, check out the DVD of last year's tour featuring Lamb of God. At Long Beach Arena, sold out except for, y'know.
Wed.-Sat. May 21-24 -- Somebody say Hammond organ? With Jimmy Smith gone, Joey DeFrancesco gets to hold the torch most of the time. At Jazz Bakery.