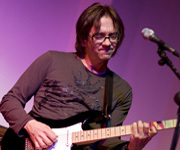 Fri.-Sat. May 23-24 -- Guitar fusion from a rich source: Out of NYC, guitarist Wayne Krantz with drummer Cliff Almond and bassist Tal Wilkenfeld. At the Baked Potato, 9:30 & 11:30pm; $25. Reservations needed for this one: (818) 980-1615, after 7pm.
Fri.-Sat. May 23-24 -- Hammond organ monster Joey DeFrancesco brings drummer Byron Landham and pianist-keyboardist Pat Biachi, plus guest vocalist Colleeen McNabb. Joey has soul, but this is the wrong venue; you should really be drunk. And not sitting in a plastic lawn chair. At Jazz Bakery; 8 & 9:30pm; $30.
Fri. May 23 -- Too late to attend now, but at City Hall this morning the mayor and the City Council honored the hell out of Memphis-born sax legend Charles Lloyd with a Certificate of Godhood in appreciation of the fact that he got his first bigtime visibility here -- after attending USC and working with Chico Hamilton, and before he had to leave town so he could make some money.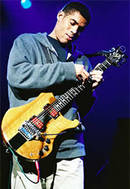 Fri.-Sat. May 23-24 -- After making a big '80s impression with his freakish guitar techniques, in the mid-'90s Stanley Jordan retreated to the wilderness and reconfigured his outlook. Now he's a music therapist, and his long-awaited "State of Nature" shows a new taste, sensitivity and harmonic sophistication. I don't want to say "maturity," cuz who cares about that? He's got Kenwood Dennard on drums and the remarkable Charnett Moffett on bass. At Catalina's, 8 & 10pm; $20-$25; (323) 466-2210; www.catalinajazzclub.com.
Sat. May 24 -- You been missing the Mother-forking piano of Don Preston? Me too, and he's playing a piano duet with Ben Dowling, not exactly in Los Angeles of course. At Rosalie & Alva's Performance Gallery, 1417 W. Eighth St., San Pedro 90732; 8pm; (310) 833-3281.
Sat. May 24 -- CANCELED CUZ OF RAIN & STUFF. The extraordinary impressionistic keyboardist Motoko Honda duos with the percussionistics and toys of Joe Berardi, and they work out with the "California hot-tub rock and improvised 20th-century classical" duo The Philabosians. At Folly Bowl, a lovely rustic private outdoor amphitheater at 1601 Loma Alta Drive, Altadena 91001; 7pm; FREE; bring picnic and cushions and blankets and hope it don't rain. Casual.
Sat. May 24 -- Nick Mancini, the preferred vibesman of the swinging unpretentious intellectual set, is back with his Collective. At Café Metropol, 923 E. Third St., downtown 90013; 8pm; $10 cover, $10 minimum; (213) 613-1537; reservations recommended.
Sat. May 24 -- Calling and responding, s'il vous plait -- the poetry, trombone and electric guitar of Dottie Grossman, Michael Vlatkovich & Tom McNalley. At That Yarn Store, 5028 Eagle Rock Blvd., Eagle Rock 90401; 5pm; (323) 256-9276; FREE.
Sat. May 24 -- Original Bay Area speedsters Death Angel, the deep-grooving God Forbid and the mathy but manly Soilent Green say "In Thrash We Trust," so put that on your dollar and smoke it. At House of Blues Sunset Strip; 8:30pm; $20.
Sun. May 25 -- The Polish guys who lay out the nice combed-cotton sheets for Tomasz Stanko (who ain't here): The Marcin Wasilewski Trio, featuring the pianist leader plus bassist Slawomir Kurkiewicz and drummer Michal Miskiewicz. At Jazz Bakery; 8 & 9:30pm; $25.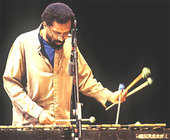 Wed.-Sat. May 28-31 -- Steve Nelson plays vibes strong, weird and smart, with vet pianist Mulgrew Miller, distinguished bassist John Clayton and drummer Karriem Riggins. At Jazz Bakery; 8 & 9:30pm; $30-$35.
Thurs.-Sun. May 29-June 1 -- The only way you're gonna hear what classic bop and post-bop drums really sound like: Roy Haynes, people. At Catalina's; 8 & 9:30pm; $25-$30.