Fri.-Sat. May 30-31 -- It's a fair exchange: Leni Stern lives with the Tuareg of Mali and absorbs their music; the Malians dye their hair blond and buy Fender amps. An inventive songwriter, a sensitive guitarist and a heart-touching singer, Stern tops it off by always collecting a great band -- this time it's Makan Kouyate (who made such a wild impression last time) on calabash, the fantastic Brahim Fribgane (a regular for a few years now) on oud, Mamadou Ba on bass and Paul Tchounga on drums. Read my review of her December performance at this very same venue here. At Café Metropol, 923 E. Third St., downtown 90013; 8pm; $10 cover, $10 minimum; (213) 613-1537; reservations recommended.
Fri. May 30 -- Dude, it's former Megadeth guitarist Chris Poland's fusion power trio, OHM, with bassist Robert Pagliari and drummer Frank Briggs. Don't bogart the E, pal, we all be trippin'. At the Baked Potato, 9:30 & 11:30pm; $20; better call to guarantee a seat at (818) 980-1615.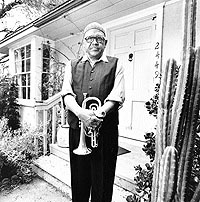 Fri. May 30 -- Bobby Bradford is gonna talk instead of blow his cornet tonight. It's another edition of World Stage Stories, and he's got a tale to tell indeed: days with fellow Texans Ornette Coleman and John Carter, and the trials of a longtime educator. Wonderful dude; you can read my 2003 LA Weekly feature on him here. Photo by Debra DiPaolo. At the World Stage, 4344 Degnan Blvd., Leimert Park 90008; $10.
Fri.-Sat. May 28-31 -- World-renowned vibesman Steve Nelson plays strong, weird and smart, with vet pianist Mulgrew Miller, distinguished bassist John Clayton and drummer Karriem Riggins. At Jazz Bakery; 8 & 9:30pm; $30-$35.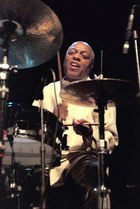 Fri.-Sun. May 29-June 1 -- The only way you're gonna hear what classic bop and post-bop drums really sound like: Roy Haynes, people. Coltrane, Dolphy, Andrew Hill, forget about it. Or, actually, don't. At Catalina's; 8 & 9:30pm; $25-$30.
Fri. May 30 -- This week I sink deep into my inkwell to ponder Arch Enemy here. Plus one of the more varied and ambitious Swedish death patrols, Dark Tranquillity; Dino Cazares' jerky, kicky and sometimes surprising Divine Heresy; and old-skool chest beaters Firewind. At House of Blues Sunset Strip, apparently sold out as it should be.
Fri.-Sat. May 30-31 -- Iron Maiden put on a hell of a 1985-retro Egyptian show at the Forum in February; you never woulda known that the massively influential Brit metalmen couldn't fit some of their stage props into their jet. Now they're back with the whole schmeer, so what do we call this? Two hells of a show? Three hells? At Staples Center.
Fri.-Sat. May 30-31 -- Since it's not quite possible for a microtonal composer to be famous, Harry Partch could only come close. Here come a bunch of his scores, to be played on some of his self-built instruments under the direction of John Schneider. At REDCAT, 631 W. Second St., downtown 90012; 8:30pm; $20; www.redcat.org.
Sun. June 1 -- Rad guitarist Tom McNalley leads his formidable trio featuring his uncle Joe McNalley and magical drum spangler Alex Cline, plus special guest from New York Adam Diller on sax; also freeprovvers Crepuscule, with saxist Ken Kawamura, bassist Anthony Robert Shadduck, and drummer Alan Cook, the guy who sauteed so freshly with Bill Casale a couple months back. At Center for the Arts, 2225 Colorado Blvd., Eagle Rock; 7pm; $10; (626) 795-4989.
Sun. June 1 -- The Sixth Chamber are youngish, but they musta done some acid to revive the '60s pop feel so accurately. At the Viper Room.
Sun. June 1 -- I was unblownaway by the new "Miles From India" double CD, as you might have gathered from my review here. But unlike the record, tonight's show with Miles From India Ensemble has everybody playing together live; Casey Dolan's report in LA Times indicates the lineup will include Miles associates Wallace Roney on trumpet, Ron Carter on bass, Badal Roy on tabla and Pete Cosey on guitar -- among others, I'm guessing (no info on the GP web site). Grand Performances at the California Plaza, 300 S. Grand Ave., downtown; 8pm; free.
Wed. June 4 -- For things Indian, at least as good a bet is our local Arohi Ensemble, featuring a quite spectacular array of veteran musicians: Paul Livingstone (sitar), Pedro Eustache (winds), Peter Jacobson (bass and cello), Abhijit Banerjee (tabla) and Dave Lewis (drums). At Temple Bar, 1026 Wilshire Blvd., Santa Monica; 10pm; $10.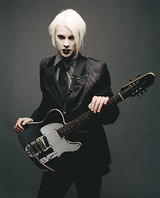 Thurs. June 5 -- A perverse little dude who can go nuts on the guitar without losing his ass in space: John 5, ax headsman for Marilyn Manson, Rob Zombie and Rob Halford among many others. He'll be talkin', pickin' and pluggin' his new solo CD, "Requiem." At Guitar Center, 7425 Sunset Blvd., Hollywood 90046; 6pm; free.