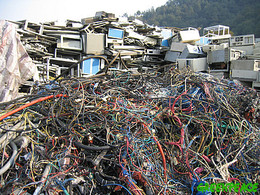 Tell everybody you know about ResBox, the new monthly electro-improv series Hans Fjellestad is putting on. It's got almost everything: a central location (eastern Hollywood across from Barnsdall Park), a comfortable little auditorium with an actual stage, and of course a booking policy featuring the outermost musical sojourners from L.A. and the world -- just no alcohol. With the valuable downtown series at Dangerous Curve having gone on hiatus and Il Corral closed down, this and the Alex Cline-Will Salmon Sunday Evening Concerts in Eagle Rock the first weekend of each month are the only regular places in town to tap the really freaky brew. Support them. I'll be plugging ResBox's shows (third Thursday of each month); you can also keep up by bookmarking its MySpace page.
Like a good dad, Fjellestad himself slapped the baby to life by matching his own electronix with G.E. Stinson's litter of FX boxes (incidentally connected to a guitar). Towering plumes of sonic steam poured from the synthlets and mystery boxes arrayed on Fjellestad's podium, followed by Geiger-counter ticks that presaged bigger detonations as well as old-school analog loops, whizzes and robot quacks. Stinson, comfortable at floor level thanks to the Zazen he practices, squatted over his knobs and pedals, carefully teasing out feedback and Chinese circle chirps. He also interacted semidirectly with his electric guitar, miscegenating the signal of a hand-held radio or recorder with the magnetic pickups for subintelligible demon babble, agitating the strings ever so subtly with a wire whisk, or torturing them with multiple S&M clips. From time to time, the two achieved undifferentiated noise union or broadsword counterpoint, and there was always something good going on.
Big Andrew Pask unsandaled his stocking feet (for more intimate pedal sensitivity) and enthroned himself behind a couple of laptops, with alto sax and bass clarinet at the ready. Steuart Liebig shouldered one of two six-string basses nearly as big as himself, and called upon the gods of Rome to bless his many stomp devices. Pask declaimed machine beats and curious alto melodies; Liebig responded with calming wind and sea. Pask popped like Redenbacher kernels, and a bass-sax dialogue ensued. Pask's bass clarinet turned moody and offended his alto, which sulked in its corner, muttering to its sampled self. Liebig got more chaotic; pretty soon it was noise fighting noise to a squealing draw. Liebig's amplifier belched as if it had eaten everything. Pask sat back and folded his arms while his loops wound down; his expression said these technological brats were gonna catch hell when he got home. But we enjoyed the squabble.
By contrast, the duo of guitarist Carey Fosse and drummer Eric Gardner called Not in the House came off as almost traditional. I said almost. The youthful Gardner (a promising life derailed by avantian addiction, sniff) began by assailing his kit with what looked like chopsticks -- a nice contrast between thrashing action and gentle whappity-pings. Fosse seemed to have the turmoil of the Indian subcontinent on his mind, as he occasionally returned to distorted raga-like lines made metaphorically authentic by the between-note effects he got from active whammy-bar jiggles. His vocabulary included Hendrixy clang, cartoony slide, Morse echoes (Code, not Steve), melodic feedback howls and Sonny Sharrock churn, but he also showed his love of Real Music with doses of straight Bird bop. Gardner, meanwhile, leavened his abstractions with shoogabooga grooves, Cheyenne war toms and even some heavy-footed outright funk. At one point Fosse pulled out his cord and made music with the buzzing plug. And it had, like, a beat.
The sets were around half an hour. That's about right.