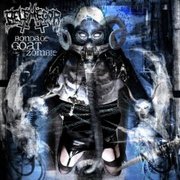 Belphegor, "Bondage Goat Zombie" (Nuclear Blast)
Belphegor want to stick some sex into modern metal, and being swordly Austrians, they can't write about begging their galkyries to sugar 'em up with some o' that good thang. Cradle of Filth pretty much have a lock on the vampire-lust angle, so the Belphegorians opt to blacken some fresh S&M and succubus filets for their seventh studio alb. Musically, the spice injection is consummated. Conceptually, it only sorta works.
As metal so often demands, you need to approach the subject metaphorically. Only idiots take metallers' satanic posturing at face value -- it's a counter-establishment stance, Gomer. Similarly, simps will be tempted to get literal about the abasement of women on this record. The battering-ram sonic assault of "Sexdictator Lucifer" begins with a woman's ecstatic moans and ends with her writhing scream: We're supposed to wonder if she's cumming or expiring. On the final "Der Rutenmarsch" ("the march of the pricks" perfectly describes the stomping lamentation of the music), you hear the female masochist flagellated till she gasps then weeps. The title demoness of "The Sukkubus Lustrate" is commanded to "insert the wooden arm -- ride the crucifix." In "Justine: Soaked in Blood," the "dethroned cunt" is "deadfucked to pieces."
Dethroned, huh? You don't gotta be Freud to figure out that guitarist-throatsman-lyricist Helmuth is nothing but a pussy-whipped little boy crying for power. That may be a pathetic condition, but from the Rolling Stones' "Under My Thumb" and "Midnight Rambler" on down, it's inspired damn good rock music.
Which is what we have here. The low frequencies emanating from Torturer's busy kick drums and Serpenth's underworldly bass can't help but resonate in your nether extremities -- unlike a lot of modern-metal rhythm sections, the two bring an undulating, unmechanical feel to their high-energy onslaught, and the arrangements allow you to draw an occasional breath during a metallic "Duke of Earl" mini-breakdown or a courtly bridge.
Belphegor does, in fact, make a highly melodic noise. Helmuth's slew of lovely buzz-picked riffs serve not the usual metal aggro, but an atmosphere of longing (for peace and poontang) and despair (that he's ever gonna get any). The mood of "Stigma Diabolicum" is positively prayerful; "Shred for Satan" submerges one of the album's persistent threads of oblique humor under a goulashy murk before ending with sensually gritty feedback. Dig the neat slipsliding lead axwork on "Chronicles of Crime."
Seems like a thousand metal bands are competing to author a new soundtrack for the Siegfried epic. If there's an "Austrian Idol" contest to determine the victor, Belphegor will certainly rank among the finalists.