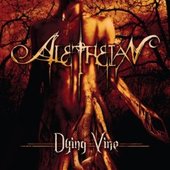 Aletheian, "Dying Vine" (Metal Blade/Ironclad)
Here's why I cut Christian metal some slack now and again: I can take only so much nihilism. Like, I was listening blind to this record by Aletheian (from the Greek, meaning something like "truthy guy"). No clue about the group's personal ethics, and this being croak-death metal, of course the lyrics were unintelligible. But the first notes I jotted focused on hearing continuity and hope, and on the way the quartet avoids the kind of deliberate fragmentation that can read the same as resignation.
So I checked a little, and found out that Aletheian is a Pennsylvania Christian metal band, and that "Dying Vine" was originally released in 2005 by, yes, Hope Prevails Productions. This explained what I had been hearing: many changes of rhythm, texture, viewpoint, but all held together by natural transitions and constant forward motion. As much damage as religion is capable of doing, it can nevertheless retain the advantage of a goal -- a sense of fighting through obstacles toward some kind of transcendence.
Which is exactly what's lacking in the similarly technical and unsettled (but discontinuous) music that Meshuggah and 3, for instance, continue to make. I'm old, so I flashed back to 1977 and my first exposure to Talking Heads: It seemed as if David Byrne's whole message was "I'm a nervous white man," and I just thought, "So what? Get over it." He did kind of get over it after a while, and his base broadened, and that wasn't a bad thing.
The disjointed halts, crashes and tantrums of math metal resonate with people who experience alienation and fragmentation (quite a few). But "I feel like you" just keeps bozos from feeling alone, it doesn't help dig them out of their broken crockery. And as much as I love, say, Behemoth, the rallying cry of "Let's get together and hate Christians" ain't gonna get you a job and a family. (At least Behemoth's sound, not to mention their example, speaks of strength and persistence, which is shit you can use.) Transcendence is what makes Coltrane and Ayler better than David Murray and Ivo Perelman.
But enough philosophy and on to the particulars of this fine Aletheian disc. The main guy is guitarist-voxman Alex Kenis, who looks like Jesus. Aknowledged influences of Dream Theater and Fates Warning (and Meshuggah) are reinforced with what's basically a prog-metal sound.
Kenis isn't your typical fret-diddler or obsessive channel-surfer, though; at root he's a melodian who likes to tame unruly riff conceptions, often in harmony with the other axman, Donny Swigart. While packing in Joe Walmer's judiciously applied double-kick thunder along with moany sludge, metallic jiggery, Ottoman drone, chivalrous pomp and a few non-4 time signatures, Aletheian confine their epic aspirations to the four-minute format. A broad-minded gent, Kenis even sneaks in some keyboards, as when he uses metal-shop electric-piano hammerings to declare his fealty to Florida prog-metal godheads Cynic, whose "How Could I?" concludes the album. It sounds good, and never surrenders to absurdity.
Those who read the lyrics won't be surprised that themes of struggle and isolation take on an unusually humble tinge, especially on "Open Grave," a horrified witness to the depredations of cystic fibrosis. Most death-metalers express outsider status through focus on disease and violence as a metaphors for self-affliction and liberation; Kenis is more, how you say, pro-life. Rather than predetermined, in the Calvinist sense, he's determined; both words and music bear this out. If his religion inspires good art, a little prayin' is no sin.

Charlie Parker & Arne Domnerus, "In Sweden, November 22, 1950" (Oktav)
Even though there's nothing special about this live recording, four unheard Charlie Parker performances are never to be despised, and I'm happy to add "In Sweden" to the 50 or so other Bird discs busting my shelves. Parker is effortlessly brilliant as (almost) always; maybe a little too effortlessly. He breezes through "Anthropology" and "Cheers," makes only a minute's appearance at the end of "Cool Blues," and elects to dodge the emotional potential of his most revealing cover, "Lover Man," with a perfunctory and inappropriate run-through that seems to be one of those alternating uptempo-downtempo gimmicks.
I say "seems to be" because the recording makes it hard to tell what's going on. The disc's biggest find at first looks like drummer Jack Norén, who thumps and bomb-drops authoritatively on "Anthropology" and then virtually disappears on the other three Parker tunes -- it sounds as if someone moved the mike so we could hear the confident low-end punch of bassist Thor Jederby. Nobody cared whether pianist Gösta Theselius was audible, and from the feeble evidence, that was a good call. Trumpeter Rolf Ericson is a decent bopper, fluffing no more notes on the challenging unison passages than Miles Davis did a few years earlier, but lacking a comparably distinctive tone.
While the package notes make much of the similarities between Parker and altoist Arne Domnerus -- who leads the same band (without Bird) on the standard bebop source songs "Fine and Dandy," "Out of Nowhere" and "All the Things You Are" -- he has a much cooler tone, coming off more like Lee Konitz, or like Stan Getz would've if The Man were handed an alto.
It's tough to be objective about this kind of thing. Probably if you did a blindfold test, you'd just think "In Sweden" was a '50s American bop quintet on an average night. Which ain't bad.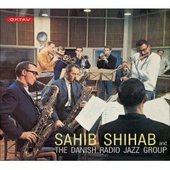 "Sahib Shihab and the Danish Radio Jazz Group" (Oktav)
Prior to hearing "Danish Radio," all I knew about Sahib Shihab (born Edmond Gregory, died 1999) was the monumental credit that Thelonious Monk chose him to play alto on his revolutionary 1947 and 1951 Blue Note sessions. The reason for the honor is clear if you listen to that era's "In Walked Bud" or "Who Knows?" or "Criss Cross" or the famous elegant introduction to "'Round Midnight": Shihab possessed a distinctive dry and open sound, perfect intonation for the horn-harmony parts, and the confidence to solo with great originality either in a heavily blues-flavored bop mode or in the vibrato-inflected swing style for which Monk never lost affection.
Like many starving American jazzmen, Shihab soon decamped to Europe; unlike most, he stayed there. These 1965 broadcasts, mostly featuring his own tunes, are valuable evidence.
The opening "Di-Da" carries a strong Monk tang with its staccato theme (kind of a condensed "Criss Cross"), its pinging vibraphone, and a bold baritone solo from Shihab, who plays only that and flute on this date. "Tenth Lament" is a lovely contrapuntal ballad; "Mai Ding" has an intriguing rhythmic push-pull; "No Time for Cries" languishes in a luxurious "Midnight" mood; Shihab's flute swings between crisp attack and Rahsaanish distortion on the finger-snapping "The Crosseyed Cat." Shihab's earnest Sinatra/Bennett vocal on "Little French Girl" actually highlights an orchestral lounge number otherwise notable only for its awfulness.
The dozen or so Danish musicians perform with well-rehearsed clarity, swing and whiteness; they're recorded beautifully except for a touch too much reverb. Trumpeter Palle Mikkelborg would do us a favor a couple of decades later by arranging the atmospheric "Aura" album for Miles Davis. And one can hardly imagine a major European jazz session without Niels-Henning Orsted-Pedersen on bass; he's here.
More than listenable.