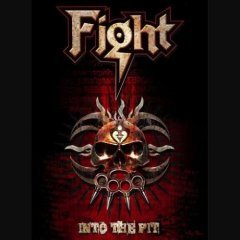 Rob Halford's 1992 withdrawal from Judas Priest, followed by the operatic screamer's launch of the band Fight, remains one of metal's heaviest mysteries.
The official story: Halford lusted to ride the thrash-metal wave that was carrying California bands such as Metallica, Megadeth and Testament. But that doesn't quite wash. Priest, having lured Racer X drummer Scott Travis onboard largely for freshness purposes, had just injected their catalog with the thoroughly modern "Painkiller," their biggest hit in years. What next? Halford, taking Travis with him, split Priest to form Fight and make music that sounded like outtakes from "Painkiller."
Weird. My guess: Priest's balance of power, thanks to Halford's alliance with Travis, had tipped uncomfortably away from guitarists Glenn Tipton and K.K. Downing, who, contrary to expectation, were the ones who wanted to stick with the theatrical Priest tradition. So, as the live DVD footage on Fight's new "Into the Pit" box demonstrates, we ended up with the odd 1993 spectacle of a middle-aged and shaven-skulled Halford wailing away in a black T-shirt amid scowling baby-faced axmen. Though no slouches, the kids neither played nor wrote quite at the Priest level. So it was no shock when Fight got KO'd, Travis crawled back to Priest (still active but struggling with Ripper Owens on vox), and Halford and producer Trent Reznor collaborated with guitarist John Lowery in 1997 to birth the industrial unit Two, which also tanked. At the turn of the millennium, Halford's next band, cunningly dubbed Halford and plastered with many a classic-metal decal, was widely perceived as an audition for the singer's reunion with Judas Priest -- which inevitably transpired in 2003.
One senses that Halford felt some pangs over surrendering the nascent Fight. Last year his Metal God Entertainment released a Fight documentary, "War of the Words: The Film," and he traveled to plug it. A DVD of same followed, as did "War of the Words: The Demos."
Now, as if to close the books, arrives the box "Into the Pit": both full-length Fight albums, a limited-edition 1994 EP, and a live-and-miscellaneous DVD. The CDs are remixed and remastered by Priest-Halford-Dickinson producer Roy Z. The dark 'n' fiery artwork by Marc Sasso continues in force.
When all of this is stuck in yer face together, one major impression emerges: If it weren't being measured by unrealistic Halford standards, Fight would've been considered a more important band. Many have compared it to the contemporaneous Pantera, because the groove trumps the songwriting -- the opportunity for Travis to dominate with his intelligently applied, extremely heavy double-kick had to be a factor in the Priest schism. While Halford pushes his awesome vocal range, his opportunities are limited by a dearth of killer choruses. Because Halford did all the writing, "War of Words" has the best tunes (the gloomy "Life in Black," the Priestly "Immortal Sin" and the hooky "Little Crazy"), but it's also the more schizophrenic of the two full-length Fight releases. When guitarists Brian Tilse and Mark Chaussee get more involved on the collection "A Small Deadly Space," the weight swings more toward texture and experiment, though there's still good melodic development on "I Am Alive" and "Blowout in the Radio Room." (The same pattern -- songwriting first, then texture -- was repeated on the two studio albums by the band Halford.) [NOTE: If you listen to "Deadly" on computer, pay no attention to the titles on your screen, which are all scrambled up; the box and booklet list the correct order.]
There was nothing wrong with the original production by Dutch engineer/mixmaster Attie Bauw ("Painkiller"! Scorpions! LaToya Jackson!). But whenever, as here, Roy Z gets his mitts on the knobs, there just seems to be more heft, more dimension, more of the intangible. Still, hats off to Bauw for his work on the expanded live/remix EP "Mutations," especially for his reimaginings of "Immortal Sin" and "Little Crazy," which open up freaky vistas of noise and dynamics. On the DVD, "Live in Phoenix" (originally a bootleg) is no more than OK; in other visuals, if you yearn to watch Halford bungee-jump into an Australian pool, you can do that over and over.
Were Halford's side trips a misstep? From Judas Priest's perspective, definitely. But for 10 years, Halford got to lay down a lot of good shit on his own terms. And when he was back for 2005's "Angel of Retribution" with Roy Z producing, the band sounded -- all right, I'll use the word -- rejuvenated, both on record and live. And from the evidence of the two new tracks posted at www.judaspriest.com (and from the whole record streamed here), Priest's superambitious double-CD "Nostradamus," which drops this coming Tuesday, will give fans cud to chew on for years.
Some things are worth fighting for, as Halford has been known to sing. And it's worth considering that before Halford joined Judas Priest, Downing's band was called Freight. Drop a couple of letters, and whaddaya got?
Read my 2000 LA Weekly interview with Rob Halford here.
Read my 2005 interview with Roy Z here.