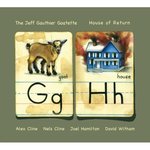 The Jeff Gauthier Goatette, "House of Return" (Cryptogramophone)
These guys have some good tunes, but they sound best when they're just tuning in and taking off. Anyone who understands improvisational music would never, ever underestimate the value of a long musical association, and look at these mothers: As three-quarters of the L.A. chamber-jazz ensemble Quartet Music, violinist Jeff Gauthier, guitarist Nels Cline and drummer Alex Cline first got together three decades ago and have never ceased to interact for more than a few months. "House of Return" represents keyboardist David Witham's and bassist Joel Hamilton's third Goatette album, the first being "Mask" in 2002, and they were in the loop with the others well before that. A real team.
To add a further dimension of ectoplasmic memory, Gauthier graces each Goatette record with a composition or two -- this time the opening and closing tracks -- written by the fourth Quartet Musician, the late bassist Eric Von Essen. The EVH title "Dissolution" ends up being ironic, as it embodies just the opposite, an intuitive union: The five start by pinging, dinging and wailing softly together, so you can hardly tell who's who; after a snatch of Miles Davis/Wayne Shorter's "Circle in the Round" (for historical context), they coalesce around a melody so beautiful it could have been a romantic movie theme if it didn't ring so real, and Nels' acoustic guitar frames its simplicity with pointillistic modern chord variations that glow with sheer genius, whether Eric's or his own.
In contrast to Gauthier's sweet & sad fiddle, Nels strikes a fit balance via nasty underwater noise on the choppy Balkan folk of Gauthier's "Friends of the Animals," and through his waka-jawaka Shaft wah on his own "Satellites and Sideburns," whose Arabic riff doesn't drift in till the band has buzzed up a long multihued electro-Miles improvisation grooved by Alex's speedbag rabbit-punching on the party balloon. On Alex's highly abstract "Dizang," Witham's alien synth vibrations and Rhodesy dewdrops, along with Alex's more destination-conscious evocations of Rashied Ali, connect the tissue behind Gauthier's emotional violin narrative. Hamilton's resiny lowness (perfectly recorded by Mike Aarvold) shines in his tumbling solo on von Essen's resigned waltz "Biko's Blues."
Some of the violin riffs are unmotivating, as on the 6/4-to-4/4 title track; any deficits are soon forgotten, though, in the midst of the band's energetic fuguing, Gauthier's most intense solo, and the swelling low press Alex scares up at the end.
You may find yourself pondering the layered meanings of the illustrated flash cards that decorate the package, designed by "Gareth Jiffeau." The new Nostradamus arises.
THE GOATETTE (SANS NELS CLINE) PLAYS THE PALMER ROOM, 3387 MOTOR AVE., WEST L.A. (BEHIND CUCINA PARADISO) ON THURSDAY, JUNE 26, AT 8PM; TWO SETS; $10.
Love's labors are never lost; something good always results. 2008 marks the tenth anniversary of Cryptogramophone, the L.A. label Jeff Gauthier launched, first, to expose the music of his friend Eric von Essen, who died too young, then to demonstrate how avant-jazz attitude and a thirst for melody can work closely together.
By offering the two-CD, one-DVD label retrospective "Assemblage," Gauthier has left no excuse for music fans who don't know about West Coast and East Coast artists such as (in alphabetical order) Scott Amendola, Alex Cline, Nels Cline, Mark Dresser, Erik Friedlander, Ben Goldberg, Steuart Liebig, Bennie Maupin, Myra Melford, Darek Oles, Alan Pasqua, Don Preston, Jenny Scheinman, Todd Sickafoose, G.E. Stinson and David Witham. Listeners who dip into it will likely find themselves building shelves for their new interests.
I walked up to the little Culver City building where Crypto hides its offices. There was no sign on the door. No doorbell, even. I knocked. Jeff opened. Aside from recording equipment and an art easel, the place looked as if it should house an accountancy rather than a musical cabal. Jeff showed me a diptych of his late parents. His dad had a goatee.
GREG BURK: He looks like a psychiatrist.
JEFF GAUTHIER: "He was a business guy. It's too bad I didn't inherit any of that. He owned a candy company. He used to work for Swift's Premium Meat. He was a meat man."
What did your mom do?
"She was an interior designer."
I see you didn't inherit that, either. Although you did inherit the virtue of persistence.
"As well as some seed funds that I used to start the label. And I'd saved some money in 20-plus years as a classical and studio violinist."
I like the name Cryptogramophone.
"Steuart Liebig came up with that."
When you launched the label, what was your intention with "The Music of Eric von Essen"?
"When we recorded it, we had artists like Peter Erskine, Alan Pasqua, Alan Broadbent. So I thought in my demented little mind that those three albums had a little bit of commercial appeal. So it was just kind of a combination of ignorance and hubris that led me to start the label."
And then?
"I've just really tried to create something that represents a community of musicians."
You hadn't really thought about what was next after Eric?
"No. Things developed organically, kind of centered around Eric's music, and Nels and Alex. Mark Dresser was the next one who kind of came in the fold, because we went to New York to record Nels' album "The Inkling," which featured Mark Dresser and Zeena Parkins and Billy Mintz. And Mark proposed something to me then, so from that point on it's been kind of a cross-pollinization. Scott Amendola became involved from the Nels Cline Singers, Ben Goldberg became involved through his association with Scott and Nels. Myra Melford . . . there started to be a San Francisco connection, and before that we'd already started a New York connection with Mark Dresser and Erik Friedlander and Jenny Scheinman."
Why did you have your main 10th-anniversary shows this year in New York?
"Last year we were given the opportunity to have an entire week of concerts at New York's Jazz Standard. And we brought out Bennie Maupin, Nels Cline doing music of Andrew Hill, Myra Melford, my group, Scott Amendola's group. The opportunity just existed. It has to also be said, it's becoming more and more difficult to present things like this in L.A. now. When we had Cryptonight, we had a built-in place to perform music where we could do anything we wanted, and our audience would come out and see it. So for the anniversary shows, it was mostly we had the opportunity, the dates were free, everybody was available to come out, and it seemed like the thing to do."
L.A. has a history of being unreceptive to avantish music. Do you feel underprivileged?
"No, because I never really had any other experience until fairly recently, and I always had the experience of creating our own opportunities. I've been putting on concerts and shows in different rooms and buildings and churches and art galleries for 25 years. The Church in Ocean Park, the Unitarian Church in Santa Monica, Sci-Arc, Miles Playhouse in Lincoln Park in Santa Monica -- it's a great old building in the middle of a park, and homeless people sleeping all around, and you get inside, and it's this old building from the '30s or '40s. We put on some great shows there -- Nels Cline and Charlie Haden, Vinny Golia Large Ensemble -- in the late '70s, early '80s. The very first Quartet Music performance was at a loft in Venice. It was Nels Cline and Eric von Essen and me, and we brought Alex in just to play on one tune, because we thought it was kind of a rouser, and something that was interesting to have Alex sit in with us. And it just kind of clicked. That was maybe 1979. I was 24, 25."
What kind of musical schooling did you get?
"I was primarily classically trained, although when I was a teenager I discovered jazz and listened to a lot of jazz, and there was a drummer who lived across the street from me. So once I discovered jazz, which I think was about the 10th grade, I kind of just fell into it. There was a magnet school for jazz, which was Dorsey High at the time, so I played in the Dorsey jazz band, which was a real trip. And then I kind of got sucked back into the classical world again. I went to CalArts -- it's kind of the cutting-edge school for jazz these days, but there was absolutely no jazz there then. I used to have to get together with people at night and kind of hide what we were doing if we wanted to have a little jam session. I spent five years at CalArts, then joined the Musicians Foundation Debut Orchestra, which was a college orchestra then; it's a kids' orchestra now. That's where I met Eric von Essen. Eric was playing bass, and we were the two kind of oddballs in the group, so we started hanging out after rehearsals, and one rehearsal he started playing the piano and I started jamming with him, and we realized we had a few things in common."
So how did you get together with Nels?
"Eric had been playing with Nels as a duo for about a year before that -- there's a great duo record on Nine Winds with Eric and Nels. So that was really the foundation, and then Eric brought me in, and we started playing as a trio. And after our first performance as a trio, we started playing with Alex."
There wasn't a whole lot of outside music in Los Angeles back then -- Horace Tapscott; Vinny Golia; Bobby Bradford; John Carter at the Wind College. How does your gang fit into the L.A. history line?
"There are so many different aspects to it. There's Nels Cline, who's got this history of growing up in L.A. and working with John Carter and Bobby Bradford, but then, you know, he's a guitarist, and he's worked with Thurston Moore, Charlie Haden, Bloc, Wilco. Nels himself is all over the map. But Jenny Scheinman is a bit more like an alt-country fiddle player. Erik Friedlander kind of comes from the classical world, as I do. Bennie Maupin comes firmly out of the tradition with Miles and Herbie and Horace Silver."
You put together your own version of the Herbie Hancock-Bennie Maupin Mwandishi band in 2004. Did you know Mr. Maupin before that?
"I hadn't known him personally. I had of course heard him play. He's been a huge influence on me and Nels and Alex since we were in high school. We have a shared memory of going to hear the Mwandishi band, at the Lighthouse in Hermosa Beach. We were probably at the same concert, because we were all kind of obsessed with this band, and we went down there several times to hear them, even though we didn't know each other then. This would have been in the early '70s. So Bennie's been in our psyches for a long time. But I had never met him until for my 50th birthday I had this wacky idea of re-creating the Mwandishi band -- what hubris! -- and just getting together and doing it with violin and saxophone and electric guitar and keyboard. So we're getting ready to start this concert, and I look out in the audience, and there's Bennie Maupin!"
What did he think of it?
"He seemed to appreciate it on some level, enough so that we started a dialogue about doing some projects together. Once he decided that I was cool, it's been full speed ahead. I just consider it an honor to be able to work with him."
Do you think of yourself as an audiophile?
"I always really cared about recorded sound, which was ironic because we could never afford to get into the really good recording studios. But with our very first projects, we started working with Rich Breen, who is just a master engineer. He's like ECM's Jan Erik Kongshaug -- he's our tonemeister, and has his hands on almost every project. He's the best recording engineer I've ever worked with. He builds his own preamps, he understands sound production and electronics from the ground up, and at the same time he's not obsessed with the technical aspects of it, he's first and foremost a musician and a guy with really big ears. He plays keyboard and mandolin. He was originally a jazz pianist, and in more recent years he's kind of become more obsessed with bluegrass music. Peter Erskine introduced me to him. Peter had worked with him recording his trio for Peter's label, Fuzzy Music."
You always try to make Cryptogramophone packages look good.
"I started working on the graphics with Alex Cline. After I graduated from music school I took some business classes. Alex took art classes and has been kind of a visual artist ever since. Alex taught me everything I know about graphic design."
What's the deal with the Crypto "Assemblage" retrospective?
"It's got two CDs; it's not chronological at all. There's a little bass clef on one -- it's only because when I sequenced it and found an organization that was pleasing to me, I realized it's like, 'Embrace the bass.' On that CD there are so many great bass players, from Darek Oles to Mark Dresser and Devin Hoff and Joel Hamilton and Eric von Essen, and an unreleased track from Todd Sickafoose. The other one has an infinity symbol on it. And the DVD has footage from Nels' Andrew Hill band playing live both at the Club Tropical and at the Jazz Standard in New York, and also some interview material from the recording sessions."
Wasn't that footage from close to the time that Andrew Hill died?
"Actually his last performance was the day of Nels' first performance in New York. Everybody kind of knew that it was Andrew's last performance, I don't know how. I've heard a recording of it, it's online. [Watch it *************** here.] It's a trio with bass and drums. He just sounds so strong and amazing, and plays some hymns. And I think within a week or two of that, he was dead. When we started recording Nels' Andrew Hill album and thinking about it, we didn't even know that Andrew was sick. Once we got a little farther along in the project, we found out that Andrew was sick, at which point we kind of reconsidered : 'Do we really want to do this? If it comes out after Andrew dies, it might be perceived as something that it's not.' We really just wanted to honor Andrew while he was alive. But we decided this is our intention, and this is what it's gonna be. And luckily we had Andrew's cooperation all through it. Nels actually had the opportunity of opening for Andrew Hill with the Andrew Hill Tribute Band at the San Francisco Jazz Festival, which was a really great experience for him, and he got a lot of validation from Andrew about what he was doing.
Cryptogramophone has created its own world, hasn't it?
"There's something to be said about a community that a record company has the ability to put together. You look at Blue Note and ECM, and you realize that this particular combination of musicians wouldn't have existed were it not for somebody's vision, or several people's vision. Where it gets to the point where everybody's putting out their own music and it's just out for download, there's no such thing as community anymore, it's every man for himself. There's advantages to that -- it kind of levels the playing field a little bit. But it changes something, and I wonder how that's gonna change the way musicians work with each other and relate to each other, and the way whole genres are gonna be perceived."