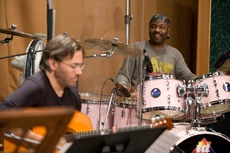 Fri. June 13 -- The, uh, Return of those fusionistic masters of '70s cheez, wozz and fizz: Chick Corea, Stanley Clarke, Al DiMeola and Lenny White, a.k.a. Return to Forever. "The original metaljazz band," says Brendan Mullen. At Gibson Amphitheater.
Fri. June 13 -- An outbill for ya, including Jeremy Drake and Jessica Catron as Missincinatti, electroencephalographer Bobb Bruno and others. At Echo Curio, 1519 Sunset Blvd., Echo Park 90026; 9:30pm; $5.
Sat. June 14 -- Fusion heavy on the rock side doesn't get any more exciting than Cosmosquad, featuring guitarist Jeff Kollman, bassist Christopher Maloney and drummer Glen Sobel. At the Baked Potato; $20.
Sat. June 14 -- Postmodern jazz from the ensemble of saxist Ben Wendel. At Café Metropol, 923 E. Third St., downtown 90013; 8pm; $10 cover, $10 minimum; (213) 613-1537; reservations recommended.
Sat. June 14 -- Elliott Caine Quintet featuring the trumpeter, saxist Chuck Manning, pianist Rick Olson, bassist Bill Markus and drummer Quentin Dennard. At Farnsworth Bowl, Farnsworth Park, 568 Mount Curve Ave., Altadena; 7pm; free.
Sat. June 14 -- The world-famous poetry-trombone call-and-response of Dottie Grossman & Michael Vlatkovich (plus really electric guitar from Tom McNalley). At That Yarn Store, 5028 Eagle Rock Blvd., Eagle Rock 90041; 7pm; free.
Sat.-Sun. June 14-15 -- Playboy Jazz Fest. Saturday's got James Moody and Dr. John; Sunday it's Herbie Hancock with a real good band (Dave Holland, Vinnie Colaiuta, Chris Potter, Lionel Louek). At Hollywood Bowl, www.hollywoodbowl.com.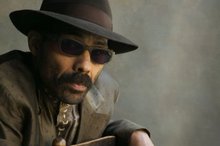 Wed.-Sat. June 18-21 -- Major event: out of Chicago, the thrilling Afro-centered Ritual Trio featuring master drummer Kahil El'Zabar, the very soulful saxist-pianist Ari Brown and bassist Sharay Reed. Gotta git it. At Jazz Bakery; 8 & 9:30pm; $30.
Thurs. June 19 -- You know Don Buchla, the synth pioneer? His son, Ezra Buchla also uses Buchla synths to entirely different effect. Also dig the mightily proficient San Diego saxist Jason Robinson (and pick up his CD "Fingerprint," a beautiful and oft grooving work of modern art) in duo with DJ Tenshun. The bill rounds out with Kadet Kuhne and Phoenix's Treasure Mammal, whom I don't know, but I trust the outsider taste of series curator Hans Fjellestad. ResBox at Steve Allen Theater, 4773 Hollywood Blvd., Hollywood 90027; 8pm; $10.