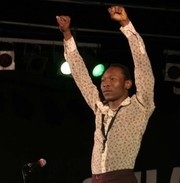 Fri. June 20 -- Seun Kuti, son of the great Afro-beat bandleader Fela Kuti, assembles his dad's old Egypt 80 band, which could churn up a hellacious groove. Come early for this one and tank up (libations available onsite I think), cuz it could be a mob scene. At Grand Performances. At Grand Performances in California Plaza, 350 S. Grand Ave., downtown 90071; 8pm; FREE.
Fri. June 20 – Gnostic bishop Dr. Stephan Hoeller lectures on "The Chemical Explorers: Hofmann, Huxley, Heard and Castaneda." It's about how psychedelics contribute to "interior enlightenment." Thanks to Kerry Colonna for the tip on this one. At the Gnostic Society, 3363 Glendale Blvd., Atwater Village 90039; 8pm; free but donations appreciated; http://gnosis.org/gnostsoc/gnostsoc.htm.
Fri. June 20 – "Explorations in electro/acoustics" with turntable/guitar guy Andre LaFosse, violinist/electroman Todd Reynolds and the piano-bass duo Motoko Honda & Daren Burns. At Café Metropol, 923 E. Third St., downtown 90013; 8pm; $10 cover, $10 minimum; (213) 613-1537.
Sat. June 21 – Talk about electronics and acoustics: multifaceted quiet artist Steve Roden has been at that since before you were in debt. His recent paintings, drawings and sculpture share space with one of his famous audio/visual installations. At Susanne Vielmetter, 5795 W. Washington Blvd., Culver City 90232; reception this evening 6-8pm; runs through August 2. Check out his aesthetic at www.inbetweennoise.com.
Sat. June 21 – Essential L.A. edge-vets Dottie Grossman & Michael Vlatkovich do their poetry-trombone call-and-response thing, with excellent percussionist Rich West pitching in. At Café Metropol, 923 E. Third St., downtown 90013; 5pm; $10 cover, $10 minimum; (213) 613-1537.
Sat. June 21 – When percussionist Dan Morris died young several months back, Obliteration Quartet were reduced to a percussion trio. Tonight they offer a very special celebration of Morris and his music, with members Brad Dutz, David Shaffer and Joe Berardi augmented by Scott Breadman, Alex Cline, Perry Ostri, Erin Barnes and Rich West. Not just a racket; these people know how to make ensemble music. At Café Metropol, 923 E. Third St., downtown 90013; 8pm; $10 cover, $10 minimum; (213) 613-1537.
Sun. June 22 – Thoroughly immersed in the tradition of Hindustani classical music, both here and in India, bansuri master David Phillipson calls up tangible ghosts from his wooden flute, with a tabla player TBA. At Hathaway Family Resource Center, 840 N. Avenue 66, L.A. 90042; 5pm; $20.
Sun. June 22 – Heads up, Long Ryders fans and rock-history buffs: Sid Griffin is back in town to plug his latest book, "Million Dollar Bash," about Bob Dylan and the legendary 1967 "Basement Tapes" Zimmy made with The Band at Big Pink. He's also written books on Gram Parsons and bluegrass musicians. At Book Soup, 8818 Sunset Blvd., West Hollywood 90069; 5pm.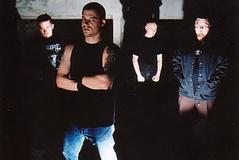 Mon. June 23 – Ten-band metal bill headlined by San Diego's poetically brutal veg deathmen Cattle Decapitation and including the hair-scorching screams of Sawa fronting the Zorn-influenced mathology of Watch Me Burn. At the Knitting Factory, 7pm.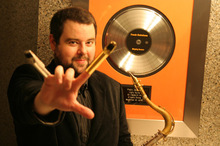 Tues. June 24 -- Just got "Bang!," the new disc by Frank Catalano, a tenor saxist I've been digging heavily since he was a kid (and he's only 31 now). It doesn't come out till July 15, but mark your calendar, 'cause you're gonna want to crank it up during those summer barbecues, when everybody's inhaled a few beers/burgers and is swinging loose. Fast or slow, it doesn't matter, this Chicagoan blows a kettle o' party, guffawing all around his horn fast, easy and juicy till he's got guests tipping into the pool right & left. In fact, I think I'm gonna grab a cold Carta Blanca and slurp up the rest of this audio kegger right now. At Hollywood & Highland, that mall in the middle of Hollywood where KJAZZ has been putting on its wine-and-jazz series, of which this is of course an installment. 7-9pm, FREE.
Tues. June 24 – Much-admired atmo-axman Bill Frisell collects a top-call quartet featuring Greg Leisz, Tony Scherr and Rudy Royston. At Largo, recently relocated to the historic Coronet Theater, 366 N. La Cienega Blvd., L.A. 90048; (310) 855-0350. www.largo-la.com.
Wed. June 25 -- Marco Benevento makes adventurous nonvocal music that anybody can listen to, not just noiseheads like me. He's got multi-instrumental ability, a lot of taste, an unobtrusive sense of humor, and here, killer bandmates in drummer Matt Chamberlain (Fiona Apple) and bassist Reed Mathis (Jacob Fred Jazz Odyssey). Read my review of Benevento's latest album here. At Largo. (See Tuesday).
Wed.-Sat. June 25-28 – Young Taylor Eigsti's little beatnik beard? Hate it! The pianist's music? Good unpretentious mainstream stuff, with melody and, more unusual, ease. If that's what it takes to lure non-oldsters into the abstract tradition, bring it on. At the Jazz Bakery.
Thurs. June 26 – This year marks the 10th anniversary of L.A.'s Cryptogramophone Records, and violinist/label chief Jeff Gauthier is celebrating with a release show for the newest album by his Goatette. (Jeff got Rising Star hype as both instrumentalist and producer in the latest Down Beat poll, folks.) Read my record review and a meaty interview with Gauthier here. At a venue I've been meaning to check out: the Palmer Room behind the highly reputed Cucina Paradiso, 3387 Motor Ave., West L.A.; 8 & 9:30pm; $10; (213) 276-6461; food & drink.