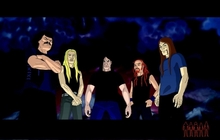 Fri. June 6 -- I'm not awake in the middle of the night to suck up the animated "Metalocalypse" TV show on the Adult Swim network, but having rented the DVD and having pondered the music of the cartoon metal band Dethklok (the murderously brutal cartoon band around which the hilarious drama revolves), I can report that the concept and execution rule with totalitarian absoluteness. Especially great: the episode where the five are forced to spend time with their parents. The music, written by series co-creator Brendon Small, manages to meld elements of technical and death metal into quite potent nuggets while delivering suitably absurd messages ("Briefcase Full of Guts," "Castratikron"). The live show enlists excellent musicians -- drummer Gene Hoglan (Dark Angel, Death, Devin Townsend), guitarist Mike Keneally (Frank Zappa, many fusion projects) and bassist Bryan Beller (Keneally, Steve Vai), along with Small on vox and guitar; they robe in black and shred on a darkened stage while the cartoons dominate the visual space above. Journalist Etan Rosenboom saw Dethklok at UCLA last year and told me the experience was rather alienating, but the group has probably worked out some kinks since then. Also on the bill: influential Louisiana abstract thrashers Soilent Green, whose current album pulls together Sabbathy sludge, tempo gear-grinding, a suffocatingly dense sound field and even some back-porch acoustic stuff. You gotta root for a band that has pressed forward despite losing a vocalist to Hurricane Katrina and a bassist to murder. Plus Chimaira, who're a little to emo-metal for me. At the Wiltern.
Fri. June 6 -- Guitarist Jeremy Drake and cellist Jessica Catron are Missincinatti, and if they don't change that spelling I'm coming with wirecutters. They're first, then VOCO, a bare-bones femme vocal folkish quartet also including Catron. Closing is Listing Ship, a wide-ranging chamber folky ensemble featuring a cranky old guy with a bad attitude who plays good drums. At Velaslavasay Panorama Union Theater, 1122 W. 24th St., West Adams 90007; 8:30pm; $20 includes a free CD; all ages.
Fri. June 6 -- Nick Rosen must be a very tolerant young feller (as well as a fine bassist) to hang around with so many cranky old genii such as Arthur Blythe and Henry Grimes. Tonight he's in pianist Chris Dundas' quintet with saxist Farzin Farhadi and COGs Alex Cline (drums) and Ken Rosser (guitar). At Café Metropol, 923 E. Third St., downtown 90013; 8pm; $10 cover, $10 minimum; (213) 613-1537.
Sat. June 7 -- This time it's The Nick Rosen Group with violist/pianist Miguel Atwood-Ferguson, wind player Katisse Buckingham and drummer Tony Austin, plus COG Jesse Sharps, whose saxes lent peaceful revolutionary fire to the groups of Horace Tapscott some 30 years back. At Café Metropol, 923 E. Third St., downtown 90013; 8pm; $10 cover, $10 minimum; (213) 613-1537.


Sat. June 7 -- The Saccharine Trustee, Universal Congressman, etc. who invented his own style of cheese-grater blues, Joe Baiza, in space duo with drummer Matt Crane of 99-Cent Dreams; 9pm. Plus guitarist Carey Fosse and friends in the octet Half Assteroids; 10pm. At Mr. T's Bowl, Avenue 57 and Figueroa Street, Highland Park; $5.
Sun. June 7 -- Modrin country don't get no better'n I See Hawks in L.A. Read my timely review here. On a bill with square dancing and the Chapin Sisters at the Echo, 1822 Sunset Blvd., Echo Park 90023; 5-9pm (Hawks sometime after 7pm); (213) 413-8200; FREE.
Wed. June 11 -- The owner of Los Angeles jazz, Buddy Collette, sponsors The Buddy Collette Big Band featuring legendary singer Ernie Andrews. They were both on the scene 60 years ago, when Central Avenue was hot. At Catalina's; $20.
Wed. June 11 -- Trumpeter Elliott Caine plays 2008 bop and Latin the way he wants to with his quintet: pianist Scott Oakley, saxist Chuck Manning, bassist Bill Markus and drummer Quentin Dennard. At Jax, 339 N. Brand Blvd., Glendale; 9pm-1am; free as long as you keep buying drinks and refrain from calling out requests.
Thurs. June 12 -- It's Eric Dolphy Day, and making sure we remember how Dolphy helped turn bebop into the avant-garde, true-blue trombonist Phil Ranelin assembles pianist Gary Matsumoto, terrific young bassist Edwin Livingston and well-seasoned drummer Don Littleton. At Crowne Plaza LAX, 5985 W. Century Blvd., L.A. 90045; 6-10pm; no cover; $15 minimum; validated parking.