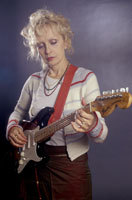 The checkers were wiggling behind their money machines from the first seconds that Leni Stern's African quintet cooked up the riddim under all-seeing eye atop the record store's Iron Maiden-style stage pyramid. This time she had carefully avoided hiring even two musicians from the same country: It was Morocco's Brahim Fribgane (as usual in recent years) on oud, Mali's Makan Kouyate on calabash, Senegal's Mamadou Ba on bass and Cameroon's Paul Tchounga on drums. And they were totally locked in -- no surprise given that they were playing music from Stern's "Africa" album, which was inspired by what she's learned during extensive travels and residencies in a certain "dark" continent.
Stern does a lot of outdoor festivals, and the high ceiling and open expanse of the store made it feel like that. She enjoyed the freedom to open her throat and crank up her amp, her guitar lines galloping with a special daytime energy and rawness as she switched easily between bluesy bends and African picking patterns. In a between-song lecture, she explained that she made little distinction: When she first heard Malian strings, they sounded to her like John Lee Hooker.
After the tall, smiling Ba had nailed down the low end for a while, he slid up to the bass's high strings and modulated to what sounded like a different key -- sounded pretty damn strange, in fact. When I asked Stern about it later, she said things like that seem natural to her now; African musicians do it all the time.
Brahim is a world-class percussionist, a skill he applies to his oud. He plucked deep into each string during his cogently phrased solos, expanding and contracting the beat for a more exciting interactive flow, and Kouyate and Tchounga responded in kind.
Young Kouyate approached his hand flurries with an inventive but more groove-conscious attack than last time he was here. The main contrast between the Amoeba show and the extended workout at Metropol was the opportunity for him to stretch out in duo with Tchounga, the kind of team player every band prays for. Kouyate's a born show-off, and Tchounga knew just how to support and inspire him.
Stern looked on in approval, then responded with some of her roughest John Lee pluckin'. Vocally, too -- on the call-and-response "Bamake," the gentle "My Name Is Oumou," the Afro-waltzing "Ahinin Be al Allah" and the darkly perking "Keita" -- she let her grainy soprano rip all day and night without a trace of travel fatigue (lotta jets lately). To our good health.