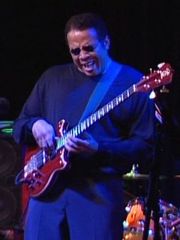 By Brendan Mullen
Return To Forever's reunion with all four OG members -- keyboardist Chick Corea, guitarist Al DiMeola, bassist Stanley Clarke and drummer Lenny White -- was a bizarre, complex triumph.
One of the post-"Bitches Brew" flagships of '70s fusion geekery, RTF inspired legions of guitarists to essay cheesy high-note bends and endless fret runs played as fast as possible with head jerked back and eyes closed. RTF completed the gumbo with emotive and celestial synth sounds doubled over cranked guitar riffs and driven by lightnin'-speed press drum rolls, thus earning the fusion genre its rep among non-musicians as a showboat for soulless chopsmen unable or unwilling to write a decent song to save their lives. "Jazz-rock" reduced music to a dull, alphoid competitive guy thing, no longer an art form but a spectator sport, while Los Angeles' Guitar Institute of Technology (now Musicians Institute) became, as one famous rocker musician pal put it: "the Scientology of guitar dweebs."
Nevertheless . . . however. An unexpected last-minute offer of a comp pass and a ride up the hill got me in front of a band I'd never actually seen live, though I'd secretly worshipped their 1974 masterpiece of overplaying "Where Have I Known You Before." (Gotsta be one of the world's worst album titles . . . and the New Age-y artwork? Sheeeesh.) Ah, but inside . . . vinyl grooves . . . I loved Lenny's press rolls to pieces and thought certain sections of "Vulcan Worlds" were awesome -- surely among the first "metal-jazz" hybrids (hence my stab at a review for this esteemed site).
The Gibson show was divided into two with intermish, and a heartfelt if slightly
overstated onstage intro by a fit and trim-looking Kareem Abdul-Jabbar, making a rare public appearance the night after the Lakers astoundingly blew that 24-point
lead against the Celts in the '08 NBA playoffs. Kareem's grim wisecrack "We won't hold it against Chick . . . coming from Boston" produced merely a few titters;
Corea protested that despite his place of birth, he's actually a Lakers fan.
And so, to the music: First half was all about – surprise -- frenzied electric riffage. Yes, of course, they fucked up my own private "Vulcan Worlds" (tempos and some of the tones different from the record). And they banged around all the familiar pieces with the speed and precision the near-capacity audience demanded from a jazz-rock jam trio with a brilliant classical pianist playing somewhat silly synth lines to try and blend in. Which is not to say there weren't many inspired moments. It turns out Lenny uses THREE floor toms for those show-stopping press rolls that begin across two rack-mounts . . . aha!
Everyone loved RTF, it seemed, including Steves Lukather and Porcaro squatting three rows ahead of my crew. Superstar demigods themselves in that rarefied world of chops for chops' sake, they appeared enthralled by it all.
Then came the shock (for me, if not for the rest of the audience). The second half threw over the "fusion shit" entirely for a thrilling acoustic tour de force that showed the world that acoustic-jazz-goes-classical (whatever), with its living, breathing, beauteous timbre au naturel, trumps the hell out of noisy ole 'lectric fusion any day or night when it's done right. Jazz and rocker purists are alike in at least one thing: Keep the two separated! RTF came off like shock-and-awe warriors, annihilating and eclipsing the very subgenre of which they were originally such big-time practitioners.
I don't know whether the second-half acoustic tunes were all culled from the RTF book. (I'm admittedly not familiar with everything they put out.) Perhaps they were from Chick's "My Spanish Heart" solo period. (Maybe more devoted fans can post the set list?) Al forsook the solid-body (thank God), and Stan the Man crushed it on the most beautiful-looking and -sounding double bass I've ever seen. (Anyone know what kind that was?) Imagine Cachao going psycho during a double-open-handed hambone slap-style solo that referenced the history of African-American music plucked, bowed, thumped, slapped and pummeled in what was easily the most magnificent, devastating bass solo – 'lectric or acoustic -- I've ever witnessed in more than 45 years of watching bassists of every style and subgenre of jazz, blues, R&B, rock and classical.
Stan has many times been labeled "best bassist in the world," which seems a ludicrous title. What the hell does that mean? Ask Clarke himself, since this terrifying maestro, not known for modesty, may own the global patent after all. What can anyone say after a solo like that? Bleating, "So what?" just don't cut it.
And so we all bowed down to chops guys, after all. As for Chick . . . PLEASE never play an electric keyboard again (except for space effects). Meanwhile, folks, go see this tour (which now heads to Detroit, Canada, Europe and the Eastern U.S.) to understand.