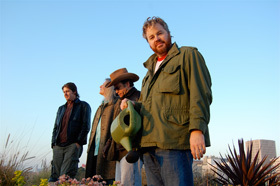 I See Hawks in L.A., "Hallowed Ground" (Big Book) and live at Amoeba Music, May 28.
The nine-year survival of I See Hawks in L.A. stands as righteous testimony to a bunch of semieternal truths. 1) Country/roots molds should continue to get busted. 2) Singer Rob Waller and guitarist Paul Lacques have proved you can start something new when you're not very young, and a goodly number of humans might pick up on it. 3) What would've been a major-label act 30 years ago can nevertheless breathe in an indie atmosphere. 4) Talent and persistence will tell.
True as all the Hawks' four albums have rung (and "Hallowed Ground" ranks as their most complete and satisfying), the recorded form isn't their biggest strength. On the blind home speakers, occasional peculiarities of subject matter -- environmentalism, drug sport, cracked humor -- can come off as distractions from country music's reliable verities. When you see the Hawks live, though, you realize that Waller and the gang are just artists who feel no need to exclude the feelings that hit them deepest, traditional or no.
Waller stands blinking on the stage at Hollywood's Amoeba Music -- whose in-house sound fills the space quite richly these days, by the way. The bins below him prompt an observation: "I feel like we're playing the Museum of Soul." Strumming an acoustic or swigging a Corona, his cheeks furred with a lazy-boy beard, he gazes off at some imaginary mountain ridge; he seems not exactly to be performing, more like remembering. What a beautiful baritone he's got, effortless and masculine, the only voice I can think of that directly references Gordon Lightfoot (one of Bob Dylan's favorite singers).
The selections usually encompass the main themes of "Hallowed Ground": love, death, the death of love and the love of death. In the rolling rocker "Carbon Dated Love," Waller muses on his kinship with a fossilized fern. In the lulling waltz "Never Alive," he compares himself to inanimate snow, a ghost unborn. "Highway Down" finds him casually digging his own grave. "Good and Foolish Times" pulls off a practiced Hawks contrast -- memories of pleasures shared and lost, rendered all the sadder when delivered via the band's upbeat Waylon/zydeco two-beat pump.
The 2008 version of the group does a hell of a lot with four pieces. The ever-amazing Lacques has his urban-trucker look going, ball cap yanked down over his eyes to suppress his gray hippie locks, picking clean or rocking wild on his favorite brown left-handed Telecaster like a hybrid of Clarence White and Sam Houston Andrew. He sings, too, and incorporating bassist Paul Marshall's sweet tenor, the Hawks put together many a true mountain harmony. Drummer Shawn Nourse enforces the mandatory Kickin' of the Shit on the BurritoBerry rocker "Yolo County Airport" ("I'm drunk, I'm stoned and I'm tired/Pretty soon I'm gonna be wired") and on the Hawks' apocalyptic carnival ride to Maggie's Farm on the Mystery Train, "Ever Since the Grid Went Down" ("I went back to smokin' Marlboro Reds").
On the album, you get to hear a bunch of seasoned guests filling out the space on pedal steel, fiddle, accordion, pennywhistle and what-all. And you get to hear Ethan Allen's subtle mixwork, such as the psychedelic guitar overlaps that stretch out the deep country of "Gettin Home Tonight." In fact, "Hallowed Ground" is one of the best-sounding country-rock records I've heard. But if you really want to git it, git it live, too.
And here's your chance -- a chance that, given the Hawks' touring commitments, may be rarer than you think. Y'all.
THE RELEASE PARTY FOR THE HAWKS' "HALLOWED GROUND" SANCTIFIES THE ECHO SUNDAY, JUNE 8, TOWARD THE TAIL END OF A BILL THAT RUNS FROM 5 TO 9PM. YOU CAN ACQUIRE THE RECORD IN STORES, ON ITUNES, OR VIA PAYPAL AT WWW.BIGBOOKRECORDS.COM (INTERNET EXPLORER ACCESS ONLY).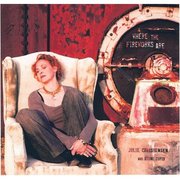 Julie Christensen and Stone Cupid, "Where the Fireworks Are" (Household Ink)
If you know what the Fish Cheer was, or remember where you were when Paul was replaced by a robot Beatle, this album will sound like an old friend. Julie Christensen -- Leonard Cohen backup vocalist, member of the Divine Horsemen, longtime folk-jazz-blues singer-songwriter, etc. -- has somehow summed up a whole generation's frustrated idealism in a suite of songs. You've probably grown used to media suggestions that anyone who ever wanted to change the world is an idiot, but Christensen will make you glad you're still trying.
Her voice is right for the job -- it strives, it's strong, but her high sustained tremolos, warbling so fast that they're almost subliminal, also convey fragility. She's almost foresworn reverb, so she doesn't sound like a lush thrush, more like a naked messenger. She sings that she wants to "make something pretty before my world comes tumblin' down": The crafted beauty has non-ornamental function.
Christensen is good at mixing the personal and the political. The title track, the record's most immediate rocker with its coarse guitar and Neil Young plod, plays as both a sex ode and a rebel's farewell: "between the purple mountain and a molotov." After beginning with a bucket-seat necking session set to whitened Sam & Dave soul, "The Meteor" observes how even bright and powerful forces can make little real impact. But that doesn't stop Christensen from concluding the album with "One More Song," an ever-renewing testimony she'll always sing regardless of the odds.
Along her path of struggle, Christensen carefully places familiar landmarks to give you some context. Elvis Costello's "Shipbuilding" reminds that even the innocent have their part in cranking out the war machinery. In an especially sensitive reading, Randy Newman's "I Think It's Going To Rain Today" is a perfect sigh of periodic despair. "Psycho Killer" owes little to Talking Heads, substituting a more believable teethgrit anger for the original's neurotic hysteria. And if you thought you could never draw something new from Joni Mitchell/CSNY's "Woodstock," try this version's quiet, steady optimism; I had never really heard the words "We are stardust, billion-year-old carbon" before -- that's the kind of perspective Rob Waller can identify with.
The musicans of Stone Cupid are so, so good. First of all, guitarist Joe Woodard, keyboardist Karen Hammack (both of whom help with the songwriting), bassist Steve Nelson and drummer Tom Lackner accompany Christensen with tuned-in economy and wonderfully inventive texture, offering little flashbacks of Lou Reed's "Going Down" or the Band's "The Night They Drove Old Dixie Down" or Steely Dan's "Dr. Wu." And the evaporative audio collages they bring in as song introductions go a long way toward augmenting the album's continuity and individuality. Christensen (who lives in Ojai, California) and this crew (from nearby Santa Barbara) have worked together a long time; it's hard to imagine "Where the Fireworks Are" coming together without this kind of marinated intimacy and trust.
Score another one for the non-Industry.
"WHERE THE FIREWORKS ARE" IS AVAILABLE AT WWW.HOUSEHOLDINK.COM.
Dang -- any establishment that wants to boost its bar business should employ KingsizeMaybe, an L.A. band that generates involuntary beer-chugging spasms. In fact, singer-guitarist Gary Eaton and his posse have caused me to develop a case of Swiller's Elbow so serious that I am now forced to drink left-handed.
But if we wish to remain free, we all gotta make a few sacrifices in the name of American country-rock. And Eaton is there to remind us, in the group's irresistible hillbilly theme song, that life is just a big maybe anyway, so you better get your partyin' in. His main enforcer is Adam Maples, a drummer from the rock side of the tracks who's vowed a mighty oath to kick you right out of your chair. Maples also whups up some good backing harmonies with Eaton's electric-bass-thumping wife, Shelli, who chirps a chicken-wire tribute to "Act Naturally" on "I Wouldn't Wanna Be You."
Every track's a winner, like the organ-backed 6/8 ballroom rock and grand ol' aah vox of "Dallas," and the auctioneer rave "Keep Your Eyes on the Road." But aside from "Big Maybe" (a true classic), my faves are the ZZ riff-rocker "Rollin' Vatican Blues," with its dynamic slowdown bridge, and the Grandpappy Amos electric hoedown "Waiting for My Friends to Come Along," featuring Robert Lloyd's hotcha mandolin solo.
Though Lloyd and lead guitarist Robbie Rist have switched out since this was recorded, KingsizeMaybe live rides on unwounded. I'll keep you posted.
YOU CAN GET "KINGSIZEMAYBE" ON AMAZON.COM AMONG OTHER OPTIONS SUCH AS STEALING IT OFF A DEAD RIVERBOAT GAMBLER.