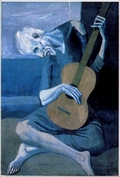 Guitarist Rod Poole, a much-respected figure in Los Angeles' microtonal and avant music scene, was stabbed to death in a Hollywood parking lot in May 2007. Last Friday, June 13, 2008, the two people responsible for his death were convicted in Los Angeles Superior Court. They will be sentenced July 11.
After deliberating for two days, the jury found Michael Sheridan, age 26, guilty of second-degree murder, which carries a mandatory sentence of 15 years to life. His wife, 25-year-old Angela Sheridan, was found guilty of involuntary manslaughter; Judge Michael Pastor will determine her sentence.
The crime developed out of a nighttime altercation in the parking lot of Mel's Diner. The Sheridans, their daughter and Michael's mother were in a car leaving the restaurant after a Mothers' Day meal. Angela was backing out when her car struck a busboy, nearly also striking Poole (who was walking to Mel's with his wife, Lisa) and a parking attendant. Poole exchanged words with Angela, who got out of the car along with Michael. They both attacked Poole and knocked Lisa down. Michael inflicted multiple wounds on Poole with a kitchen knife. They got back in the car and fled. A security camera caught the incident, and the Sheridans were arrested a few hours later at their apartment, where police found the bloody knife.
The Sheridans were represented by separate counsel at the trial, which lasted 10 days from jury selection to verdict. According to Deputy District Attorney Steve Dickman, who prosecuted the case, Angela Sheridan's defense claimed that her actions were justified because Poole called her a bitch in front of her daughter. In a phone interview, Dickman told me Michael Sheridan's attorney tried to justify the killing as lawful because Sheridan was protecting his wife from imminent attack by Poole.
Lisa Ladaw Poole, who was not present in the courtroom for most of the trial, testified last week. D.A. Dickman said he also called as witnesses the parking attendant, the busboy, a Mel's customer (flown in by the city from Germany) who saw the attack, a DNA expert who examined the knife, the coroner, two detectives and a deputy. The deputy testified to confiscating a note Michael tried to pass to Angela before a preliminary hearing; the note said he might plead insanity, and asked her to corroborate that claim. The defense called no witnesses and did not dispute the Sheridans' involvement.
Lisa told me via e-mail that she was impressed with Dickman's fairness, professionalism and compassion, especially in contrast to Michael Sheridan's attorney, whose conduct she described as "belligerent" in attempting to paint Rod Poole as the "aggressor." Lisa said a number of police officers were also of great comfort to her. She especially thanked all the friends who reached out to support her.
L.A. guitarist G.E. Stinson was among those who contributed Victim Impact Reports for the judge to use in weighing the sentence of Angela Sheridan. "How do you articulate the loss of someone like Rod?" Stinson e-mailed me. "He was such a singular musical voice in the world, and so committed to artistic integrity."
You can hear Rod Poole's eerily beautiful "December 96" here. Four Poole albums are available via iTunes.
And from a year ago in LA Weekly, there's a thorough account of Michael Sheridan's violent background here.