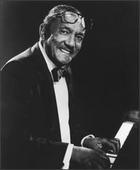 L.A. pianist Gerald Wiggins died Sunday at the age of 86. His skill harked back to an era before jazz musicians were considered artists; he would not have been embarrassed to be called an entertainer. An admirer of Art Tatum, Wiggins could engender a similarly Tatumesque atmosphere wherein music could be experienced much the same as magic. I have never seen an audience reflect a performer's smile more quickly, and I'm glad to have heard him play.
And: You'd think it would get easier to watch publications put guns to their own heads, blowing off a nose and an ear and a chin before placing the muzzle squarely against their temples. But it doesn't get easier. When I heard LA Weekly was cutting loose its fine editor/writer/workhorse/inspiration Joe Donnelly a few months ago, I thought bridge-jumping had been declared an Olympic event. When I found out LA Times was letting music journalist Richard Cromelin go in its latest wave of carnage, though -- jeez. A totally reliable guy who can write about anything, who always strikes a perfect balance, whose style is elegant, and who can edit as well as he writes. No need for that after 30-some years, right? I guess you can't take it with you.
* * *
Fri. July 18 -- Modrin rhythm edgeophonics from the ensemble of saxist Ben Wendel. At Café Metropol, 923 E. Third St., downtown 90013; 8pm; $10 cover, $10 minimum; (213) 613-1537.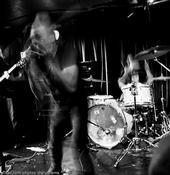 Sat. July 19 -- L.A.'s dark & punky 400 Blows punches hard where it counts; Portland's Black Elk (pictured) tear hunks of raw meat from the gushing ribcage of underground noise metal -- one of my fave West Coast Bands, with a new album coming in October. At the Scene, 806 E. Colorado St., Glendale 91205; (818) 241-7029.
Sat. July 19 -- Electro-bassist Steuart Liebig bags up an improv trio with electro-guitarist G.E. Stinson and electro-saxist Andrew Pask. All three are among my fave post-humans on and in the circuit. At Café Metropol, 923 E. Third St., downtown 90013; 8pm; $10 cover, $10 minimum; (213) 613-1537.
Tues. July 22 -- Dean Chamberlain, a.k.a. The Honorable DHC, goes electric three-piece plus the Boulevard Choir. At the Mint, 6010 Pico Blvd., L.A. 90035; 10pm; $5.
Wed. July 23 -- An urbane singer with an eerie calm and a skewed repertoire: Judith Owen. At Hotel Café, 1623 1/2 Cahuenga Blvd., Hollywood 90028; 9pm.
Thurs. July 24 -- Hey, yo, the Israeli/American groove trio Maetar is back with art and world peace and a cloud of space dust. Drink, dance; you will dig. At Harvelle's, 432 Fourth St., Santa Monica 90401; 9pm; $5; (310) 395-1676.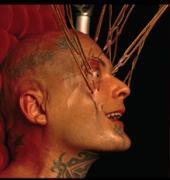 Thurs. July 24 -- "Durational, Minimal & Physical Live Art Works." That means challenging performance art from our old pal Ron Athey, along with Julie Tolentino, Franko B and Juliana Snapper. Support local artists putting on their own revolution and benefiting a "performance art boot camp." At Remy's on Temple, 2126 W. Temple St., 8:30pm with an after-party rocked by DJs in the garden afterward; $25-$50; RSVP (323) 661-0322 or praxismohave@gmail.com.