Fri. July 11 -- Country music ain't no fossil when it's I See Hawks in L.A. Read some of my stuff about them here. At McCabe's.
Fri. July 11 -- The Summer Slaughter Tour loads a passel of international metal: powerful rhythmic cheerleading from Black Dahlia Murderr intense melodic/classical brilliance from Poland's Vader, kinda ordinary thrash & churn from Canada's Kataklysm and Cryptopsy, dense low-end chug, gurgle & lurch from promising newcomers Whitechapel, and a lot more. At House of Blues.
Sat. July 12 -- Guitarist Skip Heller says folks in Philly acted like he shot somebody when he started playing country instead of his usual 'billy and jazz. Don't they know it's all jes' American music? His cornpone trio includes Paul Eckman on bass and Dale Daniel on drums, and Heller can pick up a Telecastric storm. At Redballs Rock & Roll Pizza, 6551 Topanga Canyon Blvd., Woodland Hills 91303, two sets from 8pm; (818) 348-1524.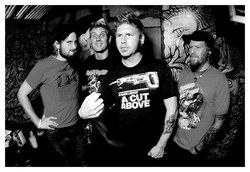 Sun. July 13 -- Mayhem Fest packages a few bands I love (epic abstractionists Mastodon (above), truth-telling real rockmen Machine Head, mathematical genii The Red Chord), plus many I can live without (Slipknot, Airbourne, Five Finger Death Punch, Underoath, 36 Crazyfists) et al. With Ozzfest doing only one show (in Texas) this year, this may be your best shot at metal sunstroke. At Glen Helen Pavilion, Devore.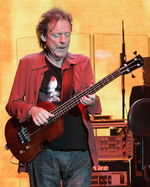 Wed. July 16 -- Did they really have to call it Hippiefest? But it could be entertaining. Jack Bruce (above), one of the founders of metaljazz, always has something weird and creative to pull from his bass and throat, not just Cream nuggets. Eric Burdon & the Animals includes one original sideman, guitarist Hilton Valentine, and a fantastic back catalog (my faves include "Don't Bring Me Down" and "Sky Pilot"), even if Burdon's monster blues voice is a bit frayed. The Turtles Featuring Flo & Eddie -- well, they could've taken themselves more seriously, considering the quality of their tunes ("You Baby," "Elenore," "She's My Girl") and singing (dunno if T. Rex woulda hit as hard without Kaylan & Volman's backgrounds). Melanie? Never as bad as everyone said; I mean, would Mott the Hoople have covered "Lay Down" otherwise? Badfinger had a lot of great songs, but two members offed themselves, and guitarist Joey Molland seems to be the only remaining classic musician. Jonathan Edwards is a pretty respectable country-rocker from the early '70s. Strictly for those of us who can look at the thousands around them without saying, "Am I really that old?" At the Greek.
Wed. July 16 -- Good club to soak up the evolved post-bop jazz quintet of trumpeter Elliott Caine. At Jax, 339 Brand Blvd., Glendale; 9pm-1am; (818) 500-1604; no cover.
Thurs. July 17 -- One of the more creative forces out of UCSD, saxist Jason Robinson & DJ Tenshun, plus Ezra Buchla, Phoenix's Treasure Mammal, Kadet Kuhne, and live visuals by VJ Fader. If Hans Fjellestad booked it, it's orbitable. Kinda looks like either this was rescheduled from last month, or I made a mistake in June. ResBox at Steve Allen Theater, 4773 Hollywood Blvd., Hollywood 90027; 8pm; $10.
Thurs. July 17 -- It looks very much as if competing business interests are making a bogus attempt to close down The Knitting Factory in Hollywood by revoking its Conditional Use Permit. Some of the charges -- that it doesn't serve food and that it routinely hosts "adult" events -- are dead false. Speak up during a hearing at 200 N. Spring St., Room 1020, Zoning Administration, 10am.