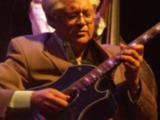 Fri.-Sun. July 25-27 -- Vet guitarist Larry Coryell leads a trio with Hammond organist Joe Bagg and well-traveled drummer Alphonse Mouzon. Looks like Coryell's fusion mode to me, and those looking for some history on that movement will want to pick up his new autobiography, cuz he was jacking in and spitting out a million notes a minute way back in the '60s. I just read in Guitar World how Coryell hung out with Hendrix during the making of "Electric Ladyland"; Jimi invited him to play on it, but he declined, figuring Hendrix had it covered. Very cool. At Catalina's, 8 & 10pm; $30-$40; (323) 466-2210; www.catalinajazzclub.com.
Sat. July 26 -- Crowd fave vibraphonist Nick Mancini collects pianist Adam Benjamin, bassist Dan Lutz and a mystery drummer for fresh third-millennium bopo. At Café Metropol, 923 E. Third St., downtown 90013; 8pm; $10 cover, $10 minimum; (213) 613-1537; reservations recommended.
Sat. July 26 -- Gonna be around Santa Barbara this weekend? The incredibly intense, vibrational and creative singer-songwriter-pianist Jennifer Terran is doing one of her special semiprivate concerts, accompanied by cellist Laura Mihalka. Strange that after many years of semi-obscurity, Terran recently had her rendition of "Que Sera Sera" featured on a commercial for Dell computers. At 8pm; mail music@jenniferterran.com for reservations and directions.
Sat. July 26 -- Big underground metal bill: extramurky Norwegian black metal from Deathcult; romping, gouging "murdercore" from L.A.'s Crematorium; technical speedbaggery from locals Mouth of the Serpent; plus Aurora Black, Covenance and Obscene Carnage. At Relax Bar, 5511 Hollywood Blvd., Hollywood 90028; 7pm onward; $10 cheap.
Mon. July 28 -- Bet you never saw this coming: voxman/guitarist Daron Malakian and drummer John Dolmayan of System of a Down putting together Scars on Broadway, a pop-punk band kinda like No Doubt meets the Dickies. The tunes are real catchy, and the lyrics -- "You're too serious/You're gonna make me delirious," "I smacked your face/You fell in love when I said fuck your mom" -- are incredibly stupid. Could be big! You'll never get into the record-release concert in the lobby of Union Station (an echoing vault that's as bad a selection for a rock show as I can think of), but you can watch the webcast. At www.scarsonbroadway.com, 9:25pm.
Tues. July 29 -- Since people enjoy hearing young folks play really old-fashioned music, it wouldn't be surprising if Anat Cohen, a curly-haired cherubina with an alto sax, might get some attention for her '40s movie-soundtracky balladry. She's with her quartet. Obligatory comparison: Johnny Hodges meets Phil Woods at Harry Connick Jr.'s birthday party. At Hollywood & Highland for one of those wine-sampling events; 7pm; free.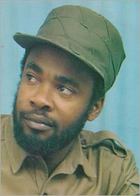 Wed. July 30 -- I am tripping. Tappa Zukie, one of the freakiest mixers from the vintage late-'70s period of Jamaican dub, does a DJ set backed by Echodelic Soundsystem. Presented by Dub Club at the EchoPlex, 1154 Glendale Blvd., Echo Park 90026; 9pm; $12.
Thurs. July 31 -- Reunion time: Former L.A. guitarist Justin Morell, now situated in Oregon, returns for a rare appearance with his band featuring John Daversa, Tom Peterson, Gene Coye, Jerry Watts and others, opening for the John Daversa Big Band. Morell's music exhibits an unusual combination of calm, beauty, intelligence and forward motion -- he's no avantist, but also no panderer. At the Pasadena Jazz Institute, 260 E. Colorado Blvd., Suite 206, Pasadena 91101; 8pm; $15.
Thurs. July 31 -- Latin metalmen Ankla kick massive ass, even massiver than guitarist Ramon Ortiz's previous band, Puerto Rico's Puya. At the Whisky.