Including an early Thursday gig this week, posting early out of sheer patriotism.
Thurs. July 3 -- The strange yet masterly percussionist/vibesman Brad Dutz leads a chamber quartet featuring Paul Sherman (oboe), James Sullivan (clarinets) and Shirley Hunt (cello). At the Downey Museum of Art, 10419 S. Rives Ave., Downey 90241; 7:30pm; $10.
Sun. July 6 -- Beloved multi-instrumentalist Joseph Berardi dares to go solo with his high-motion abstract tweakery. Sometimes it seems he's got more than two hands and two legs, but don't forget that nose. Plus Boor Baar, a percussion trio comprising Cory Beers, John Wash IV and Mike Robbins. Great way to rumble outa the weekend. At Center for the Arts, 2225 Colorado Blvd., Eagle Rock; 7pm; $10; (626) 795-4989.
Thurs. July 10 -- Wanna go see a guitar player TALK? If it's Dave Mustaine, yeah -- the Megadeth killer is smart and funny, even if you're sick of seeing him on VH1. He'll talk about technique, gear (including his own signature brands of course), the business, and probably whatever else you want, except maybe where to score dope, a subject on which he is no longer an expert. At Guitar Center Hollywood, 7425 Sunset Blvd.; 6pm; free, but you know you're gonna walk outta there with at least some strings and maybe a new strap.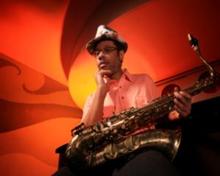 Thurs. July 10 -- Sometimes I think Don Byron is one of those sidestreet jazz thinkers I'm required to like; other times I actually enjoy him. This time looks like a good bet, as he presents the L.A. version of his "Ivey-Divey" band, derived from his 2004 album inspired by a 1944 Lester Young-Nat Cole-Buddy Rich collaboration, which must be why this picture shows him with a tenor, though on the record he just plays his usual clarinets. Can't fault the band: big-minded Grammy-winning pianist Billy Childs, universal drummer Smitty Smith, and vocalist Joe Henry on a few songs. It won't be avant, but not that reverential either. At Largo, recently relocated to the historic Coronet Theater, 366 N. La Cienega Blvd., L.A. 90048; 9pm; $30; (310) 855-0350; www.largo-la.com.