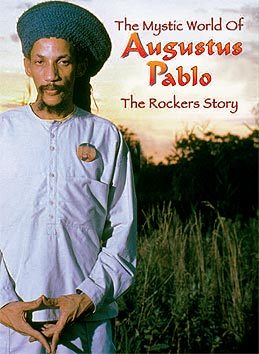 "The Mystic World of Augustus Pablo: The Rockers Story" (Shanachie 4CD/1DVD)
Scratch Perry is a kook; King Tubby was a geek; Bob Marley was pop; Burning Spear is a bore, if only cuz he got old. Though the enormous 1970s achievements of each (especially Spear) deserve full respect, only one man can consistently waft you into the abstract spiritual smokestream of Jamaican roots reggae, and that is Augustus Pablo (d.1999). Distribute this incredible compilation and convert the world.
Pablo on the puffy little melodica -- a plastic harmonica/keyboard/flute hybrid considered a toy before he picked it up -- "was capable of superb aesthetic focus, suggesting, implying and directing the course a piece of music might take," says cultural historian Herbie Miller in the notes, and that's about right. Many can rip scales; few possess Pablo's gift of spellbinding simplicity and jazz acuity. But beyond musical talent, Pablo realized an ineffable oneness with the rhythm of intelligent nature.
An instrumentalist, dubster, songwriter and recordist ("All projects produced by Jah Rastafari and co-produced by Augustus Pablo"), Pablo, like all the reggae masters, laid down his most significant testaments before 1983. Several factors precipitated the demise of Jamaica's pure reggae vibe, including the socialist government's defeat in the 1980 elections, Marley's death in 1981, and the disintegration of Perry's Black Ark Studio and Coxsone Dodd's Studio One around the same time.
But one of the main changes was technological. Jamaican producers worked magic with reel-to-reel tape, a medium that quickly became obsolete following the 1979 introduction of digital recording. Though intervening 24- and 32-track two-inch tape machines and the initial digital machines were garbage, and it took a decade for both the hardware and engineers' skill to evolve within earshot of '70s analog quality, few studios were replacing worn-out equipment with anything but unproven novelties. It was like shrink-wrapping the chalice. For proof, revisit the kotton-kandy reverb, soup-can ambience and Alka-Seltzer synthesizers on most any mainstream '80s record.
Then listen to how Augustus Pablo orchestrates magnetized particles on 4-track tape. Song after song, the grooves lap like gentle waves on white sand. Sensitive, creative dubs abound. For effects you can really feel, there's fluttering reverb on his classic "East of the River Nile," bass like The Blob on "555 Dub," canyonized xylophone on "AP Special," bristling percussion on "Israel in Harmony." Best of all is the stuff he squishes into the background: What's that sound creeping around Hugh Mundell's "Why Do Black Men Fuss and Fight," or lurking in the Heptones' "Love Won't Come Easy," or shivering in Pablo's own "Upful Living"? A gong? A synth? An organ? Just call it the mind of Augustus.
Producer Randall Grass (dig that name) has sequenced the 67 tracks of "Mystic World" for effortless flow, representing the best from Pablo's rich career without duplicating much from biblical landmark albums such as "King Tubbys Meets Rockers Uptown" and "The Red Sea." You get Pablo-associated tracks from Jacob Miller, Dillinger, Junior Delgado, Delroy Williams, Jah Levi and more, as well as Pablo teaming with the likes of Lee Perry and Yabby You. Collectors will beat Mr. Grass's ass for making numerous rarities available; from occasional needle-in-groove sounds, it's clear that some, in the absence of original masters, were salvaged from vinyl sources.
Even Disc 3, which chronicles much oversparkly material from the digital '80s and '90s, boasts good finds such as "Drums to the King," an improbably effective combination of Nyabinghi skins, melodica, acoustic guitar and electronic loops. At least once for the history, you'll want to see the brief DVD performances from 1986 and 1988 and the mumbled jungle interviews with Pablo from 1979. (He comes off less like a stoner than a cultic priest.)
Since archiving does not rank as reggae artists' primary strength, many cuts lack dates, sources, recording information and musician credits. Somehow, that seems perfectly appropriate.
Put this in your changer and leave it there. Jah wills it.