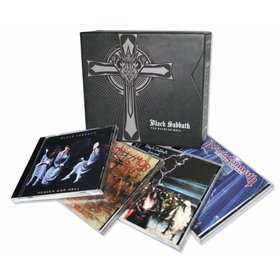 It's a gift box, dude, done with care. No new material, but looks good, sounds good. Here's the consumer report.
This isn't the place to make value judgments about Ronnie James Dio as singer for Black Sabbath 1980-1982 and in 1992, and about Vinny Appice as the Sab drummer for most of those years. All I'll say is that if you're a metal fan and you have a problem with the music reissued and remastered in this box with original artwork and new notes -- the albums "Heaven and Hell," "Mob Rules," "Live Evil" and "Dehumanizer" -- you gotta be damned hard to please. When Dio stepped in for the fired Ozzy Osbourne, who was drinking himself into a coma in Los Angeles, the band lost not an ounce of weight, fury, invention or virtuosity in its first two studio albums and one live record; the '92 reunion "Dehumanizer" rocks just as heavy as those and was recorded better. Nothing here is inessential except Dio's live performances of six Ozzy-era classics, and those rank as worthy curiosities.
Howbout the sound, the packaging and the notes?
Waxed in the LP age, the first three Dio-Sab records have gone through the digital wringer a few times before. Now Dan Hersch crouches over the knobs with an understanding of metal keen enough to make that music just a little heavier, fuller, clearer than previous reconstructions. Also louder -- without overemphasizing the treble or, a serious sin many remasterers commit, losing dynamics when you turn up the volume. I made A/B comparisons with several CD and LP sources, and Hersch beat almost all, settling for a tie only with the vinyl. (And a tie with the medium in which the music was created represents a very, very good score.) Since "Dehumanizer" received full digital-age engineering and mixing in 1992 from Reinhold Mack (ELO, Queen, Billy Squier), I barely noticed a difference on that one.
In the eternal war between the positive reaction a box will draw from a giftee's face and the negative impact it will have on his shelves, "The Rules of Hell" goes for the face. The packaging is sturdy and, like all the recent Rhino Sab product, looks classy. That said, I will probably consign the cardboard box to the recycling bin, cuz it takes up twice as much space as it needs to, and as with Rhino's Ornette Coleman set, you need to take it apart to get the four CD cases out. Where the Sanctuary release of "Live Evil" trimmed a few minutes (notably 33 seconds from "Voodoo" and nearly a minute from "Mob Rules") so it'd fit on one CD, "Rules of Hell" uses two discs like the original double-LP and gits every moment.
Luckily, there's no separate booklet; the notes, by four different authors, are tailored to each album. Though the writing's plain, it provides good historical context and includes a lot of quotations from the band members. Especially notable is Steffan Chirazi's attempt to explain the pressures that made this remarkable lineup hate one another. After all have had their say, he makes it look as if the dispute came down to two Italian-American newcomers' inability to communicate with a couple of Birmingham mega-stars after two years of nonstop writing, touring and recording. For specifics, you'll have to look elsewhere.
Anyway, as the band Heaven & Hell, Tony Iommi, Geezer Butler, Ronnie James Dio and Vinny Appice seem to be getting along just fine, scouring the planet with Judas Priest on the Masters of Metal tour and preparing to add an album of fresh material to the three gravitational new songs they created last year for Rhino's greatest-hits collection "Black Sabbath: The Dio Years." Considering a past catalog that includes "Heaven and Hell," "Children of the Sea," "Lady Evil," "The Sign of the Southern Cross," "Falling off the Edge of the World," "After All" and "I," many of us would like to see the amity continue. Play nice, children.