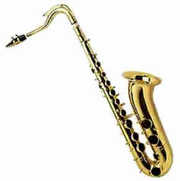 A vacationing Greg Burk posts links to some of his jazz writings from the year and a half since he started MetalJazz.com in early 2007. Let's not talk about what jazz really is.
Live review: Ornette Coleman Quintet at Royce Hall.
Observation and DVD review: Eric Dolphy's missing third eye and Charles Mingus, "Live in '64"
DVD review: John Coltrane, "Live in '60, '61 & '65"
Max Roach, 1924-2007.
Historical blurt plus record reviews: Children of electric Miles -- Steven Bernstein, Cuong Vu, Alan Pasqua, Mahavishnu Project.
Live review: Charles Lloyd Quartet at Catalina's.
Live review: Joshua Redman Trio at Catalina's.
Live review: Ohm at the Baked Potato.
Interview with Cryptogramophone Records founder Jeff Gauthier, plus a record review of his band, the Jeff Gauthier Goatette, on the occasion of Cryptogramophone's 10th anniversary and a performance by the Goatette.
Record review and artist interview: Greg Howe.