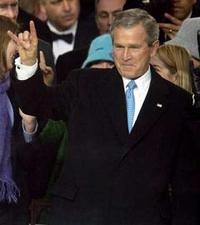 While Greg Burk is on vacation, doing the things only Greg Burk can do, he invites you to take a look at some of the things he's written about heavy metal since MetalJazz.com reared its horns a year and a half ago. Not all of it sucked.
Disney/metal commentary and live review: Cannibal Corpse, The Black Dahlia Murder, The Red Chord, Goatwhore, The Absence at House of Blues Sunset Strip.
Interview and scene observation: Dave Mustaine of Megadeth doing Guitar Center Sessions in Hollywood
Record review: Belphegor's gender war.
DVD review: The Mentors, "El Duce Vita."
DVD review: Heaven & Hell, "Radio City Music Hall Live!"
Record review: Blotted Science, "The Machinations of Dementia"
Live review: WASP at the Key Club.
Record reviews: Whitesnake, Children of Bodom, Testament, Arsis.
Record review: Judas Priest, "Nostradamus"
CD/DVD review: Fight, "Into the Pit" box.