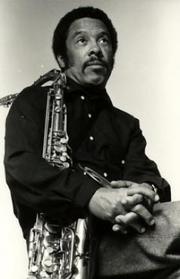 Johnny Griffin played the speed-metal version of tenor sax. I'm one of those who didn't think he was right for the couple of 1958 albums he made with Thelonious Monk -- blazing across Monk's complex chord changes without the kind of sensitivity and intuitive feel that marked even the fastest stretches of John Coltrane. Leslie Gourse, in her Monk biography, "Straight No Chaser," quotes Griffin as saying that on the bandstand, Monk would play a song till Griffin made a mistake, then repeat each passage till the saxist got it right -- customers be damned -- always refusing, the way he did with everyone, to provide the Little Giant with sheet music. Griffin, who had known Monk since the '40s, took no offense; it was Monk.
Griffin had impeccable technique and an astrophysician's mathematical mind. But his playing could turn leisurely and sensual, too -- while his boppier '50s records under his own name as well as with Art Blakey and Coltrane are still in print, I recommend hearing both sides of his mature personality on his excellent 1991 Antilles album "The Cat," which you can find used for cheap.
Johnny Griffin died Monday at home in France, where he lived for many years.