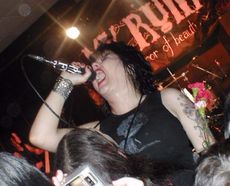 Fri. Aug. 15 -- I just got a load of "Not This Time," "Memento Mori" and "Ready for Blood" on My Ruin's MySpace page, and lawd damn a donkey, they make a big hurt. Guitarist Mick Murphy never runs out of big, rude, rusty riffs and wah-wah corkscrew leads with which to abrade yer orbitals, as provable on the new "Throat Full of Heart," whose release the ruinators celebrate tonight. And Tairrie B sure has mellowed her vocal scorch, like, not -- I just went and locked the door, and I didn't even do anything to piss her off. New drummer, new bassist, okay, whatever, it sure does slosh like a bucket o' guts, just the way I like it; turn off the air conditioning and pass the damn tequila. At the Whisky.
Fri. Aug. 15 -- For thrashy metal energy with a touch of blackness, Ohio's Skeletonwitch give it to ya hard. Got the well-regarded doom metalers Early Man on the bill, too. At the Troubadour.
Thurs.-Sat. Aug. 14-16 -- Catch him before he's bigger: saxist Yosvany Terry and his Afro-Caribbean Jazz Quartet, featuring pianist Osmany Paredes, bassist Yunior Terry and drummer Ernesto Simpson Jr. At Jazz Bakery; 8 & 9:30pm; $30.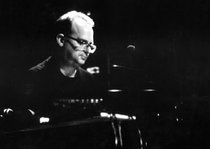 Sat. Aug. 16 -- One of those dates you really anticipate: electronic pioneer and emotional deregulator Carl Stone. Too bad I'll be outa town. At Café Metropol, 923 E. Third St., downtown 90013; 8pm; $10 cover, $10 minimum; (213) 613-1537; reservations recommended.
Sat. Aug. 16 -- A local full-on black-metal band that looks and sounds Norwegian: Sothis. At the Black Castle, 855 W. Manchester, LA 90044; www.myspace.com/theblackcastleusa.
Sat. Aug. 16 -- Avant lutist Jozef van Wissem and S.F. sound collagist Aero Mic'd play the garden, always a most pleasant place to hang. Sound at the Schindler House, 833 N. Kings Road, West Hollywood; 7:30pm; $18; http://www.soundnet.org/sound/2008/index.shtml.
Sat. Aug. 16 -- Jazz, poetry, punkism, noise: SST Records originals Saccharine Trust, featuring voxman Jack Brewer, guitarist Joe Baiza, bassist Chris Stein and drummer Brian Christopherson. Ain't nobody like 'em. At McCabe's.
Sat. Aug. 16 -- How low can you go? Let Kim Fowley's Sexual Underground set the bar! With Crazy White Man (featuring sleazemaster Fowley and Richard Rogers), The Fabulous Miss Wendy, Steven T, Trucker Dawn, Debbie Danger, Elvis illusionist Reverend Lust Vegas and Los Duggans. Whatever you think of longtime muzik entrepreneur Fowley, he entertains. At the Redwood Bar & Grill, 316 W. Second St., downtown; 10pm; $5.
Sat. Aug. 16 -- I don't like leader Joe Bartone's hat, and the concept of playing reggae versions of Miles and Monk tunes is too Demento-like, but a check into the MySpace music of Thelonious Dub reveals good, atmospheric, ungoofy music. At the Warehouse Restaurant, 4499 Admiralty Way, Marina del Rey 90292; 8pm; free.
Sun. Aug. 17 -- Dave Carpenter Tribute: The excellent bassist (with Alan Pasqua, Peter Erskine, Mike Garson and many others) died too young recently. Friends gather and jam in his memory. At Jazz Bakery; 2pm; free.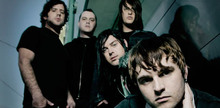 Sun. Aug. 17 -- The rage of Norma Jean's new "The Anti Mother" continues to hit a meaty emotional spot -- not too fast to be inhuman, noisy and rockin but not totally chaotic (new drummer Chris Raines is a mother), got some melody in the vox without leaving a piss stain, though the cleanish vox are the thing I like least and also the thing that allows them to be on the Warped Tour (which rarely has more than a few bands I care about), so well, it's a choice. A better choice was to enlist Helmet's Page Hamilton and the Deftones' Chino Moreno in the playing and songwriting. A vital group, possessed live. Vans Warped Tour at the Home Depot Center, Carson; www.warpedtour.com.
Thurs. Aug. 21 -- Dudes, once again it's killing me that I can't make this amazing show: electro godfather Carl Stone plus the wonderful loop massage of Leticia Castaneda, the delicately surreal piano of Motoko Honda, local avant flute/vocal pillar Emily Hay in a trio with keyboardist Wayne Peet and percussionist Brad Dutz, and live visuals by VJ Fader, whose stark and apt reflections I enjoyed very much at last month's ResBox. This thing is growing, people. ResBox at Steve Allen Theater, 4773 Hollywood Blvd., Hollywood 90027; 8pm; $10.
Thurs.-Sun. Aug. 21-24 -- The living lord of jazz guitar: Kenny Burrell. At Catalina's.
Thurs. Aug. 21 -- John Doe has been in some bad movies and some not so bad, not to mention playing a decayed rock star on "Law and Order." I still like the X bassist best as a singer and songwriter, as best exemplified last year by his duet with Kathleen Edwards on the song "Golden State," which you should hear if you ain't done so. At Levitt Pavilion, Memorial Park, 85 E. Holly St., Pasadena 91103; 7:30pm; FREE.