Thurs.-Sun. Aug. 21-24 -- The living lord of jazz guitar: Kenny Burrell. At Catalina's.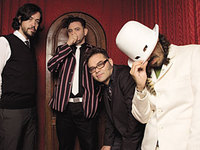 Fri. Aug. 22 -- When it comes to weird pop music, nobody does it better than Café Tacuba. At the Greek Theater.
Sat. Aug. 23 -- I can't believe Poison and Dokken are headlining over Sebastian Bach, who is genuinely insane and genuinely rocks, as his current "Angel Down" demonstrates past argument; maybe he just confuses the public with his multiple talents -- Broadway singer, TV personality and rock star (and now country artist, on CMT's "Gone Country 2" every Friday at 8pm). Too bad they don't sell tickets for the opener separately. At Gibson Amphitheater, $40-$60.
Sun. Aug. 24 -- Sax from the source: original bopper Red Holloway. Good series they got going at Levitt Pavilion, Memorial Park, 85 E. Holly St., Pasadena 91103; 7pm; FREE; http://www.levittpavilionpasadena.org.
Sun. Aug. 24 -- 1988 Strip metal all over again (except with a lot of personnel adjustments) from Faster Pussycat, an L.A. Guns of some description and Bang Tango. At the Key Club.
Sun. Aug. 24 -- The songwritin', singin' and guitar-hittin' artist formerly known as Dean Chamberlain is now The Honorable DHC, with his Boulevard Choir. If Dean's become a judge, does that mean the H stands for Hangin'? At Cinema Bar, 3967 Sepulveda Blvd., Culver City 90036; 7pm; FREE.
Mon. Aug. 25 -- Thelonious Dub do simple, ethereal, oddly pure covers of Monk and Miles. Check out their tunes on MySpace. At Hollywood Studio Bar & Grill, 6122 Sunset Blvd., Hollywood 90028; 8pm; cheap or free.
Mon. Aug. 25 -- Happy birthday to Judas Priest's Rob Halford, age 57.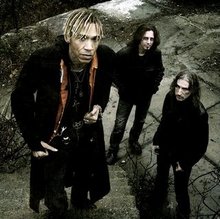 Tues. Aug. 26 -- While the magnificent power-funk-rock trio King's X continue to churn out average albums, each one usually has at least one killer, so now they can churn till you drop with smash after smash, one of the best live acts anywhere. Blues-metal howlers Extreme headline, and there's also Rock 'n' Roll Fantasy Camp, where fans get instruction from semifamous musicians, which maybe is not an unmitigated evil. At House of Blues Sunset Strip.
Tues. Aug. 26 -- Leviathan Brothers, a really directed, melodically inviting local piano trio, is coming out with a new record. Jazz you can use. At Temple Bar, 1026 Wilshire Blvd., Santa Monica 90401; 11pm; $5 after 10:30.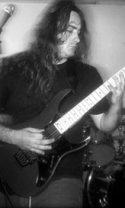 Wed. Aug. 27 -- I am stoked that technical-metal extremists Arsis (read my review of their current album here) are back with a new drummer. Arsis stand tall in a slew of bands on Revolver's Thrash & Burn tour. At House of Blues Sunset Strip.
Thurs. Aug. 28 -- Saxist Mitch Marcus has a feel for modern swingbop with just a taste of dissonance and Beefheartitude. His quintet includes saxist Sylvain Carton, bassist George Ban-Weiss, drummer Ches Smith and guitarist Mike Abraham. At Jazz Bakery; 8 & 9:30pm; $25.